Of clouds and attentiveness
Lynne Baab • Tuesday February 17 2015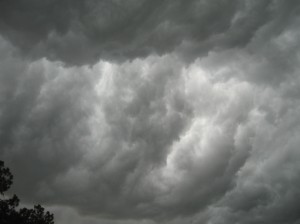 A couple of years ago, in a moment of air-headedness, I ran my car into a post in a parking lot. The wheel well collapsed into the wheel. After calls to our insurance company and a body shop, I found myself in the cab of a tow truck.
I asked the driver, a man about 40 years old, where he was from, and learned he had been born and raised in the same suburb of Dunedin, New Zealand, where he now lives. I asked him if he had lived anywhere else, and he said he had spent a few years in Brisbane, Australia, where the consistently sunny weather drove him crazy.
He said he likes the rapid changes in weather that we experience here in Dunedin. "Just look at that sky," he enthused. "It's gorgeous. All those clouds. That's what I missed in Brisbane."
I glanced at the sky. "All those clouds" were, from my point of view, gray and drab. Admittedly, I was probably a bit shell shocked from hitting the post and hearing that awful crunch of breaking plastic, but it was not the sort of sky that I could imagine getting enthusiastic about.
The driver dropped me, and my beleaguered car, at the body shop. I picked up a loaner car and made my way home. At the first stop light, I looked at the sky again. I noticed the variations in the shades of gray within the towering clouds, and the small peeks of blue sky and yellow light around the clouds. The tow truck driver had been right. The clouds were beautiful. In order to see the beauty, I needed to look closely.
A Jewish Sabbath prayer goes like this: "Days pass, years vanish, and we walk sightless among miracles." I don't know if I'm better at sightlessness than other people, but I do know I'm exceptionally good at it.
The Sabbath has been one spiritual practice in my life that has slowed me down enough to look at the beauty of the world God made and at the miracles God continues to perform. I don't think it's any accident that the Jewish prayer about walking sightless among miracles is a Sabbath prayer. I've written a book and a lot of articles about sabbath keeping, enabling me to reflect on that particular spiritual practice as a way to be more attentive to God's world and work around me. I still keep a sabbath, and it has been one of the joys of my life.
In the past few years I've been broadening out to consider other spiritual practices that encourage attentiveness and mindfulness:
Pausing to take a deep breath, then focusing on my surroundings for a few moments.
At the end of each day, looking back over my day for signs of God's presence (the prayer of examen).
Saying grace at meals in a way that is not perfunctory but actually involves a few moments of attention to the smells and look of the food I'm about to eat.
Lent begins this week, and Lent is a great time to try a new habit or pattern or practice to help us draw near to God. This idea of attentiveness or mindfulness isn't new for me, but I still need it desperately. I need the joy and peace that comes from seeing God's gifts and God's hand in my life. For Lent this year, I'm going to focus on attentiveness.
Here's my question of the day: what helps you notice God's goodness surrounding you?
(To receive an email update whenever I post on this blog, sign up in the right hand column under "subscribe." This post originally appeared on the Thoughtful Christian blog, Gathering voices.)
Next post »
« Previous post
Subscribe to updates
To receive an email alert when a new post is published, simply enter your email address below.
Comments