ACTS prayer analyzed in the light of the Psalms
Lynne Baab • Thursday July 16 2015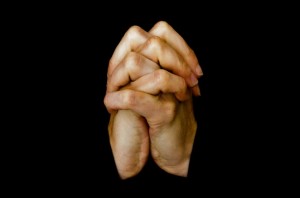 Last week I wrote about ACTS prayer, the idea that prayer alone or with others works well if the components are these, in this order: adoration, confession, thanksgiving, supplication (requests for ourselves or others). I've been thinking about the ways ACTS prayer compares with the psalms. The psalms are often called "the prayer book of the Bible," so they are a very helpful guide to prayer. All four of those components appear over and over in the psalms, no doubt about it.
Here are some of my other observations:
1. Many psalms are weighted heavily toward only one of the ACTS components. My favorite pair of praise psalms, Psalms 103 and 104, are almost entirely adoration. Several psalms are mostly confession, such as Psalms 51.
2. The psalms definitely don't move smoothly through ACTS in that order. I can't think of a single psalm using that pattern. (If you can think of one, please let me know.) The vast majority of psalms do not even have all four components of ACTS prayer.
3. The psalms show the close connection between praise and thanks. As I said last week, it's often hard to distinguish between praise and thankfulness. I was taught that praise focuses on who God is and thankfulness focuses on what God has done. Psalm 136 is a good example of a psalm that mixes praise and thankfulness constantly. I wonder if we should sometimes consider praying something like TATATATA since the two are so closely related.
4. The penitential psalms (that ask for forgiveness) generally do not begin with praise. Psalm 51 begins with a plea for mercy. Later in the psalm, the psalmist says, "O Lord, open my lips, and my mouth will declare your praise" (verse 15). I have heard some people recommend a pattern of prayer like this: CATS. The idea is that when we are heavily bowed down by our own sin, we can and should come into God's presence confessing. Then we will naturally move to praise and thanks.
When I compare ACTS prayer to the psalms, it's striking to me that the psalms have several components that are completely missing in ACTS prayer, including:
1. Lament, a passionate expression of grief and sorrow. Psalm 10, for example, begins, "Why, O lord, do you stand far off? Why do you hide yourself in times of trouble?" Many psalms express anguish about the state of the world. ACTS leaves no room for that kind of sadness. In a time when the news is so overwhelmingly painful, I think we need to rediscover lament. (Next week I'll post a model of lament prayer I recently used in a worship service.)
2. Statements of trust. Psalm 130 is one of the penitential psalms. It begins with a plea for mercy. After that plea, the psalmist expresses trust: "I wait for the Lord, my soul waits, and in his word I put my trust: my soul waits for the Lord more than watchmen wait for the morning" (verses 5 and 6). Expressing our trust in God, or our renewed trust in God after we have prayed, is vitally important and ACTS doesn't encourage it.
3. Silence. Psalm 46 says, "Be still, and know that I am God. I am exalted among the nations, I am exalted in the earth." One of my concerns about ACTS prayer is the constant talking the model seems to advocate. Somewhere in the model needs to be an "L" for listening.
In whatever form of prayer we use, God wants us to draw near.
"We do not have a high priest who is unable to sympathize with our weaknesses but we have one who in every respect has been tested as we are, yet without sin. Let us therefore approach the throne of grace with boldness, so that we may receive mercy and find grace to help in time of need" (Hebrews 4:15, 16).
"It is good to give thanks to the Lord,
to sing praises to your name, O Most High;
to declare your steadfast love in the morning
and your faithfulness by night,
to the music of the lute and the harp,
to the melody of the lyre.
For you, O Lord, have made me glad by your work:
at the works of your hands I sing for joy" (Psalm 92:1-4).
Earlier posts on prayer:
Celtic Christianity: Wholistic prayer
Two options for what to do when the news overwhelms you
Breath Prayer
The Lord's Prayer and spiritual practices
The Lord's Prayer and spiritual practices, part 2
Psalm for 2014
(If you'd like to receive an email when I post on this blog, sign up in the right hand column under "subscribe.")
Next post »
« Previous post
Subscribe to updates
To receive an email alert when a new post is published, simply enter your email address below.
Comments