Lynne is a Presbyterian minister and author of numerous books and Bible study guides. She lives in Seattle. Read more »
Lynne recently spoke on "Spiritual Practices for Preachers" (recorded as a video on YouTube.) The talk is relevant to anyone in ministry and focuses on how to draw near to God simply as a child of God as well as engaging in spiritual practices for the sake of ministry.
Here are two talks Lynne gave on listening (recorded in audio form on YouTube): Listening for Mission and Ministry and Why Listening Matters for Mission and Ministry.
Lynne preached recently on Reverent Submission, trying to reclaim the word "submission," which has a bad rap in our time.
Soon before she left her position in New Zealand as senior lecturer in pastoral theology, Lynne recorded a one-minute video for her departmental website describing what's most important to her in her writing and teaching.
"Lynne's writing is beautiful. Her tone has such a note of hope and excitement about growth. It is gentle and affirming."
— a reader
"Dear Dr. Baab, You changed my life. It is only through God's gift of the sabbath that I feel in my heart and soul that God loves me apart from anything I do."
— a reader of Sabbath Keeping
Subscribe
To receive an email alert when a new post is published, simply enter your email address below.
Featured posts
Tags
Archive
Wednesday May 10 2017
When I'm stressed about something, my feelings get buried under my thoughts. Some of those thoughts center around questions about the future: "What if this happens? What if that happens?" Other thoughts are about the feelings: "You shouldn't be feeling these negative feelings. You should be trusting God."
I wrote last week about advice from my therapist about separating thoughts from feelings. Some months ago he suggested that I practice self-compassion as a way to cope with negative feelings, and I've had a wonderful year learning more about what self-compassion looks like and why God would desire it for me.
The form of self-compassion that I have found helpful is summarized in the acronym RAIN:
Recognize feelings
Acknowledge them
Investigate them
Non-identify with them
1. Recognize. It takes a bit of effort to figure out what I'm feeling because the thoughts swirling around my brain are so vivid and powerful. When I feel my negative thoughts careening out of control, I'm learning to stop and try to discern the feelings that lie behind the thoughts. Most often those feelings are fear or sadness, but I also sometimes feel anger, hopelessness and frustration.
2. Acknowledge. After recognizing the emotion, I sit with it for several breaths. I focus on my breathing and let myself feel whatever it is.
3. Investigate. I try to identify where the emotion is located in my body, because this helps identify emotions the next time they happen. I also try to figure out what the emotion wants. Sometimes it wants to dominate my life. Sometimes it just wants to be acknowledged.
4. Non-identify. When the feeling wants to dominate, it wants to be pervasive. It wants me to identify myself with that feeling. When I non-identify with the feeling, I might think about feelings as weather. They come and go. Living on an island nation like New Zealand, where the weather frequently shifts quite dramatically, helps illustrate this. Or I might focus on other feelings I've had that day – such as contentment, joy, happiness, or gratitude, no matter how fleeting – to demonstrate to my brain that this strong negative feeling is only a part of me, a part that needs to be acknowledged, but a part that does not define me.
Some versions of RAIN use "nurture" or "nourish" as the last step. I find "non-identify" more concrete, and I also find that non-indentifying is a powerful form of self nurture.
Why is feeling feelings a Christian spiritual practice? The Psalms demonstrate that all emotions can be brought into God's presence. How can we do that if we don't know what we're feeling? God made us, knows us, and calls us to love and serve him. How can we do that with our whole beings if our feelings are driving us into counterproductive thoughts and behavior? My swirling negative thoughts truly are demonic, and I'm much better able to let them go if I acknowledge the feelings that lie behind them.
This process of feeling the feelings, called self-compassion by some people, extends the same kind of compassion to myself that God asks me to extend to others. Why would God want me to show compassion for others but not for myself?
Living under the burden of stress makes it harder for me to love and serve God. This gift of self-compassion through the RAIN process enables me to love and serve God more fully because I am not preoccupied with my swirling thoughts and feelings. Christian spiritual practices help us walk with Jesus and help us grow in faithfulness, and this process helps me do that.
If you'd like to read more about self-compassion and the RAIN process, these two sites have been helpful to me. Click here and here.
(Next week: how to cope with emotions that want to dominate our lives. Illustration by Dave Baab. If you'd like to receive an email when I post on this blog, sign up under "subscribe" in the right hand column.)
Wednesday December 31 2014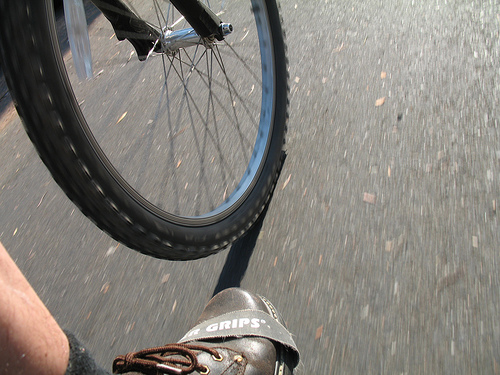 In December three years ago, on a sunny afternoon, I got out my bicycle for a ride. As I pushed off with my left foot, I felt something snap or pop in my left knee. I rode a couple hundred yards slowly, checking to see if I needed to stop riding.
Yes, I definitely needed to stop.
I got home, put ice on my knee and elevated it. I'm not able to take most painkillers, so ice has become my friend. At first my whole knee hurt, but as I iced it off and on the rest of the afternoon and evening, the pain became localized in the back, so I focused the ice there.
That night as I tried to sleep, my knee felt like it would explode. It was a pain so absorbing it dominated all my thoughts. I finally slept a little. The next morning it was clear that the pain was localized in the back of my knee, right where the hamstring muscles attach to the knee. I talked with a doctor friend who said I was doing the right thing by continuing to ice it and waiting to see if I needed further medical attention.
Each day my knee got a little bit better, but I noticed a few days later how tired I was. Some of the fatigue came from not sleeping as well as usual, and some of it came from coping with the pain all day long.
Two weeks later, it was 90% well. I had spent much of those two weeks pondering how little empathy I've had for people with chronic pain. Pain is absorbing and exhausting. It limits a person's view to the immediate, as if life is telescoped and truncated. Pain limits the ability to love others, and the big picture of what God is doing in the world feels far away and clouded. The pain determines so many aspects of daily life. Can I do that action without making the pain worse? What do I need to do to compensate as I make a particular movement?
This present moment of pain is all that matters.
We're right in the middle of the holiday season when the whole world appears to be festive. We're winding down from Christmas, putting our presents away or starting to use them, and wondering if we should go to any post-Christmas sales. We're looking ahead to New Year's Eve and the start of 2015. In these days when everyone appears to be focused on activities and shopping and gaiety, I invite you to think about the people you know who experience chronic pain or who are experiencing some specific form of pain right now. I invite you to pray for them, asking that God would meet them in their suffering.
Christmas appears to be a happy holiday, focused on the joyous birth of a baby. However, this baby was born into humble circumstances. As a man, he suffered as he made his journey to a painful death. Because of Jesus, anyone who suffers can have companionship in suffering and redemption of the pain. Sometimes, through the power of Holy Spirit, we receive healing for our pain and suffering. Other times, Jesus' companionship and redemption don't make the pain go away, but Jesus' presence can make a huge difference because we know we are not alone as we suffer and that something good can come from it.
I know a hurt knee, painful for a couple of weeks, is a ridiculously small form of suffering. But it got me thinking, and I'm now praying for people in pain in a whole new way. And that's just one form of redemption that I experienced because I hurt my knee.
(If you'd like to receive email notices every time I post an entry on this blog, sign up under "subscribe" in the right hand column. This post originally appeared on the Thoughtful Christian blog, Gathering Voices.)
Thursday October 23 2014
A friend of mine, who I'll call Jane, had a rough year. Just over a year ago she was diagnosed with breast cancer, and the past 12 months were filled from beginning to end with surgery, chemo and radiation. She felt horrible most of the year, the degree of horribleness rising and falling with the treatments, but week in and week out she was dealing with very low energy and discouragement.
I felt a lot of compassion for her and was able to give her fairly consistent support because I know what it's like to feel awful for long periods of time. I've had four major diseases, two of them lasting for many months. I've never had cancer, so I haven't experienced chemo or radiation, but I do know that discouraging state of feeling awful for a seemingly endless period of time.
Jane's husband, who I'll call John, told me this week that he is aware that he didn't do a good job supporting Jane last year. I'm not sure if he's right about that, but he said he just doesn't know what it's like to feel bad for very long, so he had trouble entering into her state of mind. John is energetic, enthusiastic and physically fit. He told me that when he occasionally wakes up with a headache, he takes a painkiller and feels fine within an hour. He gets colds and flu, but they seldom last longer than a day or two. The longest illness he can remember is mononucleosis, which he contracted in high school, and he was sick for a week!
My conversation with John got me thinking about compassion. Jesus models it in a great number of his encounters with individuals: the leper, the woman at the well, and the woman caught in adultery, to name only a few. Paul also models compassion and endorses it as characteristic of relationships that build healthy communal life (Philippians 1:8, 2:1, Colossians 3:12). Compassion seems to be a component of the kind of love that is commended for Christians throughout the New Testament, and compassion plays a role in the kind of justice advocated in the Hebrew Scriptures.
The roots of the word "compassion," from the Latin, are "with" and "emotion." In Jane's case, compassion came easily to me because I could easily remember feeling in similar ways to what Jane was experiencing.
Have I ever experienced or expressed compassion for someone who was feeling something I haven't experienced or imagined experiencing? I'm not sure. I am sure that carefully listening plays an important role in compassion in any circumstance. Attentive listening enables us to hear the specifics of the other person's situation, which may not be as similar to our own as we imagine it to be or which may be totally different from anything we've ever imagined.
My question for the day: what helps you listen to others in a way that nurtures compassion, especially when you've never experienced anything similar to what the other person is experiencing?
(This post originally appeared on the Thoughtful Christian blog, Gathering Voices. If you'd like to get an email alert when I post something on this blog, you can sign up in the right hand column under "subscribe.")