Lynne is a Presbyterian minister and author of numerous books and Bible study guides. She lives in Seattle. Read more »
Lynne recently spoke on "Spiritual Practices for Preachers" (recorded as a video on YouTube.) The talk is relevant to anyone in ministry and focuses on how to draw near to God simply as a child of God as well as engaging in spiritual practices for the sake of ministry.
Here are two talks Lynne gave on listening (recorded in audio form on YouTube): Listening for Mission and Ministry and Why Listening Matters for Mission and Ministry.
Lynne preached recently on Reverent Submission, trying to reclaim the word "submission," which has a bad rap in our time.
Soon before she left her position in New Zealand as senior lecturer in pastoral theology, Lynne recorded a one-minute video for her departmental website describing what's most important to her in her writing and teaching.
"Lynne's writing is beautiful. Her tone has such a note of hope and excitement about growth. It is gentle and affirming."
— a reader
"Dear Dr. Baab, You changed my life. It is only through God's gift of the sabbath that I feel in my heart and soul that God loves me apart from anything I do."
— a reader of Sabbath Keeping
Subscribe
To receive an email alert when a new post is published, simply enter your email address below.
Featured posts
Tags
Archive
Thursday June 14 2018
I've been speaking and writing about the Sabbath for more than a decade, but I recently had an aha experience about Sabbath keeping in my life and its connection to other spiritual practices.
Much of my speaking and writing about spiritual practices flows out of my own Sabbath observance. The Sabbath taught me how spiritual practices work: we know God loves us, so we set up structures in our lives to draw near to this God of abundant blessings.
When we were young adults, my husband and I lived in Israel for 18 months. Our apartment was in a Jewish neighborhood in Tel Aviv, so everything was closed on the Sabbath day. Everything. We didn't have a car, and the busses didn't run, so it was a day with incredibly few options and a very slow pace.
For the first few months, we chafed at the sense of confinement, but later we relaxed into the rhythm of six days of activity and one day of vastly reduced options. When we returned to Seattle, more than 35 years ago, we decided to adopt a Sabbath pattern of our own. At that time, Christians weren't talking about the Sabbath at all, so some of our friends thought we were a bit weird.
Some people told us we were legalistic. We were stunned by their comments, because we had experienced the slow pace and reduced options of the Sabbath as a major gift that we wanted to keep on receiving. Sure, the fourth commandment calls for a Sabbath, but we never experienced it as an onerous command. We had learned to receive it as a gift, and we wanted to keep receiving that gift.
My recent aha moment came when I compared Sabbath keeping to having a daily quiet time. In my early years as a Christian, I was taught that a daily quiet time with two specific components – cognitive-based Bible study and intercessory prayer – is a non-negotiable, something all Christians have to do. As a young adult, I often tried to have a daily quiet time in that form, and I succeeded only intermittently. I have felt a lot of guilt around my quiet time failures.
I think about my grandfather, who grew up in a family with a very rigid Sabbath practice. For his parents, a quiet Sunday Sabbath was non-negotiable, and my grandfather as an active little boy was forced to sit still for one whole day every week. My grandfather stopped attending church as a young man, and seldom darkened the door of a church for the rest of this life. Far from being a gift, for him the Sabbath was one of the factors that drove him from the church.
Encouragement to have a daily quiet time didn't drive me from the church, but the guilt associated with my failure to measure up hasn't done much to nurture my faith. Yet the Sabbath has taught me oceans about God's grace and love for me. The Sabbath has been a factor in shaping me into a person who loves God, receives good gifts from God and tries to respond in faithful service. The Sabbath has helped me understand that my form of a daily quiet time (although I don't use that name for it) needs to involve stillness and silence, many forms of prayer in addition to intercessory prayer, and meditation on the Bible rather than cognitive study.
We call spiritual practices "disciplines" because they require an act of the will and persistent obedience. Yet it seems increasingly clear to me that this discipline and persistence need to be rooted in receiving practices as gifts rather than as obligations.
My questions of the day: what Christian practices in your life feel like a gift? Do you perceive any ways they are shaping you?
(Illustration by Dave Baab. If you'd like to receive an email when I post something on this blog, sign up in the right hand column under "subscribe." This post originally appeared on the Thoughtful Christian blog, Gathering Voices.)
Some resources about the Sabbath:
articles I've written about the Sabbath
my Sabbath book
my Sabbath Bible study guide
my book Joy Together has a chapter on communal Sabbath keeping
Saturday June 9 2018
Two people meet a stranger on a road. As they walk together, the stranger gives them a new perspective on the Hebrew Scriptures. When they arrive at their home, they invite the stranger in for a meal.
At the meal, the stranger picks up bread, breaks it and hands it to the other two. In that moment, the stranger is revealed to be Jesus.
In the Road to Emmaus story (Luke 24:13-35), a guest at the meal – a stranger – briefly becomes the host, the Lord Jesus Christ. People who write and teach about hospitality call this the guest-host shift, and this shift changes the power dynamics in hospitality interactions.
Mother Teresa brought this shift to the world's attention when she talked about meeting Jesus in the poor, sick and dying to whom she ministered. I can remember, back in the 1990s, feeling befuddled the first time I heard someone quote Mother Teresa about this. Meeting Jesus in someone we are helping seemed like such a strange idea. When we help people in need, aren't we – the helpers – the ones who are acting like Jesus and representing him? How can the opposite be true?
Later, in the early 2000s when Christians began writing about the theological significance of hospitality, Mother Teresa's ideas began to make more sense to me. I began to see the connections with Matthew 25. In verses 31 to 34, Jesus describes a scene where the Son of Man separates people into two categories, and the ones who are placed at Jesus' right hand hear these words:
"Come, you that are blessed by my Father, inherit the kingdom prepared for you from the foundation of the world; for I was hungry and you gave me food, I was thirsty and you gave me something to drink, I was a stranger and you welcomed me, I was naked and you gave me clothing, I was sick and you took care of me, I was in prison and you visited me" (verses 34-36).
The people at Jesus' right hand ask when they gave food, drink or a welcome to him. Jesus replies: "Truly I tell you, just as you did it to one of the least of these who are members of my family, you did it to me" (verse 40).
When we host people in our homes for meals or extend a welcome of any kind to another person, we can expect that we might meet Jesus in that person. And if we are meeting Jesus in someone else, then that person in effect becomes the host because Jesus is the King and Lord of all.
Why does this matter? Extending care to another person has the tendency to promote the carer to a position of prominence. After all, we often say, "It's better to give than to receive." If I'm doing the giving, caring or welcoming, then I'm the generous one. I'm the one whose life is together enough that I have the resources to extend a helping hand. I'm not needy or vulnerable or weak. Look at me, I'm strong! Look at how wonderful I am!
Jesus turns this upside down. The person receiving care gives to the one who appears to be strong. In fact, the person receiving care takes the form of Jesus, revealing unexpected truth.
This Jesus, a man of humility, calls us to be humble in the same way. He calls us to watch for the ways he is revealed to us through unexpected people.
A prayer: Lord Jesus Christ, Son of God and Son of Man, give us hospitable hearts. Help us to convey a warm welcome to people in all the settings of our lives. As we try to love people and as we receive love from others, help us to be open to the shift from host to guest, and also from guest to host. You are our model and the One who empowers us. Amen.
(Illustration by Dave Baab: buskers at the Dunedin Farmer's Market. If you'd like to receive an email when I post on this blog, sign up under "subscribe" in the right hand column.)
Previous posts on hospitality:
Hospitality and listening
Benedictine spirituality: hospitality, service and work
Thursday May 24 2018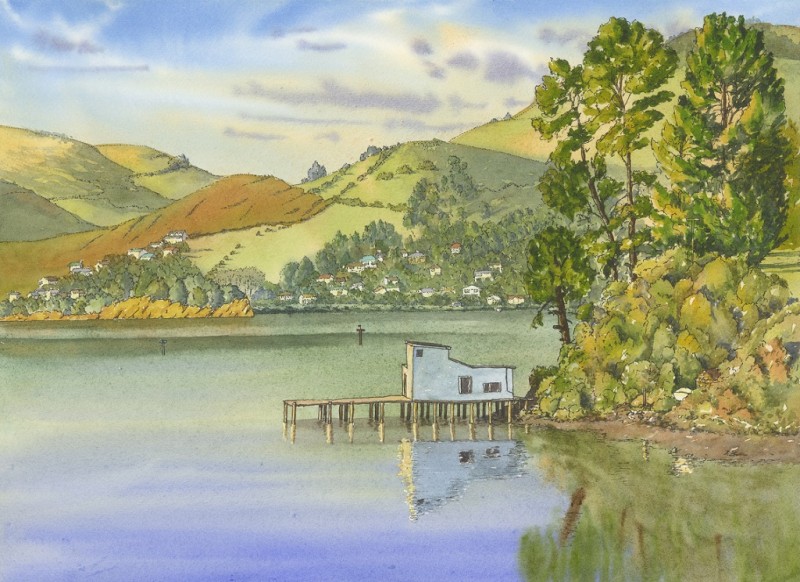 My husband and I, along two friends, were eating dinner together, and I wanted to take the conversation deeper. So I said, "Sometimes I find it useful to pray for one thing for people I care about. I ask myself, 'If I could pray for just one thing for this person, what would it be?' I've got a couple of people for whom I pray for joy. So I wonder, if I wanted to pray for one thing for each of you, what would it be?"
We tossed around a few words, and someone suggested "peace" as the one thing to pray for someone we know. Later in the discussion, I suggested "shalom" as the one thing to pray for someone else. One of our friends turned to me and said, "We've already discussed peace. Isn't 'shalom' just the Hebrew word for peace?"
Peace and shalom are somewhat different, and I want to write about the significance of that difference.
Peace is generally viewed as the absence of war or conflict, which includes both inner and outer strife. The concept of peace includes tranquility and relational harmony. Jesus promised to give us peace: "Peace I leave with you; my peace I give to you. I do not give to you as the world gives. Do not let your hearts be troubled, and do not let them be afraid. " (John 14:27). Anyone who feels stressed or who has struggled with anxiety or depression knows that God's peace is an enormous gift.
The Hebrew concept of shalom includes what we consider to be peace, but also much more. To experience God's shalom is to experience wholeness and well-being in all aspects of life. Wholeness and well-being obviously involve the absence of destructive conflict in all areas of life and the presence of some degree of tranquillity. However, wholeness and well-being also include physical and emotional health, spiritual well being, relational connectedness, financial stability, a sense of purpose in life, and meaningful work. You may be able to think of more components.
The Hebrew word "shalom" occurs 237 times in the Old Testament and is usually translated "peace," "safety" or "welfare." This word occurs in the very oldest fragment of the Old Testament that archaeologists have discovered, Numbers 6:24-26, often called the Aaronic blessing. In this chapter of Numbers, God tells Moses to instruct Aaron and his sons to bless the people with these words. In English we usually use "peace" in the last line, but I've changed the last line to reflect the meaning of the original Hebrew word, "shalom." See what different meaning is conveyed to you by this version:
The Lord bless you and keep you;
The Lord make his face to shine upon you, and be gracious to you;
The Lord lift up his countenance upon you, and give you wholeness and well-being in every area of your life.
You may enjoy experimenting with different words for that last line to capture what you consider to be the best way of describing the kinds of well being you long for. Then say the blessing over yourself and those you love.
Experiencing shalom doesn't make a person selfish. Instead, experiencing shalom enables a person to love and serve. After all, wholeness and well-being include healthy, loving relationships, and for a Christian, being whole includes obeying God, serving in the world after the model of Jesus, guided by the Holy Spirit.
I like to pray for shalom for family members and friends, and as I pray that word, I think about the forms of well-being I long for in their lives. And I like to pray for shalom in my own life, too. What aspects of shalom do you long for today for those you love and for yourself?
(Next week: thankfulness and optimism. Illustration by Dave Baab. If you'd like to receive an email when I post on this blog, sign up under subscribe in the right hand column. This post first appeared on the Godspace blog.)
For those of you at midlife (in the range of 35 to 60), I want to recommend my book A Renewed Spirituality: Finding Fresh Paths at Midlife, which explores paths of well-being for that life stage. It is available in paperback and for kindle (for some strange reason these two versions are not linked on amazon.com).