Bio and Interviews
Lynne M. Baab is a teacher, writer, and blogger. She has written numerous books and Bible study guides. In addition, she's written articles for many magazines and journals.
Lynne earned a Master of Divinity degree from Fuller Theological Seminary in 1990 and was ordained as a Presbyterian minister in 1997. She completed a Ph.D. in communication at the University of Washington in 2007.
Between 2007 and 2017, she served as senior lecturer in pastoral theology at the University of Otago in Dunedin, New Zealand. She currently teaches as an adjunct professor at Hope International University in California.
Recently Lynne was a guest on the podcast "As the Crow Flies," talking about why listening matters and listening skills.
Another recent highlight for Lynne was writing for the new Presbyterian curriculum: Follow Me, Biblical Practices for Faithful Living. The sampler for the curriculum features an essay by Lynne on hospitality (starting on page 9). You can also watch a 3 minute video about the curriculum. At a conference about the curriculum, Lynne gave a talk entitled Bringing Spiritual Practices to Life.
You can find numerous past blog posts by Lynne on these blogs:
In addition to her role as senior lecturer at the University of Otago, Lynne served as:
Her hobbies include reading a wide variety of fiction, non-fiction, and magazines; playing the piano; and going to the gym and swimming. She and her husband have two sons, a daughter-in-law and a beautiful granddaughter. She wrote a fun article about meeting her granddaughter or the first time for her local newspaper's "my best day" column.
Lynne is on Facebook (Lynne Baab), Twitter (@lynnebaab), and LinkedIn.
Here are two talks Lynne gave on listening (recorded in audio form on YouTube): Listening for Mission and Ministry and Why Listening Matters for Mission and Ministry.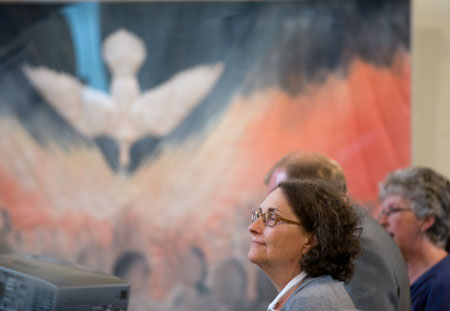 Lynne preached on Reverent Submission, trying to reclaim the word "submission," which has a bad rap in our time. Another recent sermon describes Three Roles for All of Us, drawing on the story of the lowering of the paralytic through the roof in Mark 2.
"Lynne's writing is beautiful. Her tone has such a note of hope and excitement about growth. It is gentle and affirming."
— a reader
"Dear Dr. Baab, You changed my life. It is only through God's gift of the sabbath that I feel in my heart and soul that God loves me apart from anything I do."
— a reader of Sabbath Keeping
Check out Lynne's other YouTube videos:
You can contact Lynne at LMBaab [at] aol [dot] com.
(Papercut image of Lynne by Sara Carmer McMahon, Instagram @saramacpapercuts. Photo of Lynne with dove by Ian Thomson. Photo of Lynne in blue shirt by Meryl Alcabes. Watercolor painting used at the top of pages on this website by Dave Baab.)