Friday November 20 2015
The first time I walked a labyrinth, there were about six other people walking it at the same time. I found myself bemused by the parallels between my walk in the labyrinth and my journey of faith. At some moments walking the labyrinth, a person would be beside me, walking on his or her own path right beside mine. Then our paths would diverge. I was reminded of close friends from certain points in my life, friends who shaped me and cared for me, but who have moved away and who I seldom see. Yes, we got to walk together for a while, but our journeys diverged.
That first labyrinth I walked was modeled after the labyrinth at Chartres, France. The path winds all over the place, and it feels like there's no progress toward the center. In fact, there's a section of the path furthest from the center. You walk on that outer rim, then take one turn, and boom, you've gotten to the center. This seemed so much like my life. Often I feel far from God, but my life takes a turn and suddenly God is present and real.
The time at the center of a labyrinth is quite special. You've walked a winding path to get there, and now you can stop for a minute to think and pray. Sometimes some other people are in the center with you. Maybe you don't know them, but they know God too, so they are sisters and brothers. You are resting together in God's presence, knowing you have to rejoin the path pretty soon and keep walking. That time at the center is like Sunday worship or other communal experiences of worship and prayer, a pause in the week to regroup with others before going back onto the journey. I may not know everyone who's in church with me on Sunday, but together we are enjoying God's presence in that pause from daily life.
A labyrinth is only one spiritual practice that evokes the notion of life as a journey. What are some of the other spiritual practices that help us experience the journey-like aspect of life with God?
1. The Stations of the Cross. In the medieval period, very few people could travel to Jerusalem to walk the Via Dolorsa with Jesus. Walking and praying the Stations of the Cross helps everyday Christians to walk with Jesus to the cross.
2. Praying while walking. I can't tell you how many times I've been preoccupied, upset or angry about something. I set out on a walk, pondering and praying as I go, and when I get home, my perspective has completely changed. That one brief hour seems to expand to represent a long faith journey.
3. A thankfulness list or journal or prayers of gratitude. Writing down, naming or praying things we're thankful for has at least two benefits. It helps us in the moment as we write, but it also helps later on when we refer back to the list. We can see the pattern of the way God has led us and blessed us on our journey.
4. A prayer request list or journal. In the same was as described in #3, referring back to prayer requests, and checking them off when they're answered, is a great way to see the pattern in our journey of faith.
5. Pilgrimage. Whenever we take a physical journey for a spiritual purpose, that trip becomes a pilgrimage. We might visit a childhood home or school, a retreat center where God met us in a special way, or the setting of a significant life event. A pilgrimage is a physical journey that helps us see the journey God is leading us on in life.
6.Examen. In this ancient prayer form, we are invited to look back over a period of time, perhaps one day, and look for God's presence and also for the moments when we resisted God's presence. Doing examen with some regularity enables us to see patterns in the places and times where we meet God and the places and times we resist God.
I wrote last week about the ways that the journey metaphor works so well to help us see moments and purpose in the life of faith. Many spiritual practices help us experience life as a journey.
(Illustration: The path under spring flowers by Dave Baab. If you'd like to receive an email alert when I post on this blog, sign up under "subscribe" in the right hand column. This post originally appeared on the Godspace blog.)
Thursday June 25 2015
Jan, 58, spent a year in Britain when she was in her forties. It was a transforming experience in many ways. She described it like this:
In my forties I was running my own consulting business, my husband was an engineer, and our adult children had left home. A minister friend said to me that midlife is a time to take out your values and reexamine them. That certainly happened to me.
I began to question everything: my values, my work, my lifestyle, my relationship with God, my spiritual path. There was a dryness in my faith and in my life. My faith was mostly in my head, not a full-body kind of worship, as the Celts would say.
I kept coming across the phrase, "follow your bliss." I always answered, "I'd like to live in England and Scotland for a year." All my life I have wanted to live in Britain and research women in the early Christian church, photograph English villages and visit my extended family.
A friend gave me good advice, telling me to journal about my dreams and daydreams. I realized as I dreamed that I really wanted my life to be an adventure well lived, and not just by rote and habit, which is the easy way when things are going well. I knew I didn't want just any adventure, but I longed for an adventure with God, for my life to be renewed and transformed.
There were huge obstacles to going: the house, the cats, the 190-pound Newfoundland dog, my husband's business and my own consulting business. But one by one the obstacles melted away, and we found ourselves on the way to England.
My cousins in England and Scotland found us two cottages to rent. When we first got there, neither cottage was ready so we travelled for five weeks. With no agenda, praying for guidance for the day, we had to simply be open to what we were given. People continually gave us ideas where to go next.
We visited all kinds of sites that are significant to Celtic history: Holy Island, Whitby, Iona, St David's, Durham, Glastonbury, abbeys and cathedrals as well as ancient sacred sites. In many of these settings, I could feel a sense of sacredness, a sense of place, a connection with the ancestors.
I went to a conference led by Esther de Waal. One night she gave a talk on Celtic Christian spirituality. A huge light bulb went on my head. I realized, "I've been on a Celtic pilgrimage! That's why I'm here. This is the path God has set out for me."
During the rest of our time in England, we visited and revisited Celtic sites. By now I was listening to my whole body. In cathedrals, I would touch the stones. I would hug those stone Celtic crosses or standing stones in fields. The Celtic sites gave me a sense of time and timelessness, a connection with the early Celtic saints. I realized their incredible relevance for today.
As we returned to the States, I realized I had gained a sense of balance that I had never had before. I would look at something and say, "That's God's awesome design," and I would marvel. I have chickens now, and I experience God's amazing creativity in my hens every day: their itty bitty eyelashes, the variety of feathers on different parts of their body. God designed each feather, each eyelash, just right for its function. As I look at the wonder of nature, I realize I'm a part of the whole.
There's a part of me that has become a mystic or monk. I value a quiet spiritual walk and meditation. The Celts ministered to me through the way they prayed: their sense of sacredness, the way they prayed for protection against evil, their awareness of being surrounded by angels. My values have changed so much.
Bruce Reed Pullen, in Discovering Celtic Christianity, gives a good summary of the kind of journey Jan discovered herself to be on:
A "pilgrim" is one who dedicates a period of time to the search for the holy, for a closer experience of the living God. The pilgrim travels light and wears comfortable clothing. Serious pilgrims combine both the outward journey toward a holy place and the inward journey toward self-understanding. Humor and laughter help to make the journey enjoyable when both frustration and fun, rain and rainbows, and stark scenery and beautiful horizons are encountered along with way. Worship, both private and public, is often part of the journey. A pilgrim is patient, knowing that eventually the journey will end in arrival, and in that arriving will be blessings as never before.
(This is the last post about Celtic Christiany excerpted from A Renewed Spirituality: Finding Fresh Paths at Midlife by Lynne M. Baab. Copyright © Lynne M. Baab. If you'd like to receive an email whenever I post on this blog, sign up in the right hand column under "subscribe.")
Previous posts on Celtic Christianity:
Wednesday April 22 2015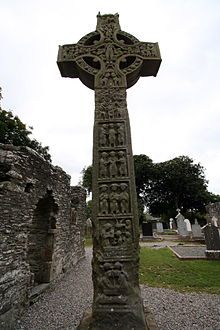 Celtic Christians found God everywhere, in the smallest, mundane household activity, in nature, and in sites where something special had happened to a saint. They saw every good thing as a gift from God, and they saw difficult experiences as a different kind of gift, a way to learn or a call to repentence.
The fire that warmed the hearth and lightened the darkness spoke clearly that God is light. The bread that filled the hungry belly spoke of God's provision. The trees and animals spoke of God's artistry and care for creation.
The Celts saw God clearly in nature. By no means were they pantheists, equating the creation with God. Instead, they understood that the supernatural realm is very close to the physical world; in fact they believed and experienced the spiritual world touching our world in certain places. They had a name for the places and times when the spiritual world was most near: "thin places." Water, oak forests and mountains were considered to be "thin places," as were saints' birthplaces and sites of past miracles and extraordinary events.
The significance of "thin places" drew the Celtic Christians into frequent pilgrimages. Celts valued travelling for a spiritual purpose, to visit a place or places where God might be close by. In Discovering Celtic Christianity, Bruce Reed Pullen describes five characteristics of Celtic pilgrimages. [1] These principles apply to pilgrimages today.
1. "Pilgrimage is purposeful; it has a destination." Sometimes we undertake a pilgrimage to return to a place of memories; sometimes we go somewhere new, where we anticipate a deeper connection with God. Wherever we go, we expect a significant, integrated connection between our inner journey of faith and this outer journey. The Celts undertook pilgrimages not because an abbot or priest suggested it, but because of an inner prompting. They undertook their journeys "for the love of Christ." [2]
2. "Pilgrimage is renewing." We might not know why we are drawn to a place, but we expect that our inner being will be renewed and revitalized because of what we experience.
3. "Pilgrimage is a time for reflection." A pilgrim may resemble a tourist for part of the day, looking at interesting sites and absorbing the historical aspects of a certain place. But a pilgrim always draws on Jesus' pattern of prayerful reflection, taking time to be alone with God as a part of the journey.
4. "When a pilgrimage includes other pilgrims, the excitement of the journey is shared." The Celtic experience of community spilled over to pilgrimages. Certainly some Celts went on pilgrimages alone, but others shared the experience with a partner or small group of fellow travelers.
5. "Pilgrimage transforms us." A pilgrimage is a journey taken in search of the holy, and the Celts understood that it is impossible to encounter our Holy God without being changed in some way, perhaps as expected, or more likely, in a very unexpected way. In fact, the very nature of a pilgrimage enables us to expect the unexpected. Pilgrims give up their commitment to planning and control, and they allow God to lead and guide.
I recently visited the town in Virginia where I lived in junior high. We left Virginia when I was 14, and I had never been back. We found the houses I lived in, the schools I attended, the church where I went to Sunday school, and the beach and pool where I swam. My husband said he had never seen me so happy. I didn't set out to find these places with a spirit of pilgrimage, but as I look back on that visit, I definitely feel that I found something holy, a piece of my childhood stamped with the presence of God in those formative years of my life.
We may take a pilgrimage to a place of significance from our childhood or our parents' lives. How many people have visited the Normandy beaches or the Nazi concentration camps with a sense of pilgrimage?
When I was a pastor in a congregation in Seattle, I took a group of women from our church to a monastery in Idaho every year, and that journey felt like a pilgrimage. As we drove across the eastern part of Washington State, a broad, wind-tossed landscape, we felt the stresses and irritations of city life dropping away. The trip prepared us for the profound silence and warm hospitality we found at the monastery, which enabled us to look at our lives afresh with God's eyes.
The Celts were not people full of plans, organization and the need to control. They expected God's guidance on every step of their pilgrimage journeys, and they had an amazing ability to expect God to work through the events of daily life. As I undertake pilgrimages, where I give up some sense of control, I can feel myself practicing the kind of responsiveness they had toward God.
(This coming Saturday, April 25, 2015, is the 100th anniversary of the landing of the Australia and New Zealand forces at Gallipoli, the site of huge loss of life. So many New Zealanders are talking these days about their pilgrimages to Gallipoli, either in the past or hoped for in the future. So I was happy that the section of my book that I wanted to post for this week focuses on pilgrimage. This post is excerpted from A Renewed Spirituality: Finding Fresh Paths at Midlife by Lynne M. Baab. Copyright © Lynne M. Baab. If you'd like to receive an email whenever I post on this blog, sign up in the right hand column under "subscribe.")
[1] Bruce Reed Pullen, Discovering Celtic Christianity (Mystic, Conn.: Twenty-Third Publications, 1999), 10-12.
[2] Esther de Waal, The Celtic Way of Prayer (New York: Doubleday, 1997), 2-3.
Other posts on Celtic Christianity: