Humility and listening
Lynne Baab • Friday March 27 2015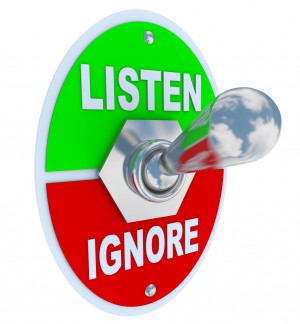 Alison is a Presbyterian minister who has worked much of her career as a hospital chaplain. She described several obstacles to listening, beginning with the urge to be efficient and productive:
Listening is not time efficient. Meetings at churches have deadlines. Maybe we need to map out a Sunday school curriculum today, but if God isn't speaking today, we still need to decide. If we put off the decision because we don't hear God's voice today, we would have to meet again,and the youth director is just about to leaveon vacation.
She also noted that good listening requires an inner self-discipline that keeps distracting thoughts and emotions from impeding the listening process. "If you're really listening, you can't be always thinking about what you'll say next. That's hard,and it requires deep restraint. Andif you're listening for God, you need to focus on listening, not on preparing your response." This kind of self-control is difficult to achieve and requires a level of commitment and concentration that is hard to find in our busy, active congregational cultures.
Alison noted another necessary attitude. "Listening requires a posture of humility that isn't 'sexy.' If you're really going to hear God and others, you have to be open to not being right and to seeing something new. But you can't hear God and others if you don't have that attitude in some measure."
She said countless brochures for conferences and speakers come across her desk, and she's never seen a single one that focuses on humility. Humility, she noted, is not a trend. "I don't see church leaders being fired up about humility. There are no big conferences, no programs. What's 'sexy' now is emergent church and programs that promise quick results. Being humble isn't an obvious thing and you don't get any kudos for it." Several inner convictions and attitudes make humility in listening more difficult to achieve, including thinking we already know answers and loving action and activity.
A youth worker said, "Youthink you know what someone thinks. Even if they're talking, you can find yourself not listening because you assume you know." A retired United Reformed Church minister attributed this listening obstacle to a lack of imagination. He cited Jesus' healing miracles where Jesus enabled blind people to see and deaf people to hear. After the miracles, they were able to see and hear things they hadn't previously perceived. He believes we need to cultivate a willingness to see and hear things we haven't previously seen and heard.
Anna, like Alison, noted that she gets so many books and flyers that advocate specific programs. "'Follow these ten steps,' they all seem to be saying. That's our model for growth, not listening to Godor listening to each other."
A children's ministries director noted,
We want to be busy. It goes against the grain to slow down and create space for God to work.We've been trained that we've got a lot to do, so let's get to it. In children'sand youth ministries, there's so much pressure to keep functioning. All the programs are so valued. You have to have something every Sunday.
She believes an obstacle to listening to God and to others is the fear that I might have to change my plans. "What if God wants me to do something I don't want to do? What if God nixes something I want to do?"
Humility is necessary in order to listen when we suspect we already know what the other person will say. Humility is necessary to lay aside battle positions with someone we know we disagree with. Humility is necessary to set aside what we think we know based on media accounts of what people outside the church think in order to listen to a specific individual's beliefs, priorities and feelings. Humility is necessary to slow down our activities long enough to pay attention to the words and feelings of the people around us.
Some additional resources on listening:
(During Lent I'm posting excerpts from my book on listening. If you'd like to receive an email when I put a post on this blog, sign up under "subscribe" in the right hand column. Book excerpt from The Power of Listening by Lynne M. Baab. Copyright © Rowman & Littlefield. Used by arrangement with the publisher. All rights reserved. No part of this excerpt may be reproduced or printed without permission in writing from the publisher.)
Next post »
« Previous post
Subscribe to updates
To receive an email alert when a new post is published, simply enter your email address below.
Comments