Creative prayer: Learning from mindfulness meditation
Lynne Baab • Wednesday July 3 2019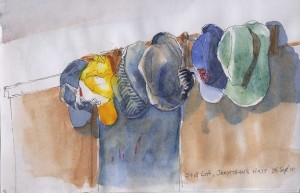 For the past five to ten years, I've been reading about mindfulness meditation, analyzing it from a Christian view point and pondering the connections between Christian prayer and mindfulness. I want to make four suggestions about how mindfulness can help us pray more creatively.
1. Thankfulness. My first thought, at least five years ago, relates to the connections between mindfulness and thankfulness. How can we be thankful for God's gifts in our lives if we aren't paying attention to our lives? In mindfulness meditation, we are encouraged to experience this moment, and this moment often contains so many gifts from God that we miss in our busyness and preoccupation.
2. Guidance from God. In much the same way, how can we perceive how God is guiding us if we aren't paying attention to our lives?
3. Noticing without judging. Later I learned about the encouragement in mindfulness meditation to pay attention to what we are thinking and feeling without judging it. My mind might do this: "I'm really frustrated with xx (a certain person in my life). I shouldn't feel that way! I should be more loving! What's wrong with me that I am thinking judgmental thoughts about xx?"
What I've read about mindfulness meditation encourages me to do this: "I'm really frustrated with xx. . . . Hmm, interesting. Frustrated. What a variety of emotions all people have. I'm going to let the frustration go now."
Or, "I'm really frustrated with xx. I shouldn't feel that way! . . . Hmm, I'm judging my own thoughts and feelings. I'm going to sit with that feeling of judgment for a moment, then let it go."
From a Christian point of view, the inner dialog, inspired by mindfulness meditation, might go like this: "I'm really frustrated with xx. I shouldn't feel that way, and in fact I don't want to feel that way. God, forgive me for my judgment of the other person and my judgment of myself. Help me to feel forgiven and to let these feelings go, knowing your love is so much greater than my sin. Fill me with your love."
One of the things that mindfulness meditation has taught me is the depth of my tendency to judge and criticize myself. "What's wrong with me that I . . ." Because of mindfulness meditation, I have grown in letting that personal judgment go.
4. Body awareness. One more area that mindfulness meditation has impacted me is by helping me to return to my body. Last week in my post on returning prayer, I quoted from a new book on the Enneagram: "Returning prayer begins with returning to body awareness. We remember that we are inhabited by the Spirit of God. As we become present in our bodies, we can breathe into our hearts so they open up and return to a place of listening to God."[1]
Before I can remember that I am inhabited by the Spirit of God, before I can breathe deeply, I have to become aware that I am actually dwelling in a body. My breath, my heartbeat, the ability to smell the food baking in the kitchen and hear the fan running in the bathroom, the feeling of my back against the chair, my fingers touching the keyboard as I type this blog post . . . everything about my body is part of who I am, given to me by God, and inhabited by God's spirit. I live in this body in this moment.
I often focus so deeply on my thoughts that my physical body is forgotten for long stretches of time. Mindfulness prayer has helped me re-connect with my body. As a Christian, I can thank God for the various parts of my body that work well, and I can ask for God's help for the parts that could work better. But I can't do any of that without the foundational awareness of being in my body.
Please comment below or on Facebook, or email me (LMBaab [at] aol.com), with further thoughts about the connections between mindfulness meditation and Christian prayer. I am sure there are many more than I have mentioned here.
(Next week – Creative prayer: Apples, wings and roots. Illustration by Dave Baab.)
Some posts where I write about paying attention to our lives:
[1] Adele and Doug Calhoun and Clare and Scott Loughrige, Spiritual Rhythms of the Enneagram: A Handbook for Harmony and Transformation, InterVarsity Press 2019, page 199.
Next post »
« Previous post
Subscribe to updates
To receive an email alert when a new post is published, simply enter your email address below.
Comments