Draw near: Praying to be like water
Lynne Baab • Tuesday January 10 2023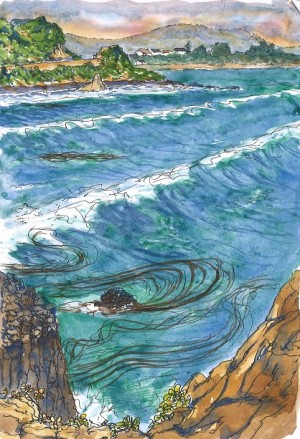 I have always loved water. We lived in Athens, Greece when I was 2 and 3. My dad was assigned to the American Embassy there, and my mom took me to the beach almost every day. She tells me I paddled around in an area for kids, using an inflatable ring. Later I learned to swim, and I still remember those incredible moments of deep peace when I would let myself hang suspended under water. No pressure to be a perfect daughter! No pressure to conform to standards I didn't understand! Just silence, my body in held in balance by the wondrous water.
Little did I know that what I was experiencing in the water was actually God's grace, which comes to us like clean, refreshing water. In Jeremiah, God is described as "the fountain of living water" (Jeremiah 2:12, 13). Jesus tells the woman of Samaria that he can give her "living water" (John 4:10). In John's vision of the heavenly city, he describes "the river of the water of life, bright as crystal, flowing from the throne of God and of the Lamb" (Revelation 22:1).
In Celtic languages, the name "Lynne" means pool, pond, lake, or waterfall. One name book I read many years ago said that my name means the pool of water at the bottom of a waterfall. Vivid and fun! Maybe my name predisposed me to love water and to enjoy images of God that involve water.
I was quite taken by an article suggesting that Christians might try to be more like water. The author, Dr. Russell Jueng, was writing specifically about Asian American Pacific Island (AAPI) hate crimes, suggesting that AAPI Christians (and Christians who care about them) might emulate four characteristics of water. He is the founder of Stop AAPI Hate and professor of Asian American Studies at San Francisco State University, so he speaks from experience. I found his four characteristics to be quite thought-provoking and stimulating for prayer.
If God gives us living water, then it makes sense that we would pray to be more like the water God gives us. We can pray to be like water in four ways:
Water is clear. We might pray to think clearly and speak clearly. We might pray that God would give us clear perceptions of exactly what is happening in the challenging situations we face. We can pray for clarity in considering patterns from the past that impact current behaviors, habits, and opinions, and we can pray for clarity of vision for the future.
Water is humble. Dr. Jeung writes, "It does not force its own way; it bends toward the path of least resistance. . . . This is a theme in the Gospels as well. Jesus, who blesses the meek (Matthew 5:5), exemplifies the humility of water that is yielding." [1] The only way I can write about prayer for humility is to juxtapose it with the third characteristic of water that Dr. Jeung mentions: Water is persistent.
Frankly, "bending toward the path of least resistance" is what I was taught as a young girl, and it became a bit pathological because it removed my ability to have any ambition (in the best senses of that word – stay tuned for next week's post on ambition). Throughout my adult life, I have been on a journey of learning assertiveness and commitment to what I care about. I can pray about being humble like water only in juxtaposition with praying for persistence like water.
As you consider what it might look like to become humble and persistent like water, perhaps you might want to pray for God's wisdom and guidance about when to be humble and when to be persistent, or how to pursue both of these values at the same time. I know I pray for the deep-rooted sense of being God's beloved that allows me to seek to honor God rather than looking for approval or praise from others. I also pray for the power of the Holy Spirit to persevere and persist in acting on what I believe to be true.
Water is restorative. I think of that moment I have always loved, right after diving into a pool or lake, when my body is suspended in total peace and silence, supported by the water. I want to convey that kind of restoration and peace to others. We can pray that we would be able to support others, like water supports us when we swim, conveying acceptance, healing, restoration, peace, and joy. We can pray that God would guide us into restorative actions that bless others.
Russell Jeung believes that with "clarity, humility, and persistent faith, followers of Jesus may be restorers of their community." May that be true for each of us, and may God guide us into patterns of prayer that help us draw on the guidance and empowerment of the Holy Spirit, who comes to us like living water.
(Next week: praying about ambition. Illustration by Dave Baab: Seaweed at Second Beach, Dunedin, New Zealand. If you'd like to receive an email when I post on this blog, sign up below under "subscribe.")
Previous posts about water:
[1] all quotations from Russell Jeung from from "Be Like Water" by Russell Jeung, The Christian Century, May 6, 2022, 10-11.
Next post »
« Previous post
Subscribe to updates
To receive an email alert when a new post is published, simply enter your email address below.
Comments