Humility and listening, part 2
Lynne Baab • Wednesday April 1 2015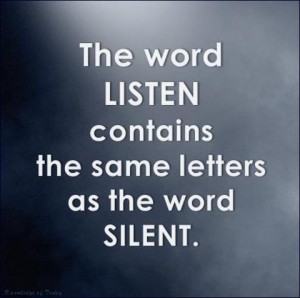 Historically, Christians have warned against two vices related to humility: false humility and pride. True humility involves avoiding those two opposite pitfalls. False humility or an excess of humility often results in an inability to serve God well because of an overly low view of the self and one's gifts for service. An excess of humility can also lead to obsequiousness, excessive flattery, or co-dependent submission to others. This characteristic is sadly present in communities of faith when some individuals don't think they have anything to contribute and are in awe of those who do contribute. False humility is often not just present in communities of faith, but also encouraged and validated.
I have a hunch that pride, the other vice related to humility, is also quite common in congregations, but it is usually masked. One of the masks is activity. A knee-jerk response in the midst of a problem or crisis is to do something, because it helps us feel better about ourselves. We love solving problems. A denominational official said to me in an interview, "I'm really good at strategy! My immediate response in most situations is to say, 'Let's put good ideas together and strategize!'" We like to do what we're good at, and many of us are good at planning and action.
Another mask for pride is spiritual certitude. We think we know what the Bible says, what's right and wrong, and what people inside and outside the church need. We know, therefore we don't need to learn more. In order to speak God's love and truth into this hurting world, we need greater understanding of what's going on in people's lives. We need the kind of humility that helps us know we always have something to learn.
One kind of listening that looks humble might be called pretend humility. Listeners sometimes say "I hear you," "good idea," or other affirmations when they are not taking in what the speaker is saying and have no interest in taking seriously anything they hear. Pretend humility can sometimes be identified by a paternalistic tone of voice, or by the fact that the platitude isn't followed with any further comment or action. Sometimes pretend humility is quite confusing, because the speaker thinks the message has been received, while in reality the words are completely ignored.
Almost everyone has times when they feel they needto be right, need to be in control, and want to show competence. Almost everyone has moments when all they can summon up is a platitude in response to words they have no intention of taking seriously. Almost everyone has times when they feel anxious in conversations. We might feel anxious about the to-do list spinning around in our head or about the lunch we need to prepare in just a few minutes. We might feel stressed trying to find a moment in the flow of words to express our opinion or to ask an urgent question. We might long to fix another person's painful problem, even though we know we can't, and our deep concern for the other person and our inability to change their life for them creates tension in us.
What are the characteristics of listening when we have these emotions roiling around inside and we are unable to park them somewhere outside the conversation? In those times when we need to be right and want to be in control, in those times when we feel anxious, listening deeply does not come easily. We commonly stop listening in those situations.
Some additional resources on listening:
(During Lent I'm posting excerpts from my book on listening. If you'd like to receive an email when I put a post on this blog, sign up under "subscribe" in the right hand column. Book excerpt from The Power of Listening by Lynne M. Baab. Copyright © Rowman & Littlefield. Used by arrangement with the publisher. All rights reserved. No part of this excerpt may be reproduced or printed without permission in writing from the publisher.)
Next post »
« Previous post
Subscribe to updates
To receive an email alert when a new post is published, simply enter your email address below.
Comments