Letting go of agendas as we listen
Lynne Baab • Saturday December 6 2014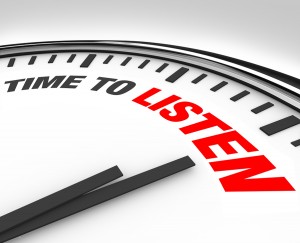 Eleven years ago our son came to us asking advice about whether we thought he should marry his girlfriend of three years. They were both 23, and he felt that was too young to get married. My husband and I agreed with that assessment, but we also agreed with him that this lovely young woman was just about the best thing that had ever happened to him.
After our son talked through the pros and cons of getting married, I said: "Yes, you're both too young to get married, and yes, she's an absolutely wonderful person. You have a tough decision to make." For the first time as a parent, I genuinely did not have an opinion about what he should do. Previously, I struggled and prayed about whether or not to voice my opinion. This time, I truly didn't know what he should do.
I've looked back on that moment many times. The quality of my listening changed when I realized I genuinely didn't have an opinion, and that I genuinely wanted to support him in whatever he decided to do. Yes, I would pray for guidance for him, but it was his (and her) big decision to make, not mine.
In the past three years I've been researching, teaching, speaking and writing about listening. I have come to believe that many of the same listening skills and listening obstacles apply both to listening to people and listening to God. One of the biggest obstacles comes from having an agenda while listening.
That agenda might be our certainty that we know what another person should do or believe, which I so frequently experienced as a mother of teenagers. My kids would talk about something they wanted to do, and I could see so clearly it wasn't a good idea, and my struggle in the conversation was to find wisdom. What was the best way to influence them?
(These are the opening paragraphs of an article that was recently published in Refresh Journal of Contemplative Spirituality. Read the rest of the article here. If you'd like to receive email updates when I post something on this blog, sign up under "subscribe" in the right colum of this webpage.)
Next post »
« Previous post
Subscribe to updates
To receive an email alert when a new post is published, simply enter your email address below.
Comments