Nature speaks about God: The Bible and nature
Lynne Baab • Friday May 4 2018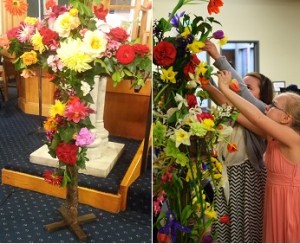 In our Seattle church, children bring flowers on Easter Sunday, mostly daffodils and tulips, with a few hot house flowers like carnations thrown in. The flowers are inserted in a cross specially designed for Easter. At my friend's church in Oamaru, New Zealand, children also bring flowers on Easter to place on a cross. Because Easter is in the late summer in the Southern Hemisphere, the flowers are mostly roses and dahlias.
Different flowers, different seasons, different locations. Same God, same Easter, same celebration of Jesus' triumph over death.
The cross speaks of Good Friday, Jesus' sacrifice for us, and God's great redemption of the world through Jesus' obedience and love. The flowers speak of seasonal beauty. In the Northern Hemisphere, the daffodils speak of new life in the spring. In the Southern Hemisphere, the late summer flowers speak of abundance and rich fullness of life.
These flower crosses are a good illustration of a profound truth. God reveals God's nature and character to us in two major ways: through the wonder of the created world and through the Holy Scriptures of the New and Old Testament.
Nature speaks of her Creator. I've been writing weekly posts for more than two months about how God has spoken to me through nature, and you can see a list of all those posts below.
The Bible also speaks about who God is and what God does. God's speech through the Bible is very focused and specific. Through the Bible, we learn the story God's work through the nation of Israel. We learn about God's law, the prophets who spoke of God's truth, and the kings who led God's people. Through the Bible we learn about Jesus' coming to earth, his death on the cross, his glorious resurrection, and the sending of the Holy Spirit. Without the Bible, the voice of nature is pretty general, diffuse and vague.
Theologians have a name for these two kinds of revelation about God. "General revelation" refers to God's revelation through nature. "Special revelation" refers to God's specific and particular revelation through the Bible.
These two kinds of revelation are visible in Psalm 19, vividly portrayed in The Message translation:
God's glory is on tour in the skies,
God-craft on exhibit across the horizon.
Madame Day holds classes every morning,
Professor Night lectures each evening.
Their words aren't heard,
their voices aren't recorded,
But their silence fills the earth:
unspoken truth is spoken everywhere. . . .
The revelation of God is whole
and pulls our lives together.
The signposts of God are clear
and point out the right road.
The life-maps of God are right,
showing the way to joy.
The directions of God are plain
and easy on the eyes.
God's reputation is twenty-four-carat gold,
with a lifetime guarantee.
The decisions of God are accurate
down to the nth degree.
God's Word is better than a diamond,
better than a diamond set between emeralds.
You'll like it better than strawberries in spring,
better than red, ripe strawberries.
There's more: God's Word warns us of danger
and directs us to hidden treasure.
Otherwise how will we find our way? —Psalm 19:1-4, 7-11, The Message
In one of my earlier posts, I wrote about how my perception of God's voice through nature changed after I became a Christian. My knowledge of God through the Bible shaped the way I heard God speak through nature.
As this series comes to an end, I encourage you to continue to ponder the voice of God through nature. Compare and contrast what you "hear" about God's character and actions in nature and in the Bible. What do you hear about who God is? How God views you? How you are called to respond today?
(Next week: An AHA moment on Mother's Day. Illustration: An Easter flower cross in Oamaru, New Zealand, on the left and an Easter cross in Seattle on the right. If you'd like to receive an email when I post on this blog, sign up under "subscribe" in the right hand column.)
This is the tenth and final post in a series on the ways God speaks through nature. Previous posts:
The first time nature to spoke to me about God
Mountains and clouds on Easter
Algae and stars
Tropical fish in the Red Sea
Jesus in a boat on Greenlake
The feeling of God's absence
Familiar and unfamiliar landscapes
The miracle of trees
Patterns in God's speech
Next post »
« Previous post
Subscribe to updates
To receive an email alert when a new post is published, simply enter your email address below.
Comments