Quotations I love: moving from intending to pray to actually praying
Lynne Baab • Friday September 30 2016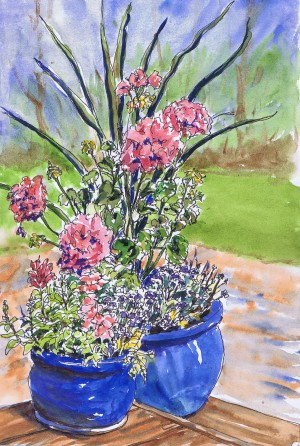 "There is a moment between intending to pray and actually praying that is as stark and silent as any moment in our lives. It is the split second between thinking about prayer and really praying. . . . How easy it is, and yet – between us and the possibility of prayer there seems to be a great gulf fixed: an abyss of our own making that separates us from God." – Emilie Griffin [1]
It is no accident that throughout history, Jews and Christians have prayed at meals and at bedtime. Humans are creatures of habit, and we do anything more easily when it's connected to a life rhythm so it can become habitual. When I was a child, my parents, my brother or I said a memorized grace every night at dinner, and my mom sat with me at bedtime and encouraged me to say a memorized prayer. With these memorized prayers at meals and at bedtime, did we make the leap from perfunctory words – intending to pray – to actually praying? I think sometimes we did.
I collect stories about people's actual spiritual practices, and I've heard about praying while:
watering flower pots
taking a shower
taking a deep breath after children go off to school
driving past a school or hospital
hearing an ambulance or rescue helicopter
gardening
walking
swimming laps
washing dishes
waiting in line
One of the more intriguing stories I heard recently is a fellow who has set his cell phone to make a beautiful bell sound at 9 am, noon and 3 pm. When he hears the sound, he stops what he's doing and prays – briefly or not so briefly.
My husband Dave and I say grace together every night at dinner, but I wish I were better at thanking God for food when I eat alone. At various times in my life, I've had habits of praying while walking outside to get the mail, doing laundry and flossing my teeth. I recently read an article in the New York Times about linking mindfulness meditation to brushing teeth. The same could be done with prayer. (The article made me feel better about my somewhat weird praying-while-flossing habit!)
I always pray after I turn out the light at night. I wonder if that practice is rooted in those bland prayers I prayed every night as a child with my mother. Surely every Christian parent who prays at bedtime with children hopes that the habit will stick.
If you have trouble getting from thinking about praying to actually praying, I encourage you to ponder your daily habits and patterns. Which habits could you link to prayer? People of faith throughout the centuries have found it helpful to make a connection between daily patterns of life and prayer. New habits take a while to develop, but eventually the new action (prayer) becomes linked to the already existing pattern of life.
A second suggestion for making the leap from thinking about praying to actually praying relates to our need for God. Someone once told me there are basically only two prayers: "thank you" and "help me." I've written many times about prayers of thanks which can easily be connected to daily habits (see the list below), so I'll say something here about the significance of considering our need for God.
What exactly do I need from God? Lots of things! Lately I've been trying to figure out how to express my need for God in the simplest manner possible, and I've come up with four basic needs:
comfort
guidance
empowerment/energy
a sense of God's presence
I find that when I can name what I need from God, it's easier to make the leap from intending to pray to actually praying.
Ultimately, the character of God is our biggest invitation to prayer: "For we do not have a high priest who is unable to sympathize with our weaknesses, but we have one who in every respect has been tested as we are, yet without sin. Let us therefore approach the throne of grace with boldness, so that we may receive mercy and find grace to help in time of need" (Hebrews 3:15, 16). Here's the Message version of the same verses: "He's been through weakness and testing, experienced it all – all but the sin. So let's walk right up to him and get what he is so ready to give. Take the mercy, accept the help."
(Next week: a quotation by Thomas Merton on the divine shining through everyday life. Illustration by Dave Baab. If you'd like to get an email when I post on this blog, sign up under "subscribe" in the right hand column.)
Previous posts on thankfulness:
A thankfulness challenge
Another thankfulness challenge
Thankfulness and sentness
Regret and fear are thieves
[1] Foster, Richard J. & Yanni, Kathryn A., Celebrating the Disciplines: A Journal Workbook to Accompany Celebration of Discipline (New York: Harper Collins Publishers: 1992), 14.
Next post »
« Previous post
Subscribe to updates
To receive an email alert when a new post is published, simply enter your email address below.
Comments