Dead Sea: A Novel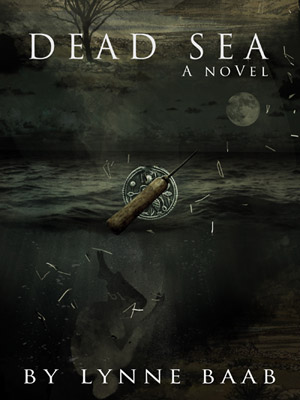 Buy for multiple e-book formats now »
Buy for Kindle now »
Dragooned into leading a study tour of Israel, stay-at-home Samantha finds herself baffled by the participants' adversarial style of interaction. Most of them are employees of a computer game company with a recent hit, and they love vigorous debate. The ultimate adversarial interaction culminates in the death of one of the more abrasive study tour participants, evidently murdered by one of his coworkers. An attractive Israeli detective, Aaron Nahari, asks Samantha to help him with the investigation.
The minister at the church where Samantha works, who compelled her to help lead the tour, told her he believed the tour would change her life. While Samantha and Aaron conduct the interviews to find the killer, Samantha discovers the ways her life will be shaped by her adventure.
Dear Reader
My husband and I lived in Tel Aviv, Israel, for eighteen months in 1979 and 1980. That experience was formative for us in many ways.
Fourteen years after we moved back to our home city, Seattle, I decided to write a murder mystery and situate it in Israel and Jordan. I wanted to "visit" some of my favorite places, including the Sea of Galilee, Jerusalem, Ein Gedi, Masada, Jerash and Petra.
This book sat in storage (in paper form in a file cabinet and in electronic form on a computer diskette) until last year. As I read it, almost two decades after I wrote it, I found myself enjoying the characters and the descriptions of the locations.
So I decided to put some work into polishing it so I could publish it electronically and share it with others. I hope you enjoy visiting Israel and Jordan with me.
Blessings, Lynne Baab
Reviews
A delightful read for a quiet afternoon of relaxation and refreshment, a review by Christine Sine »
I don't often post reviews of fiction books, in spite of the fact that I read 3-4 of them a week. However last week my friend Lynne Baab sent me a copy of Dead Sea: A Novel which is now available as an e-book on Amazon. I loved it. It not only brought back memories of my own time in Israel twenty years ago but also satisfied my desire for some good detective work. Her descriptions of a trip into Petra, Jordan, where I have not been, made me want to pack my bags and get on the plane.
This is not a complex novel of intrigue and thrill, but it is a delightful read for a quiet afternoon of relaxation and refreshment. I highly recommend it both to those who love the Middle East, and to those who enjoy a good detective story.
Four Short Reviews »
Death on the Dead Sea - And Everyone's Got a Motive by Bethany Joy Carlson
When Fodor's Israel meets a young Miss Marple, the result is an enticing tale in foreign lands that even a non mystery buff (me!) can really enjoy. This debut novel examines the dysfunctional team dynamics of a video game design business on location in the setting of their next game... frankly, the animosity is only too believable!
A Mystery with Genuine Atmosphere by T D Cooper
I really enjoyed reading Lynne's first novel. I hope she writes more. What I liked most was the sense of atmosphere. Lynne weaves in to the story many interesting aspects of travel (to Israel) and archaeology, and describes the different settings almost as if I'd been there myself. It certainly makes me want to visit Israel, especially when some of details Lynne offers (like the remains of the Roman camp from AD70) seem too remarkable to be true. She also evokes the atmosphere among the group that forms the core cast of the novel. Lynne's observations on these individuals reflect her own expertise in addressing pastoral issues.

I would have liked the novel to have had more suspense and moments of tension - there is a very even pace through out - and I think the Dead Sea itself could have been more of a brooding presence in the background. The style is much more in the mode of Agatha Christie and the early P.D. James (with lots of dialogue and interviews with the suspects) than that of, say, Elizabeth George (with so much, sometimes too much, on the personal lives of the investigators and the danger they end up in).

So I think the reader should adjust expectations, as I eventually did, to enjoy being in the atmosphere Lynne has created. If they do, they'll find this a satisfying read.

I suppose I should offer the disclaimer that Lynne is a (higly regarded) colleague of mine, but I'd like to think that had no bearing on my review.
The Novel as travel guide
by Kiwi Anne
I read Lynne's book, "Dead Sea", a week before visiting Israel, and my husband read it on the plane as we flew there. That gave an immediacy to my reading, the excitement of "these are places I'm going to see", and delightful anticipation.

Lynne's descriptions grabbed my attention - the colours of the landscape, the feel of the desert - and as someone who likes a good detective story, I enjoyed the plot as well. Visiting Masada a few days later, I found myself recognising things that Lynne had written about - did she (or her characters) really climb the Snake Path twice? I was impressed!

As an evocative picture of Israel, and of places in Jordan (like Petra) which I have not yet seen, as well as a good story to read, I would recommend "Dead Sea: a Novel" to anyone planning a visit to Israel, or wanting to visit in their imagination.
Great Read
by Anna
I really enjoyed this novel. The authors descriptions of Israel throughout the story put vivid pictures in my mind as I read. The combination of the main characters development throughout the story and the intriguing mystery made this an enjoyable read!
Holy Land Murder Mystery by Darren Cronshaw »
Holy Land Murder Mystery by Darren Cronshaw
An understandable fear of any traveller is joining a tour and finding obnoxious people in the group who are going to spoil the trip. Through the roll of a dice we are thrown together with people we did not know, and under normal circumstances may not mix with or talk much to. The same dynamic happens in churches – Christians worship and share life with other people they may not normally choice to mix with. But this "sociological impossibility" (quoting Hoekendijk) is part of the good news of Christian community, bringing together people from diverse cultural backgrounds for like-minded purposes.

But what about a church tour group? Instead of spending just Sundays and other occasions together, a group is thrown together for a week or two or more? And what if something goes wrong?

Lynne Baab is used to grappling with church dynamics, conflict and spiritual practices for groups as a practical theology lecturer and writer on spirituality. An American by background, she is currently based in New Zealand teaching at the University of Otago and over the last decade has written a dozen books and resources for personal spirituality and help for congregations (see [...]).One of her most recent books, however, is a novel –DeadSea.

Baab's foray into fiction is set around the Dead Sea, Jerusalem, Nazareth, Masada, Ein Gedi, Petra and the Sea Of Tiberias as part of a church tour to Israel and Jordan. Baab had enjoyed these sites herself when she lived in Tel Aviv in 1979-1980. She lets her readers see these biblical sights through the eyes of Samantha, the last-minute recruited tour leader. The first twist is that most of the group are not churchgoers, but enjoying a work trip as part of research for an archaeology computer game. The second twist is that one of them dies in the first week of the trip.

The novel turns into a classic "who-dunnit"murder mystery complete with complex characterization, a handsome detective, complicated conflict dynamics. Samantha wonders what she has got herself into, but learns a lot about herself and sees surprising elements of assertiveness and friendship, and a little more, emerge from the episode.

Along the way, as well as enjoying the twists and turns of working out who did the deed and who was involved in other ways, Dead Sea: A Novel shows the reader insights into archaeology, confidentiality, Jewish messianic Christians, gender issues in decision-making, family of origin issues in conflict styles, and how conflict can lead to creative productivity. The victim seemed to have been in conflict with just about everyone, so unravelling who had the motive and means is a fun read.

This book review was originally published in Sight Magazine (20 Nov 2012)