Receptivity and Offering: Preparing for Christmas
Lynne Baab • Wednesday December 22 2021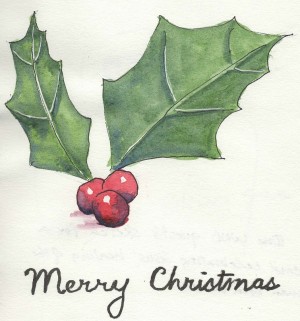 If you're like me, the Christmas season will involve some conversations – in person, online, or on the phone – with people who might be challenging. The section I wrote on receptivity for my book on listening seems particularly relevant for holidays:
Being receptive requires a kind of holy curiosity that enables us to wonder what God is doing in a situation before – and after – we arrive. Being receptive helps us slow down a bit and pay attention to what's already happening in the lives of the people we encounter, their thoughts, feelings, concerns, passions, and desires.
Love motivates us to work on improving our ability to listen. In order to listen well, we have to want to listen. In order to want to listen, we have to expect that something is worth listening to, that something real and significant is happening in the lives of the people we encounter. This expectant stance is what I view as being receptive.
I like the idea of bringing an expectant stance and "holy curiosity" into holiday settings. We offer to God our expectant stance and our holy curiosity, with the hope that we will receive unexpected gifts from the people we are with. We open our hands to receive from God, and our open hands are part of what we offer.
In my book on communal spiritual practices, I define "receptivity" more precisely and discuss two aspects of it:
When I use this word "receptivity," I am referring to being open to God's gifts and God's guidance in two different ways. On the one hand, God works in our lives in response to the needs we express in prayer, the concerns we have about people we love, and the tensions and anxieties we experience in everyday life. God invites us to open our hearts and minds to see the way the Holy Spirit is moving in the situations we care about. . . .
The second aspect of receptivity relates to our willingness to let God initiate, to let God be God in whatever form that takes. Jesus invites us to follow him, to let him set the agenda and lead us. "Take my yoke upon you and learn from me," Jesus encourages us (Matt. 11:29). God guides us into places we wouldn't otherwise go, and challenges us to grow in ways we never imagined. God gives us gifts that we could never have seen on our own, and calls us to use them in situations we never planned. . . .
Michael Casey, in his book on lectio divina entitled Sacred Reading, notes the patience required in a receptive stance: "Patient receptivity may serve us better than a clamorous urgency to be enlightened."
We offer to God our willingness to pay attention to the way God answers our prayers, which may not be the way we wanted. We offer to Jesus our willingness to follow him and let him guide us into places we would not otherwise go. We offer our open eyes to see gifts we don't expect. We offer our patience to receive what God wants to give us rather than what we wish we could receive.
Our celebration of Jesus' birth, and the challenges of the holiday season, create a perfect laboratory for learning more about receiving from God and offering ourselves to God. May God bless you this Christmas and in the New Year with joy in God's gifts to you and with the patience and receptivity to see gifts that are unexpected.
(Next week: God purifies us so we can make right offerings, Malachi 3:3. Illustration by Dave Baab. I love to get new subscribers. Sign up below to receive an email when I post on this blog.)
Last month I gave a seminar at my church on holding grief and gratitude in two hands. The video recording is here.
Previous posts related to receptivity:
Next post »
« Previous post
Subscribe to updates
To receive an email alert when a new post is published, simply enter your email address below.
Comments