Lynne is a Presbyterian minister and author of numerous books and Bible study guides. She lives in Seattle. Read more »
Lynne recently spoke on "Spiritual Practices for Preachers" (recorded as a video on YouTube.) The talk is relevant to anyone in ministry and focuses on how to draw near to God simply as a child of God as well as engaging in spiritual practices for the sake of ministry.
Here are two talks Lynne gave on listening (recorded in audio form on YouTube): Listening for Mission and Ministry and Why Listening Matters for Mission and Ministry.
Lynne preached recently on Reverent Submission, trying to reclaim the word "submission," which has a bad rap in our time.
Soon before she left her position in New Zealand as senior lecturer in pastoral theology, Lynne recorded a one-minute video for her departmental website describing what's most important to her in her writing and teaching.
"Lynne's writing is beautiful. Her tone has such a note of hope and excitement about growth. It is gentle and affirming."
— a reader
"Dear Dr. Baab, You changed my life. It is only through God's gift of the sabbath that I feel in my heart and soul that God loves me apart from anything I do."
— a reader of Sabbath Keeping
Subscribe
To receive an email alert when a new post is published, simply enter your email address below.
Featured posts
Tags
Archive
Wednesday January 11 2017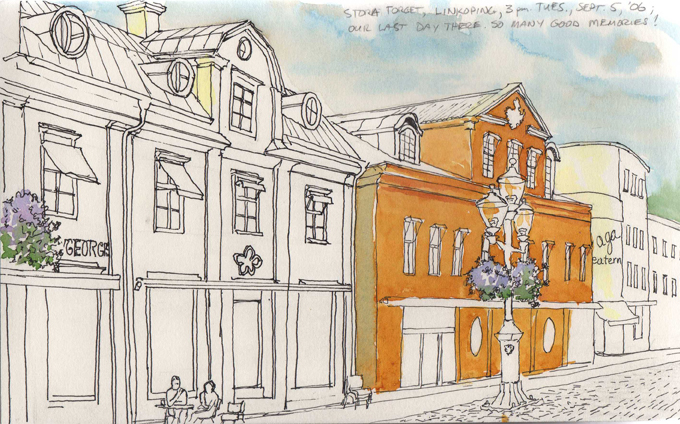 The notion of "home" has been a big deal in my life, a contested and difficult concept. In my childhood, we lived in 12 places in my first 15 years, a pattern that makes a child feel pretty disoriented. In 2011, I came to a place of peace about having two homes – Seattle and Dunedin – rather than having to try to figure out which one was really home.
My 2011 shift in thinking about home (which I wrote about in an earlier blog post on this blog) came from reading Thomas Tweed's book, Dwelling and Crossing. Tweed argues that we find and create homes in four arenas:
our body
our dwelling place (our house or apartment)
our homeland
the cosmos or heaven
Tweed believes that religion helps us find homes in these four arenas and move between these homes.
I suspect that for most of us, one or two of these kinds of homes is quite comfortable or comforting. And I suspect that most of us feel a bit uneasy or uncomfortable about one or two of these kinds of homes.
For me, the most comfortable arena for my experience of home is the house where I live. I enjoy furnishing and decorating spaces, and I enjoy spending time in the spaces I create. I don't have illusions of being a great interior decorator, and I'm not terribly picky about my personal space. I simply enjoy feeling and being at home. After seeing so many homeless people during our time in Seattle in 2015, I am deeply aware of the huge privilege of having a house to live in.
Second most comfortable for me would be my home in heaven. I love the notion that Jesus has prepared a place for us (John 14:2-4). I love knowing that one day this mortal body will be swallowed up by the immortal (I Corinthians 15:51-57).
My least comfortable home is my physical body. When I turned 13, I started turning to food for comfort, which began a pattern of overeating that has lasted for decades. It's better, no doubt about it, but I still need to grow and change. I love knowing that God never stops helping us grow toward shalom – wellness and wholeness – in every area of life, and I look forward to feeling even more at home in my body in the years to come as God continues to transform me into the image of Jesus (2 Corinthians 3:18).
Here we are in the middle of the first month in the New Year, a time to look back and look forward. Lent begins in six weeks, on March 1, and Lent is season for reflection as well. I want to invite you to consider the four arenas of home identified by Thomas Tweed: your body, your house or apartment, your homeland, and heaven. Here are some questions to reflect on:
1. Which of the four kinds of home feels most comfortable or comforting to you? Spend some time thanking God for the gift of that home. In 2017, is there some way God is calling you to change your thinking about that home? Is there some way God is calling you to share that home with others in a new way?
2. Which of the four kinds of home feels least comfortable to you? In what ways has God shaped you or worked in that area of your life in recent years? In what ways would you like God to change your thinking or actions related to that aspect of home this year? Write out a prayer describing the ways this kind of home feels uncomfortable to you and asking God for help. Write out your desires and dreams as a part of the prayer.
(Next week: my latest creative endeavor. The week after that: the first post in a new series on worshiping and serving God from the heart. Illustration by Dave Baab. If you'd like to receive an email notice when I post on this blog, sign up under "subscribe" in the right hand column. This post originally appeared on the Godspace blog.)
Tuesday December 20 2016
The fruit and vegetable stand down the street offers the opportunity to order some special foods for Christmas. What's on the list? Strawberries and raspberries. For my Northern Hemisphere readers, have you ever considered those fruits to be essential at Christmas?
Here in New Zealand, the ad flyers in December feature "Christmas specials" on picnic supplies, patio furniture and barbecues. The first time I saw one of those flyers, I had a profound sense of disorientation. Now, after almost a decade of living down under, I can see that Christmas in the summer offers some lovely fuel for contemplation.
A couple of years ago I wrote a blog post in an Advent series answering these questions: Who do I want to bring to the manger? Who might otherwise be excluded? My unexpected answer: my body. For much of my Christian journey, I have been a bit dislocated from my body. A summer Christmas helps address that issue.
Christmas in the summer is all about being physical: playing Frisbee in the park, walking on beautiful beaches, enjoying the extravagant roses in the Botanic Garden, taking long, leisurely bike rides. With so many fruits and vegetables in season, it's harder to want to cook pies or heavy winter food.
With so much light and warmth, getting outside to enjoy God's creation is easier. Jesus came to earth to redeem the whole creation, and a summer Christmas can remind us of that. All the opportunities for exercise in a summer Christmas connect us with our bodies, which Jesus came to redeem. I have a sense of a holistic Christmas here in New Zealand: Jesus came for the sake of the physical world – including my body – as well as the spiritual world.
Last week I wrote a post for the Godspace blog about Santa Lucia Day, which is celebrated on December 13 in the Scandinavian countries. In the old Gregorian calendar, December 13 was the winter solstice. Santa Lucia, or Saint Lucy, was a young Christian who was martyred for her faith in 304. She wore candles on her head so her hands would be free to carry food to Christians in the catacombs. The light of those candles shone in the darkness of the catacombs, just like the light of Christ shines in the darkness of this word's sin and brokenness.
In the northern parts of the Northern Hemisphere, lights in the darkness are a great picture for Jesus' life, death and resurrection. But I have experienced the long, bright December days here in New Zealand to be a different and equally powerful reminder of what Jesus has done for us. He has brought abundant light into our lives – bright and long-lasting light that leaves no room at all for darkness.
Sadly, in New Zealand society and even in the church here, the meaning of Christmas is often lost because of the bustle and busyness. If December in the Northern Hemisphere is busy, December in New Zealand is busy squared. The academic year ends in November or December, so Advent is full of year-end plays and musical productions and graduations. Families are getting ready for their summer vacations, and I know I spend a lot of energy on getting ready to go on vacation. Add into that mix Christmas shopping and preparation for family gatherings at Christmas, and no time is left for Advent reflection or the kind of quiet that nurtures a deep understanding of how a summer Christmas might speak to us of the meaning of the incarnation.
Whether you live in the Northern or Southern Hemisphere, I want to encourage you to take some time in the days before or after Christmas to reflect on what it means to you that Jesus came to earth. Take a walk, sit on a bench in a garden, light a candle, or just lay in bed before or after sleeping. Wherever you live, think about these questions: What does the metaphor of Jesus' light shining in the darkness mean to you? In what ways do long bright summer days with lots of physical activity speak to you of Jesus' coming to earth?
I wish you wonderful moments of gratitude for Jesus.
(Next week: four quotations about thankfulness, the last post in my series on quotations I love. Illustration by Dave Baab: December Roses in Auckland. If you'd like to receive an email when I post on this blog, sign up under "subscribe" in the right hand column.)
Saturday December 20 2014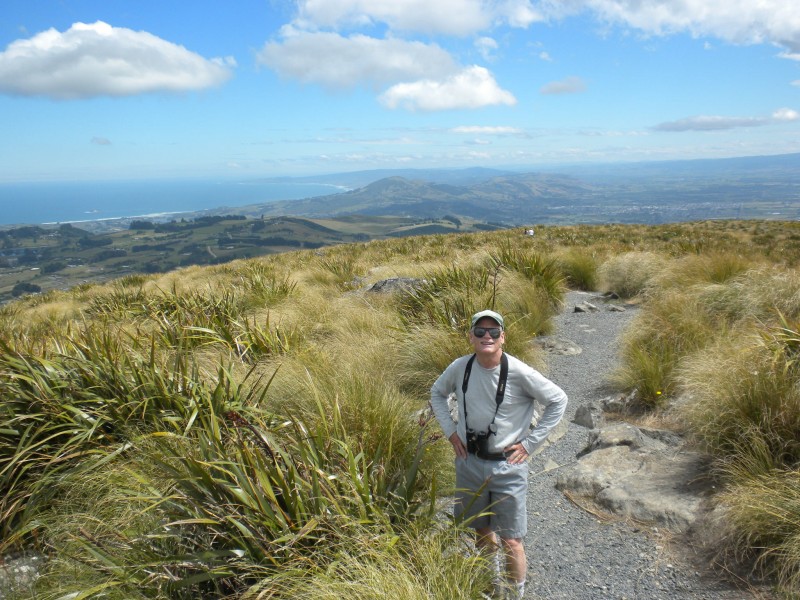 (On her Godspace blog, Christine Sine has an Advent series this year answering the questions: Who do I want to bring to the manger? Who might otherwise be excluded? Here's what I wrote in response to her invitation. The photo is my husband, Dave, on a Christmas hike in Dunedin, New Zealand, on the top of Flagstaff, 666 meters or 2185 feet.)
Who do I want to bring to the manger this Christmas? Who might otherwise be excluded or ignored? Here's my somewhat odd answer: my body.
Of course, my body isn't actually separate from myself, but sometimes it feels like it is. Part of that comes from the Christian emphasis on spiritual things. Our redemption in Christ often seems to be more focused on our souls and spirits rather than on our bodies. Another part of my sense of separation from my body comes from my struggles with weight my whole life, which have often contributed to a view of my body as a bit of an enemy rather than as a beloved part of myself.
My conviction that Advent and Christmas are a good time to focus on the significance of our bodies in God's grand story comes from living in the Southern Hemisphere for the past few years. This Advent is my seventh in New Zealand.
I come from Seattle, where Advent evenings are pitch dark before 5 pm. Here in Dunedin during December, there is still light in the sky at 10 pm. In New Zealand, the red and green colors of Christmas take new forms: strawberries, local zucchini and red peppers cooked together, and lettuce from our garden paired with bright red tomatoes. These are healthy, light foods. Favorite activities of New Zealanders during Advent and Christmas include walking on beaches and hiking in the mountains, sailing and surfing, gardening and strolling among the roses in the Botanic Garden. Here, our physical bodies are not smothered in heavy sweaters and down coats during Advent and Christmas. Bodies seem alive and real this time of year, nurtured by healthy food and lots of physical activity.
At first, a Christmas season full of long, sunny days seemed very weird indeed. I know people in Florida experience sunshine at Christmas, but I seldom had. I missed the candles in the dark evenings, and all that imagery of Jesus as the light shining in the darkness. I missed that sense of hunkering down inside with delicious smells of cooking in the background and green and red decorations in the house. Now the red and green show up in healthy foods, and we focus on the beauty of the light outside and all the growing things we can see from our window even in the evening.
I have come to see the new pattern as a gift, a part of my growth in bringing my whole self, including my body, to Christ in worship and submission. When we think of the incarnation, we remember that Jesus took on flesh in order to redeem us. He didn't want to redeem just our souls and spirits. Our bodies are an integral part of our selves, and therefore an integral part of our redemption. I celebrate that reality much more profoundly at Advent in the Southern Hemisphere than I ever did up north.
As I walk among the December roses, I remember that God made those gorgeous blooms, just like God made my body, soul and spirit. At this time of celebrating the incarnation, remembering the beauty of creation helps remind me why the incarnation was necessary. Truly I long to return to the purity of what God made, before all that beauty was marred by sin. Truly my whole self – body, soul and spirit – is broken and needs redemption in Jesus.
Yes, this year I want to bring my body to the manger, to bow in worship and surrender, giving my whole self to Jesus.
(If you'd like to become a subscriber to this blog, which means you'll receive an email every time I post something, sign up in the right hand column.)