Initiative in friendships: A gift given to me by initiative
Lynne Baab • Saturday August 5 2017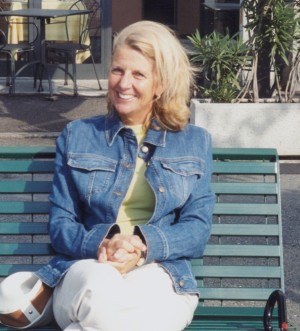 I am still awed by the gift I received when I took initiative a decade ago to visit a friend named Shelagh (a Scottish name pronounced "Sheila"). I met her when I was twenty-seven and she was twenty-one. My husband, Dave, and I were living in Tel Aviv, Israel, for eighteen months while he was filling in for someone at the university who was on sabbatical. Soon after our arrival, we met Shelagh at church. She was from South Africa and had been posted to her country's embassy in Tel Aviv as a secretary.
We discovered that Shelagh liked to play tennis just as much as Dave did, so we often met for tennis games. I watched while they played. What a pleasure! Shelagh was the most elegant tennis player I have ever seen. Her mother had played at Wimbledon, so Shelagh had had a tennis racket in her hand since childhood. After Shelagh beat Dave soundly, the three of us would have dinner together and talk.
Shelagh was one of those joyful, radiant Christians whose faith was encouraging and stimulating to me. She had a purity of heart that I admired very much.
When we moved back to Seattle after our time in Israel, Shelagh was posted to the South African Embassy in New York City for three years. We visited her one time there, and she spent a Christmas with us in Seattle. Then she was posted to Italy, where she met an Italian man, got married and had a son. She and I exchanged Christmas cards every year, and when email became common in the 1990s, we began to exchange prayer requests by email from time to time.
In 2006, Dave and I decided to travel to Scandinavia. Dave also wanted to spend a few days with his cousin in Berlin. I didn't want to go to Berlin, so I thought I might use the time to visit some good friends who live in London. However, the more I thought about those three days, the more I felt nudged to visit Shelagh in Italy. I wrote to her, she was eager for me to come, so we set up the trip.
I hadn't seen her for twenty-four years, but it was like we had never been apart. Her purity of faith and joy in Christ had remained. I met her husband and son, and she showed me around Milan and cooked fabulous Italian food for me. On one memorable afternoon, we sat in a pew in the lofty and ornate Milan cathedral and prayed at length for our families.
One of the topics of conversation during my visit was Shelagh's future. Her son was nearing the end of high school. She had devoted herself to being a wife and mother, but she could see that her son would soon fly the nest. What was she going to do with her time after her son left home? We tossed around a few ideas, but nothing seemed to stick in her mind.
Now, looking back on those precious days in 2006, I can see why nothing appealed to Shelagh. God was preparing her for heaven. In 2007, she was diagnosed with stage-three ovarian cancer, and after surgery and two rounds of chemotherapy, she died eighteen months after her diagnosis.
I had felt nudged to go to Italy to see Shelagh, and I went. I am so glad. In the planning stages, though, I wasn't sure I was making the right decision. I wondered if it was crazy to go visit someone I hadn't seen for twenty-four years. I wondered if three days was too long. I wondered if it was a wise use of money. I wondered if it would be an imposition to her husband and son for me to be there. And, in fact, it was. Her son gave up his bedroom for me and had to sleep on a sofa in the TV room.
I felt nudged, and I went. And I will always be grateful. Shelagh was a bright spirit, a memorable person. Having those days together, less than a year before her cancer diagnosis, feels like a miracle.
When God nudges us to reach out to a friend or potential friend in any way—with a visit, a phone call, a conversation on Skype, a card, an email, a message on social networking website, a gift, a word of affirmation or love, an invitation to come over for a meal or to meet for coffee—we need to pay attention. Yes, we may feel a little or a lot of anxiety that our overture will not be welcome. Some of that anxiety might prove to be justified. The unfortunate reality is that we may receive a less-than-enthusiastic response.
In my experience, however, initiative is never wasted, even if it feels that way. Over time, acts of initiative shape our heart by training us to act in love.
(Illustration: my dear friend Shelagh in 2006, beautiful inside and out. Next week: practicing initiative and reflection questions about initiative. If you'd like to receive an email when I post on this blog, sign up under "subscribe" in the right hand column. This post is excerpted from my book Friending: Real Relationships in a Virtual World.)
Previous posts in this series:
Initiative in friendships
What Mary might have missed
Obstacles in taking initiative
Overcoming fear
Different ways of initiating
Some options, including vulnerability
You may enjoy this interview with me after I wrote my book on friendship. It's a written Q and A focused on what I learned as I wrote the book.
Next post »
« Previous post
Subscribe to updates
To receive an email alert when a new post is published, simply enter your email address below.
Comments