Lynne is a Presbyterian minister and author of numerous books and Bible study guides. She lives in Seattle. Read more »
Lynne recently spoke on "Spiritual Practices for Preachers" (recorded as a video on YouTube.) The talk is relevant to anyone in ministry and focuses on how to draw near to God simply as a child of God as well as engaging in spiritual practices for the sake of ministry.
Here are two talks Lynne gave on listening (recorded in audio form on YouTube): Listening for Mission and Ministry and Why Listening Matters for Mission and Ministry.
Lynne preached recently on Reverent Submission, trying to reclaim the word "submission," which has a bad rap in our time.
Soon before she left her position in New Zealand as senior lecturer in pastoral theology, Lynne recorded a one-minute video for her departmental website describing what's most important to her in her writing and teaching.
"Lynne's writing is beautiful. Her tone has such a note of hope and excitement about growth. It is gentle and affirming."
— a reader
"Dear Dr. Baab, You changed my life. It is only through God's gift of the sabbath that I feel in my heart and soul that God loves me apart from anything I do."
— a reader of Sabbath Keeping
Subscribe
To receive an email alert when a new post is published, simply enter your email address below.
Featured posts
Tags
Archive
Thursday March 28 2019
About ten years ago I led a worship service at a retreat. The setting was intimate, unlike the Sunday worship services at church where the leader—sometimes me—usually stood some distance away from the congregation. At the end of the retreat worship, I said a benediction. To my surprise, several of the younger women sitting close to me turned their hands so their palms faced up. They looked as if they were trying to catch the benediction in their hands.
I had often said, "Now, receive the benediction" before I ended a worship service, and these women looked as if they were taking those words seriously. They used their hands to indicate a posture of the heart, a posture of receptivity.
What might they have been trying to receive? What might they have been longing for?
Perhaps some of them had a specific need in mind as they turned their hands up to "catch" God's blessing. Perhaps they were hoping for God's action related to a specific need in their family or in their job, or maybe they were hoping for God's guidance in a particular situation. Perhaps they had learned something new about God at the weekend retreat, and they were hoping God would cement that new knowledge into their lives. They could have had many other specific needs, requests, or situations on their minds as they used their hands to "receive" the benediction.
Perhaps some of them were simply open to more of God in their lives. Perhaps the motion of their hands expressed a willingness to receive anything and everything from God, an indication of their commitment to be disciples of Jesus who would follow their Master wherever he might lead them.
I invite you to think about the way you use your hands in prayer. Have you ever prayed with your hands palms up? Have you ever prayed with your hands raised above your head? Do you often clasp your hands together as you pray, an age-old traditional posture for prayer? Do you use other hand positions when you pray? What do these hand positions mean to you?
Another way to use hands while praying is to walk a finger labyrinth. I've written two previous blogs posts where I mention walking a labyrinth (here and here). Christine Sine, in her wonderful new book The Gift of Wonder, recommends printing out the image of a labyrinth (such as this one), and walking it using a finger, preferably a finger on your non-dominant hand.
She suggests a beautiful prayer as you begin: "Walk with me, Lord, through all the twists and turns of life; walk with me when clouds obscure the way, when what seemed close is now so far away. Walk with me, Lord, until I trust in you; lead me to the center of your love" (p. 90).
She finds it helpful to bring a question to the labyrinth, something that has been a faith struggle, inviting the Holy Spirit to guide and instruct. Christine suggests that as you walk the labyrinth with your finger,
"Stay open to whatever presents itself: feelings, sensations, memories, ideas. Pause at any time to breathe. Stay with a thought or memory or just relax into the labyrinth and the question stirring in your mind. At the center of the labyrinth, sense your connection to your own center and to God's centering presence. Acknowledge the Holy Spirit, the heavenly Counselor directing your thoughts and exploration. Relax, pray, sing. Repeat your question" (p. 90-91).
After you rest your finger in the center of the labyrinth, trace your way out from the center, staying open to however God is present with you. Christine recommends ending by laying both hands on the image of the labyrinth and sitting quietly in God's presence a bit longer, reflecting on the journey of your hand and praying about what you've experienced.
A finger on a labyrinth, hands turned palm up . . . this week experiment with the way your hands might play a greater role in your prayers.
(Next week: creative prayer in a hospitable spirit. If you'd like to receive an email when I post on this blog, sign up under "subscribe" in the right hand column of the webpage. The first five paragraphs of this post are excepted from my book Joy Together: Spiritual Practices for your Congregation. Photo credit: Crista Brennan, "Art therapy directives using labyrinths.")
Previous posts on walking a labyrinth:
Friday November 20 2015
The first time I walked a labyrinth, there were about six other people walking it at the same time. I found myself bemused by the parallels between my walk in the labyrinth and my journey of faith. At some moments walking the labyrinth, a person would be beside me, walking on his or her own path right beside mine. Then our paths would diverge. I was reminded of close friends from certain points in my life, friends who shaped me and cared for me, but who have moved away and who I seldom see. Yes, we got to walk together for a while, but our journeys diverged.
That first labyrinth I walked was modeled after the labyrinth at Chartres, France. The path winds all over the place, and it feels like there's no progress toward the center. In fact, there's a section of the path furthest from the center. You walk on that outer rim, then take one turn, and boom, you've gotten to the center. This seemed so much like my life. Often I feel far from God, but my life takes a turn and suddenly God is present and real.
The time at the center of a labyrinth is quite special. You've walked a winding path to get there, and now you can stop for a minute to think and pray. Sometimes some other people are in the center with you. Maybe you don't know them, but they know God too, so they are sisters and brothers. You are resting together in God's presence, knowing you have to rejoin the path pretty soon and keep walking. That time at the center is like Sunday worship or other communal experiences of worship and prayer, a pause in the week to regroup with others before going back onto the journey. I may not know everyone who's in church with me on Sunday, but together we are enjoying God's presence in that pause from daily life.
A labyrinth is only one spiritual practice that evokes the notion of life as a journey. What are some of the other spiritual practices that help us experience the journey-like aspect of life with God?
1. The Stations of the Cross. In the medieval period, very few people could travel to Jerusalem to walk the Via Dolorsa with Jesus. Walking and praying the Stations of the Cross helps everyday Christians to walk with Jesus to the cross.
2. Praying while walking. I can't tell you how many times I've been preoccupied, upset or angry about something. I set out on a walk, pondering and praying as I go, and when I get home, my perspective has completely changed. That one brief hour seems to expand to represent a long faith journey.
3. A thankfulness list or journal or prayers of gratitude. Writing down, naming or praying things we're thankful for has at least two benefits. It helps us in the moment as we write, but it also helps later on when we refer back to the list. We can see the pattern of the way God has led us and blessed us on our journey.
4. A prayer request list or journal. In the same was as described in #3, referring back to prayer requests, and checking them off when they're answered, is a great way to see the pattern in our journey of faith.
5. Pilgrimage. Whenever we take a physical journey for a spiritual purpose, that trip becomes a pilgrimage. We might visit a childhood home or school, a retreat center where God met us in a special way, or the setting of a significant life event. A pilgrimage is a physical journey that helps us see the journey God is leading us on in life.
6.Examen. In this ancient prayer form, we are invited to look back over a period of time, perhaps one day, and look for God's presence and also for the moments when we resisted God's presence. Doing examen with some regularity enables us to see patterns in the places and times where we meet God and the places and times we resist God.
I wrote last week about the ways that the journey metaphor works so well to help us see moments and purpose in the life of faith. Many spiritual practices help us experience life as a journey.
(Illustration: The path under spring flowers by Dave Baab. If you'd like to receive an email alert when I post on this blog, sign up under "subscribe" in the right hand column. This post originally appeared on the Godspace blog.)
Thursday June 26 2014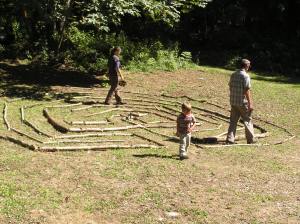 Have you ever walked a labyrinth? I've done it maybe a dozen times, and several of those times I have had a pressing issue that I wanted to pray about. My pattern in those times is to pray my desires on the way in, then stand restfully at the center for a few moments, enjoying God's peace. On the way out I pray in a different way, sometimes expressing my willingness for God's desires about the issues. I might ask God to open me to unexpected answers to my prayers or I might simply thank God for the fact that the issue is now firmly in God's hands, no longer in my own. On one occasion , which I have been pondering recently, that movement in (focused on my own desires) and the movement out (expressing my willingness for God's future) prepared me for a major life change.
That movement in/movement out pattern can be helpful in many everyday prayer situations. One way to engage in breath prayer is to breathe out our worries and struggles into God's presence, one at a time with each breath out. Then with each breath in, to imagine ourselves breathing in God's peace and love.
Another way involves praying while walking. As a young mom I used to hire a high school girl to come over after school a few days a week so I could get out for a walk. I had a two-mile route. I walked through our neighborhood to a lake, then took the path along the lake toward an aqua theater. At the aqua theater, I would turn around and walk home.
In the first half of the walk, I would think about the things I was worried and preoccupied about. When I reached the lake, I imagined Jesus in the boat on the lake, and I handed him each of those worries one by one as I walked on the path beside the lake.
At the aqua theater I turned around, and my prayers changed. At that point I might simply enjoy the birds and trees and water, thanking God for the beauty of the creation. Or I might pray thankfulness prayers, focusing particularly on the gift of God's peace that comes when we hand over all our needs. I might pray intercessory prayers for needs in the world. Whatever I prayed on the way back came from the deep sense of rest and confidence that flows out of giving our concerns to God and knowing God is capable of dealing with them.
Any back-and-forth walk can be an opportunity to pray in this way. A short walk down the hall at work to photocopy a document can be an opportunity to hand our concerns over to God on the way there, then rest in God's peace on the way back. A bike or car trip to run an errand can function the same way with prayers about needs and concerns on the way and prayers focused on thankfulness on the way back. The primordial rhythm of our breath teaches us life in a two-beat rhythm, and we can draw on those two beats in a variety of ways in our everyday prayers. The trick is to make it a pattern or a habit, so we get used to the idea that the first half of the journey is an invitation to hand over our worries to God, and the second half is a time to rest in God's goodness to us.
(If you like this post, you can sign up for email notices every time I post something on this blog. The place to sign up is at the bottom of the right hand column on this webpage. This post originally appeared on the Godspace blog.)