Thursday March 23 2017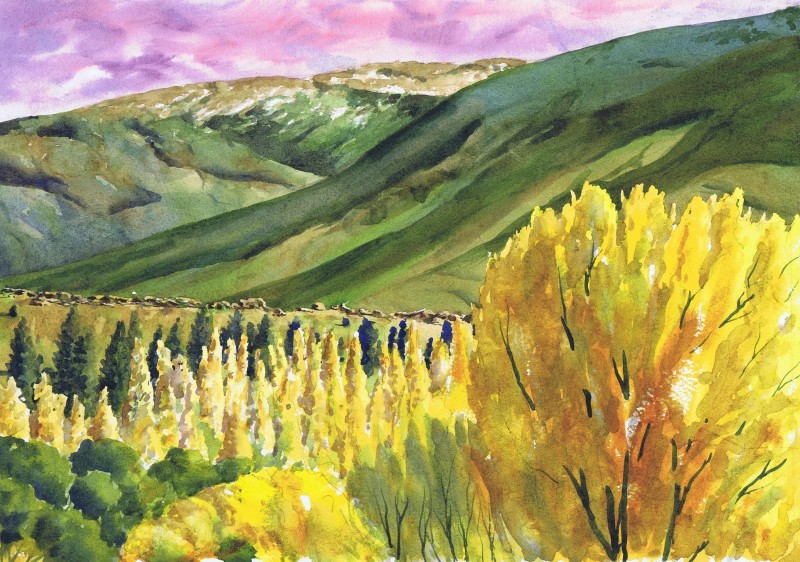 In The Sacred Romance, Brent Curtis and John Eldredge discuss the significance of a healthy understanding of heaven. If we live as if this world is all there is, they write, we will place a burden on our experience here on earth that this world was never intended to bear. We will continually try to find heaven on earth, which is impossible, and "we will live as desperate, demanding, and eventually despairing men and women."[1]
Instead, if we can understand and rejoice in the truth that one day God will make all things whole, and that we will live in heaven in unblemished joy and contentment in God's presence, our lives on earth will be transformed. This life is definitely not as good as it gets. The best is yet to come.
Mercifully, we get glimpses of heaven in this life. Imagine that a wonderful party is happening nearby, with the most luscious music in the world, and every now and then a bit of music escapes from the party and we get to enjoy it. In the same way, glimpses of heaven permeate our lives on earth. It takes time and effort and being present in each moment for us to be able to notice those glimpses, but the glimpses are worth any effort. They illuminate our lives and gladden our hearts.
Glimpses of heaven, when we can receive them and rest in them, nourish the heart and soul. Those moments of clear vision and certainty lift us up to God and illumine our daily lives. Seeking those glimpses is a worthy endeavor. We rejoice when our seeking brings us what we long for. We also need to grow in acknowledging that our lives on earth will be characterized much more by seeking than by finding.
C. S. Lewis, in both his fiction and non-fiction writings, helps us get in touch with our longing for heaven. Lewis describes the "lifelong nostalgia, our longing to be reunited with something in the universe from which we now feel cut off."[2] He believed this longing is one of the best things about our pilgrim state. In Lewis' autobiography, Surprised by Joy, he used the word "joy" to describe the piercing longing, both bitter and sweet, that we experience when we remember a vivid memory or catch a brief glimpse of heaven. This kind of joy is distinct from pleasure or happiness, and it taps into the emptiness and spaciousness that Gerald May describes.
Lewis' friend J. R. R. Tolkien explained this kind of joy as "a sudden and miraculous grace . . . beyond the walls of the world, poignant as grief."[3] This joy is inextricably connected with our longing for heaven and our realization that this life is not all there is. Lewis reassures us:
At present we are on the outside of the world, the wrong side of the door. We discern the freshness and purity of morning, but they do not make us fresh and pure. We cannot mingle with the splendours we see. But all the leaves of the New Testament are rustling with the rumour that it will not always be so. Some day, God willing, we shall get in.[4]
Lewis believed that our sense of exile is inseparable from our perception of beauty, which emphasizes again the significance of art, music, poetry, and all things that minister beauty to our hearts. As we accept our state of longing, and as we experience glimpses of beauty that remind us of heaven, our hearts will grow soft and receptive to the grace of God.
This is the seventh post in a series about Drawing Near to God with the Heart. Previous posts:
Introduction: Drawing near to God with the heart
God woos us
A journey with the Psalms
Praying the Psalms
God's presence through the Holy Spirit
Facing the inner darkness
Tears
All will be well
(The series continues next week with "What do you want?" Illustration by Dave Baab: Central Otago from a photo by Ian Thomson. If you'd like to receive an email when I post on this blog, sign up under "subscribe" in the right hand column. This post is excerpted from my book, A Renewed Spirituality: Finding Fresh Paths at Midlife, available in paperback here and on kindle here.)
[1] Curtis and Eldredge, The Sacred Romance, (Nashville: Thomas Nelson, 1997),179.
[2] C. S. Lewis, The Weight of Glory and Other Addresses (New York: Macmillan, 1980). 16.
[3] J. R. R. Tolkien, "On Fairy-Stories," in Essays Presented to Charles Williams, ed. C. S. Lewis (Grand Rapids, Mich.: Eerdmans, 1981), 81.
[4] C. S. Lewis, The Weight of Glory and Other Addresses, 16-17.T
Thursday July 31 2014
"Home" has been a hugely contested, even painful, term for me. My father was an air force pilot and we moved 12 times in my first 15 years. We spent six of those years in Europe. I've never felt at home in the U.S., and I have never really felt at home anywhere. The word "home" has often made me feel uneasy and sad. My husband, who lived in one small town from birth until high school graduation, would often say to me, "Our true home is in heaven." I can give cognitive assent to that truth, but somehow it never helped me.
All this began to change in early 2011 when I read Crossings and Dwellings: A Theory of Religion. In it, Thomas A. Tweed argues that religion helps us create homes in four arenas: our bodies, the house we live in, our country, and the cosmos. He also says that religion helps us move between these homes.
My first personal response to Tweed's theory was focused on my body. I've struggled with weight all my life and have often felt as if my body betrays me by wanting foods that are not good for me. In recent years my weight has been more stable and closer to normal, and I have become more "at home" in my body. While reading Crossings and Dwellings, I began to see that the first "home" I need to nurture is my own body. And I could see ways I'd done that in recent years, without using that language to describe it.
Of course we know that God made our bodies, but that can feel a bit distant. God, way off in heaven, made this earth and each of us. The coming of Christ tells us that God is not far off in heaven but right here with us. In fact, God is right here with us in Jesus, who lived in a physical body just as we do. The New Testament gives us no hint that Jesus felt estranged from his body in any way. Instead, he seems to have felt at home in his body and this physical world, just as he felt at home in heaven and longed to return there.
The second personal application of Tweed's theory came later in 2011 when I had a six-month sabbatical from my teaching position in New Zealand. I split that time between Seattle, where I spent 30 years of my adult life, and Europe, where I had spent time in childhood. In those months of moving between past places where I'd lived, I realized that I have several homes, and that's okay. Seattle will always feel like home in one sense because I lived there longest. But my current hometown Dunedin, New Zealand, is wonderful, and I love many things about my house, my town and my adopted country. Dunedin feels like home now, in a way it didn't before 2011. And a part of my sense of earthly home will always be in Europe because of my childhood there.
For the first time in my life, in 2011 I felt at home in all these places, rather than feeling at home in none of them. My faith in God, who became flesh and lived on this earth, enables me to move between homes because Jesus through the Holy Spirit is present in all my homes. Because the Holy Spirit dwells inside me, and because my body is the home that I take with me wherever I go, God is present with me in every place creating a home for me. But actually, God is present in those places before I get there and after I leave. I can watch for his fingerprints everywhere I go, and he will enable me to feel at home there.
Immanuel, God with us, has changed my life in the past three years by helping me begin to feel at home in my body and by enabling me to experience various places as homes. My husband is right that our true home is in heaven, but Jesus brought that true home to earth in his flesh, and we are invited to dwell with him and let him dwell with us, truly at home in him, in our bodies, and in our houses and homelands.
(If you like this post, you can sign up for email notices every time I post something on this blog. The place to sign up is at the bottom of the right hand column. This post originally appeared on the Godspace blog.)