Draw Near: Lenten Devotional by Lynne Baab, illustrated by Dave Baab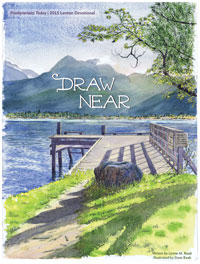 Here's the story of how this devotional came to be:
In April 2014, the editor of Presbyterians Today, a Presbyterian Church (USA) magazine, asked if I would be interested in writing their 2015 Lenten Devotional. I agreed, as long as I could use a psalm for each entry. My colleague, New Testament Professor Paul Trebilco, helped me by finding a couple of lists showing connections between the Psalms and the Gospels, and I picked a good number of psalms that are quoted or referenced in the Gospels, especially in Holy Week. I also picked psalms that have helped me draw near to God. I spent the month of June 2014 writing the devotional, wallowing happily and luxuriously in the psalms that I had chosen, trying to find one main idea in each psalm to highlight. At some point in the process, the editor asked me if I knew any artists who might enjoy seeing their work in the devotional. I said, yes, I do happen to know an artist! I sorted through all the scans we have of Dave's paintings to find images that are reflective and meditative. So, here's the result. The printed devotional totally sold out in 2015, so I'm posting the pdf here. Just click on the title below.
A reader gave this feedback: "I'm using Lynne's Lenten mediations daily and really finding constructive challenges, caring compassion and welcome healing through the meditation direction within them. The simplicity and succinct style of Lynne's reflection and direction makes them highly accessible."
To download the devotional in pdf form, click here: Draw Near: Lenten Devotional by Lynne Baab, illustrated by Dave Baab