Journey with Jesus to the cross during Lent
Lynne Baab • Tuesday January 6 2015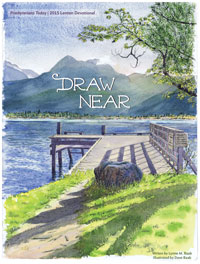 In April of last year, I got an email from the editor of Presbyterians Today, a lovely magazine published by the Presbyterian Church USA. The editor asked me if I would be interested in writing their devotional for Lent 2015. He gave me a sample of the 2014 devotional, based on one of the gospels, and told me each entry needed to have a scripture to read, one verse from that scripture, then 125 words of reflection on the scripture, which would include a brief prayer.
As I pondered his email, I realized several things. If I did it, I would want to focus on the Psalms. I would want to include a couple of reflection questions in my 125 words for each entry. And I would want to entitle it "Draw Near," based on Hebrews 4:15, 16: "For we do not have a high priest who cannot sympathize with our weaknesses, but One who has been tempted in all things as we are, yet without sin. Therefore let us draw near with confidence to the throne of grace, so that we may receive mercy and find grace to help in time of need."
I got back to the editor, and he agreed that my plan would work. I set aside the month of June to work on the devotional, and in April and May I tried to make some decisions about which psalms I would use. Lent, including Easter Sunday, is 47 days, and there are 150 psalms. How would I choose?
First I wanted to include the psalms that Jesus quoted from. I pored over a study Bible, and found numerous places where Jesus quotes from the Psalms. One example is Jesus on the cross saying "I am thirsty" (John 19:28), which is a reference to Psalm 69:21, a psalm that appears three times in the gospels.
I also wanted to include psalms that relate to the Lenten story. For example, when the crowds welcome Jesus on Palm Sunday (John 12:12-15), they shout, "Blessed in the one who comes in the name of the Lord," a direct quotation from Psalm 118:26.
I conferred with my colleague who teaches New Testament, and he found me a list showing all connections between the Psalms and the Gospels. Some of them were totally unexpected. Psalm 41:9 is not directly quoted in the Gospel story, but it is evoked by Judas's betrayal: "Even my bosom friend in whom I trusted, who ate of my bread, has lifted the heel against me."
After listing all the psalms that were connected in some way with the Gospel story, I still didn't have 47 psalms. I was delighted I got to choose among the psalms that have helped me draw near to God to come up with enough entries.
June was a wonderful month. I felt like I was wallowing luxuriously in the psalms. It was fun to try to come up with one central thought about each psalm that would help the reader connect with Jesus' journey to the cross. And it was also fun to think up reflection questions.
Later, at the encouragement of the editor, I grouped the psalms into themes for each week of Lent:
drawing near by acknowledging our need for God
drawing near in thankfulness
drawing near because the whole earth belongs to God
drawing near by being honest before God
drawing near by dwelling in God
drawing near by walking with Jesus to the cross
My husband Dave's lovely paintings illustrate the devotional, so it is beautiful to look at as well as (hopefully) helpful in drawing near to God during Lent.
Lent begins on February 18, and it's not too early to think abut what you might want to do this year to journey with Jesus to the cross. Whatever you do this Lent to set apart those weeks from the rest of the year, may it be a rich time for you.
(If you'd like to receive email notices every time I post an entry on this blog, sign up under "subscribe" in the right hand column.)
Next post »
« Previous post
Subscribe to updates
To receive an email alert when a new post is published, simply enter your email address below.
Comments