Lynne is a Presbyterian minister and author of numerous books and Bible study guides. She lives in Seattle. Read more »
Lynne recently spoke on "Spiritual Practices for Preachers" (recorded as a video on YouTube.) The talk is relevant to anyone in ministry and focuses on how to draw near to God simply as a child of God as well as engaging in spiritual practices for the sake of ministry.
Here are two talks Lynne gave on listening (recorded in audio form on YouTube): Listening for Mission and Ministry and Why Listening Matters for Mission and Ministry.
Lynne preached recently on Reverent Submission, trying to reclaim the word "submission," which has a bad rap in our time.
Soon before she left her position in New Zealand as senior lecturer in pastoral theology, Lynne recorded a one-minute video for her departmental website describing what's most important to her in her writing and teaching.
"Lynne's writing is beautiful. Her tone has such a note of hope and excitement about growth. It is gentle and affirming."
— a reader
"Dear Dr. Baab, You changed my life. It is only through God's gift of the sabbath that I feel in my heart and soul that God loves me apart from anything I do."
— a reader of Sabbath Keeping
Subscribe
To receive an email alert when a new post is published, simply enter your email address below.
Featured posts
Tags
Archive
Thursday April 18 2019
Sometime in my twenties, a worship leader suggested visualizing a cross. Using our imagination, we could lay our concerns at the foot of the cross, entrusting our worries and struggles to Jesus.
That was the first time someone suggested using my imagination in prayer. In the years since then, I have developed detailed imaginary worlds that enable me to talk to Jesus and to pray about things that matter to me. In this post, I want to chart the development of using my imagination in prayer by focusing on the first three steps.
That first step involved laying concerns at the foot of the cross. Sometimes I imagined myself writing my concerns on slips of paper, which I left there by the cross. Other times I pictured Jesus hanging on the cross, and I brought to him my pain and struggle. I took comfort that Jesus was "the man of sorrows, acquainted with grief," and of course, his death on the cross is a significant manifestation of that powerful description of him from Isaiah 53.
I'm writing this blog post between Palm Sunday and Good Friday, and I am enjoying pondering the significance of imagining the cross of Christ as we pray.
In my thirties, I developed a new pattern of prayer with my imagination. I had a walking route that I took two to three times a week. I walked seven blocks from our house in North Seattle to Greenlake. I headed south along the shore of the lake until I reached the aqua theater at the southern tip of the lake. Then I turned around and headed home by the same route.
Many times on my walks I followed the same pattern. Between our house and the lake, I thought about what was bothering me most in my life. When I reached the lake, I imagined Jesus in a rowboat on the lake, and I handed him my worries, concerns, struggles and pain. He received the things I handed him, and threw them in the lake. It was clear to me that I didn't have the strength of character to throw those concerns into the depths of the lake myself, but I knew Jesus could do it for me.
When I reached the aqua theater and turned around, I continued to imagine Jesus in the boat beside me, but heading this direction, I imagined him handing me gifts like peace, contentment, and joy.
My imaginative prayer using Jesus in the boat added a couple of things that putting my worries at the foot of the cross didn't do. This one involved my whole body, because I was walking, and it involved Jesus' body, too. Jesus reached out to take worries from me, and then he gave gifts to me. I enjoyed picturing Jesus' arms and hands receiving from me and giving to me. This form of imaginative prayer felt more active than the earlier one.
My third form of imaginative prayer came in my fifties, when I no longer walked by Greenlake. I exercised in a gym, not a bad place for praying. However, in those years, a lot of my prayer took place in bed at night, before I fell asleep or in the middle of the night when I dealt with sleeplessness.
This time I imagined a beautiful big meadow on one side of a wide river with dramatic mountains on the other side. The river, I imagined, was the River of God's Love. I walk with Jesus through the meadow and stand on the shore of the River of God's Love. I hand Jesus the things I'm concerned about, and he throws them into the river. God's love absorbs my problems, and they float away in the river to be dealt with by God.
Again, I know I don't have the strength to throw my concerns into the river by myself. I can, however, hand them to Jesus. After I hand them all to him, and after he throws them into the river, I put my right hand in his left hand, and we stand there together enjoying God's love. "For I, the Lord your God, hold your right hand; it is I who say to you, 'Do not fear, I will help you'" (Isaiah 41:13).
Standing with Jesus beside the River of God's Love gives me a sense of intimacy with Jesus and a deep peace, knowing my problems are taken into God's love.
Maybe these three forms of imaginary prayer will stimulate your imagination. Maybe you already have imaginary settings that help you pray. Either way, I'll leave you with Hebrews 4:15-16. "For we do not have a high priest who is unable to sympathize with our weaknesses, but we have one who in every respect has been tested as we are, yet without sin. Let us therefore approach the throne of grace with boldness, so that we may receive mercy and find grace to help in time of need."
(Next week: creative prayer while walking. Illustration: the portion of Greenlake in Seattle where I used to imagine Jesus in a rowboat. Watercolor by Dave Baab.)
This is the ninth post in a series on creative prayer. Previous posts:
Creative prayer with art
Creative prayer: Art as symbol and metaphor
Creative prayer for creation care
Prompts for prayer
More prayer prompts
Creative prayer using our hands
Creative prayer in a hospitable spirit
Joy spot sightings


Thursday April 11 2019
Choosing habits that nurture thankfulness has changed my life. I always found it easy to see needs, and even as a young adult I was a champion intercessory pray-er. I struggled with depression for 16 years of my early adult life, so I had a lot of practice in seeing the half-empty part of the glass.
Twenty-five years ago, Dave and I decided we would always begin our prayer times together with some thankfulness prayers. We made that decision because, at that time, life was filled with challenges. Our prayer times, a couple of times a week at bedtime, were filled with "help me with this" and "give us that." We came away from our prayer times feeling discouraged because we had named so much pain.
Focusing on thankfulness for a few moments a couple times a week was so helpful that within a year or two, I decided to try to start every prayer time of my own with prayers of thankfulness. Soon after that I suggested to my women's prayer group that we begin our prayer times with thankfulness. (I describe this personal journey in more detail in a blog post here.)
Even today, almost every time I ask God for something (which I do many times each day), I also thank God for something. This practice of thankfulness, over and over, has been one of the great gifts of my life. I still can easily see the half-empty portion of the glass, and I am still deeply committed to intercessory prayer, but I am so much more aware of the gifts God gives each day. I am so much more present to God's abundant blessings and mercy. I am happier.
I'm always looking for new ways to engage in thankfulness prayers. My friend Kimberlee Conway Ireton keeps a numbered list, and she has often posted parts of her list on her blog. Here's the post where she gets to 2000. She got that idea from Ann Voscamp's book, One Thousand Gifts. Making a list like Kimberlee does simply hasn't worked in a major way for me. I do it from time to time in my journal, but the heart of my thankfulness prayers is their link to my intercessory prayers, which often come in settings where I can't write something down.
Christine Sine has a chapter on thankfulness in her helpful new book, The Gift of Wonder: Creative Practices for Delighting in God. Be sure to notice the subtitle of her book. For me, consistent thankfulness prayers have truly helped me grow in delighting in God and God's gifts.
Christine describes a friend of hers who uses the term "joy spot" to describe something that makes her smile. This friend and her husband decided to watch for "joy spot sightings" during the day and call them out to each other. This habit grew into a daily thankfulness time in the morning and a desire to find more joy spots during the day. Christine's friend noted, "We grew expectant" (p. 144).
I love the notion of watching for things that make me smile and giving them a name – joy spots. I'm going to try using that vocabulary to see how it works. Anyone like me who innately sees the glass half empty needs to grow in paying attention to smiles.
In her chapter on thankfulness, Christine mentions something else worth noting. Thankfulness builds on itself, like a spiral upward. I have experienced this, and so have Christians throughout the ages. Christine writes, "As we express gratitude, we become more grateful and start to realize that all we have is indeed a gift from God" (p. 141).
"O give thanks to the Lord, for he is good; for his steadfast love endures for ever. Let the redeemed of the Lord say so" (Psalm 107: 1, 2).
(Next week: Creative prayer using the imagination. Illustration by Dave Baab.)
Some previous posts about thankfulness on this blog:
Why optimism and thankfulness are not the same thing
Five favorite quotations about thankfulness
The Jerusalem Talmud on enjoying good things
Thomas Merton on our transparent world
A thankfulness challenge – reframing events in your mind and in your prayers
Another thankfulness challenge – why thankfulness matters
Here's one of my all-time favorite posts on this blog, expressing my thankfulness for a cat we had when our son was young: A cat with a noble character. When I re-read it today, I got tears in my eyes. Thank you, God, for your gifts small and big, human and animal.
Friday April 5 2019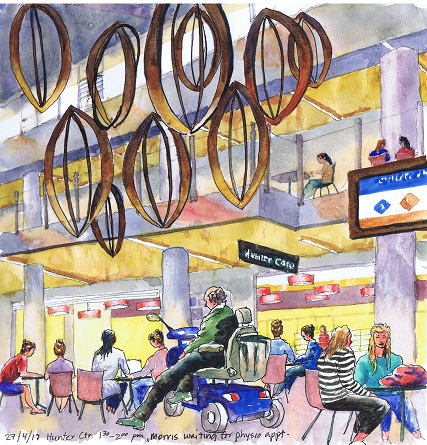 In 1999, I read a book that changed my life – Making Room: Recovering Hospitality as a Christian Tradition by Christine Pohl. I've had two decades to ponder the notion that hospitality is a major theme throughout the Bible. For two decades, I've viewed all Christian ministry under the umbrella of hospitality, rather than vice versa, as I did before 1999.
What are the implications of this stance? Each encounter with another person is an opportunity to express a hospitable spirit, a welcoming attitude for who they are and what gifts they might offer to me and to others. Hospitality happens in our homes, yes, but it happens in every setting where we encounter another person. I try to have a welcoming attitude at all times.
This week I've been having some new thoughts about prayer. What does prayer in a hospitable spirit look like? I've been challenged by Christine Sine's delightful new book, The Gift of Wonder, where she talks about cultivating a child-like openness to wonder. For Christine and her husband, Tom, hospitality – hosting people in their home – has been a source of wonder as she has opened herself to the gifts that a wide variety of people have brought to her.
Christine asks, "What difference would it make in today's world if we looked at all strangers in the same way we look at a child – an unknown but welcome person we hope will become a friend in our home?" She cites Jesus' words in Luke 9:48 about welcoming a child in his name as being equivalent to welcoming him (page 189).
I'm wondering what it would look like to pray for people as if they are valued and cherished children, beloved of God. I'm thinking about politicians I disagree with, family members who push all my buttons, and members of groups that feel like they are "other" to me.
Christine writes,
"How did you respond to the last newborn child you were introduced to? What feelings and emotions welled up within you? How did you greet and welcome the child? What changes in behavior were you willing to make in order to get to understand this child, accommodate its needs, help it feel welcome in your home? What further responses did your meeting invite?" (page 189).
Christine mentions the scene at the manger at Jesus' birth, where all are welcome: "animals, family, strangers, despised and wealthy are all invited. Who stands around the manger with you today? Who are you still excluding?" (page 197).
Who have I been excluding in my prayers? People I love easily and care about deeply are so easy to pray for. The fact that love empowers my prayers is a good and wonderful thing. But equally good and wonderful is the ability to pray for people who are easy for me to exclude.
My ponderings this week have been fueled in part by the shooting at the mosques in Christchurch, and I've been wondering exactly how often I pray for Muslims. Not very often. Not often enough.
For the past two decades, working hard to cultivate a welcoming, hospitable spirit in my encounters with individuals has been fantastic. I have received so many gifts from people I've conversed with, gifts that I might not have noticed if I hadn't consciously tried to be open to the other person. Now I'm going to challenge myself to cultivate more of a hospitable spirit in my prayers. Do you want to join me?
(Next week: Creative prayer – joy spot sightings. Illustration by Dave Baab.)
Previous posts on hospitality:
Contrasts: Guests and hosts
Benedictine Spirituality: Hospitality, service and work