Friday March 16 2018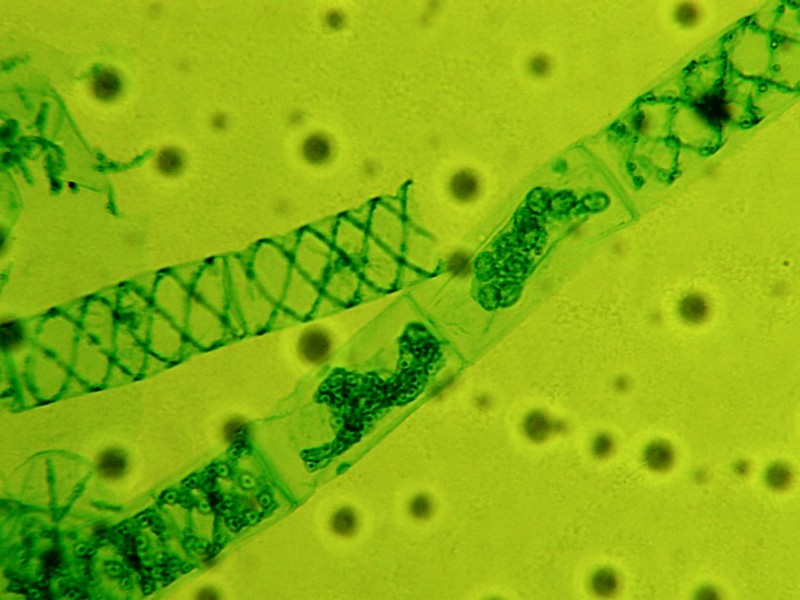 The view under the microscope was gorgeous. The slimy mass of green scum I had scooped out of a drainage ditch revealed itself to be long strands with bright green geometric patterns. The color was beautiful. The patterns were beautiful.
I lifted my head from the microscope and stood in that biology lab praising God for creating something so amazing, yet hidden from view most of the time. Who would have thought that algae could speak to me, calling me to praise the God who made it?
I was 20 years old that fall day in the biology lab. I had become a Christian the previous Christmas, and I had studied for a total of four weeks at L'Abri Fellowship in Switzerland – two weeks at Easter and two weeks in June – diving deep into the book of Romans. I had learned a great deal of Christian theology by listening to recordings of Francis Schaeffer talking, hour upon hour, about Romans. Romans, and Francis Shaeffer's reflections on it, helped me learn to worship God with my mind. (I wrote about my time at L'Abri last week.)
I returned to Willamette University in Oregon, eager to get involved in the Christian fellowship group there. We met on Sunday nights. Some of the students played guitars, and I learned the praise songs they taught us. We often had speakers at our meetings, usually staff from InterVarsity Christian Fellowship. The praise music and the speakers called me into God's presence and gave me a place and words for praising God.
But in that first semester back at Willamette after becoming a Christian, some of my most powerful moments of praising God were stimulated by what I saw in the microbiology lab. The green geometric forms of algae were probably my favorite, but I also loved bacteria. We grew various kinds of bacteria on Petri dishes, then spread them on slides, stained them with dyes, and looked at them under the microscope.
The bright colors caused by the dyes and the repeated shapes of the bacteria spoke to me of the intricacy of God's creation. Bacteria, like algae, called me to praise the God of tiny things.
That semester I was working part time for an astronomy professor, typing up his handouts and exam questions and serving as a lab assistant. He took the students, and me, on some field trips on moonless nights to look at stars. The dark, cold nights with stars blazing overhead called me to praise the God of immensity, who created a huge and expansive universe.
In the long hall of the science building, the astronomy professor had created a scale model of the solar system. The sun and planets were tiny dots with many feet of hall between them. I loved walking down that hall, pondering the amount of space between the planets and then also between our solar system and other suns.
We stand in the middle, with parts of the created order that are much, much smaller than we are, as well as created objects that are much, much bigger than we are. The scale of smallness and hugeness is astonishing, yet one more thing to praise God for.
Not everyone has the privilege of looking at algae under a microscope or serving as a lab assistant in an astronomy class. But most of us are exposed in some way to the wonders of the created world as revealed through science. I encourage you to ponder something you've read about or seen on a science show or in some other science-related setting that calls you to praise God.
(Next week: tropical fish in the Red Sea. If you'd like to receive an email when I post on this blog, sign up under "subscribe" in the right hand column.)
Two years ago on this blog: The last post in a series on Benedictine spirituality. That post was one woman's story about a trip to a Benedictine monastery, a great place to start the series. At the bottom of the post are links to the other posts in the series. I highly recommend developing an understanding of Benedictine spirituality because of its three vows of stability, conversion of life and obedience – all of them so helpful in our time with so much emphasis on constant movement, self-focus and pride.
Friday March 9 2018
On my first Easter Sunday as a committed Christian, I sat on a balcony overlooking the Rhone River Valley in Switzerland, listening to a sermon about the resurrection. My back was to the church building, with a window right next to me, so I could hear the sermon. In front of me, the hillside dropped away to the valley floor 2000 feet below me. On the other side of the valley, the seven peaks called Les Dents du Midi rose to an altitude of 10,000 feet.
The preacher was Francis Schaeffer, and the church building was the chapel of the community he founded in Huémoz, Switzerland, called L'Abri. I had arrived for the service fairly early, but the chapel was already full, so I took a seat on the balcony on the valley side of the chapel. I'm so glad I did.
While Francis Schaeffer talked about Jesus' death and resurrection, I watched clouds rising up the side of the hill. First, I would see a cloud below me. Then it would slowly rise past me and continue to move upward. Then another cloud would appear below me, move past me, and continue up. Over and over the clouds moved up the side of the hill.
The clouds illustrated the sermon and spoke to me of the resurrection of Jesus and his release from the tomb. The clouds spoke to me about the "upward call of God in Christ Jesus" (Philippians 3:14). I didn't know the verse in Philippians at that time, but I had a sense of God's call to me to grow upward, to develop in character, to become the honorable and faithful person God had created me to be.
I had been raised in the church. Throughout junior high and high school, I grew further from God. By the time I was 18, when I left my home in Tacoma, Washington for Willamette University in Salem, Oregon, I was calling myself an atheist. At 19, I went to Avignon, France, to study for a year. For the long All Saints weekend in November, some friends and I travelled to Switzerland.
We stopped by L'Abri Fellowship because one of my friends had a friend who was studying there. We intended to stay only a few hours, but we missed the bus down the mountain and had to stay an extra day. That extra time allowed us to attend a seminar where so many of my questions about the Christian faith were answered.
We returned to Avignon and our studies there. For the rest of the fall, I pondered what I had heard at L'Abri. When I left Avignon to travel to Scandinavia over Christmas vacation, I was still not a Christian. When I returned to Avignon two weeks later, I knew I was a Christian. I don't know exactly when or how it happened, but I knew a giant shift had occurred in me.
I wrote to the people at L'Abri, asking if I could come and study there for the two weeks of my Easter break, and they said yes.
During my time at L'Abri, as I walked from one chalet to the other, going from the place I stayed to the places they assigned me to work, and then to my study carrel, the mountains spoke to me over and over. They spoke to me of God's grandeur, majesty and sheer beauty.
Easter Day was the icing on the cake, with those clouds moving up the side of the hill, like a vivid metaphor for the very act we were celebrating at Easter.
I wrote last week about the way God spoke to me through Mount Rainier when I was 15, saying there's more, there's something holy and beautiful beyond this life. God's message to me on the side of that steep hill in Switzerland was focused more clearly on God as known in the Bible: Jesus, his resurrection, and the holy, beautiful and majestic God who created mountains, valleys and clouds.
I want to ask the same questions I asked last week: What specific places in nature have spoken to you? What have those places said?
And I'll ask an additional question: In what ways do you think God's voice to you through nature is informed by what you know about God from the Bible?
(Next week: Algae. Illustration: Huémoz, Switzerland by Dave Baab. If you'd like to receive an email when I post on this blog, sign up under "Subscribe" in the right hand column.)
Bible study focus: My Bible study guide, Prayers of the Old Testament, just went into its fifth printing. It presents study/reflection/discussion questions about eight specific prayers in the Old Testament, with the goal of deepening our prayers. To learn more, click here.
Friday March 2 2018
I was 15 the first time nature spoke to me. We had lived in southern Virginia while I was in junior high school. My dad was stationed at Langley Air Force Base, and right before I turned 15 he retired from the air force. My parents decided we would move to the West Coast.
We traveled by way of Toronto, Michigan, Missouri, Texas and Colorado, pulling a 14 foot trailer behind our Dodge. We visited grandmothers, cousins, aunts and uncles, and family friends. For a teenager, six weeks of close intimacy with her family, while driving 8,000 miles and mourning the loss of her friends and her life in Virginia, was really, really, not fun.
We arrived in Tacoma, Washington at the beginning of August and immediately found a wonderful house, where my mother still lives. The owners weren't able to move out until early September, so we needed a place to stay for a month. The owners offered us their summer cabin on Puget Sound, just north of Gig Harbor.
The cabin looked east onto Puget Sound. To the left was Vashon Island. To the right was Point Defiance in Tacoma. Between these two pieces of land, Mount Rainier rose up over the waters of Puget Sound, perfectly framed by the two wooded hillsides.
August that year was clear and sunny every day. Throughout each day, we watched the light on Mount Rainier change. In the morning the mountain was backlit by the rising sun, looking mysterious and other worldly. At midday, the mountain was illuminated from above, with the sun slightly to the right, reflecting off the glaciers. In the afternoon, the mountain was vivid, clear and gorgeous in the full light of the sun. At sunset, the magical rose and peach colors of sunset illuminated the mountain.
The summer had been so hard for me, and Mount Rainier spoke to me. It said, "There's more." There's more than everyday life, there's more than struggle and sadness. There's something beautiful beyond this life.
I had attended church almost every Sunday of my life. At 12, I believed in God and Jesus pretty strongly, but our church in Virginia hadn't advanced that faith at all. In fact, by 15 I was on my way to rejecting everything I had been taught about God.
So when the mountain told me that there is something beyond this life, I didn't connect that something with God at all. But still I held onto the message from the mountain. In my high school years, as my faith in God in Christ dwindled further and further, I saw Mount Rainier frequently from numerous places around Tacoma. The mountain always lifted my heart and spoke to me of something beyond. The mountain was an anchor and a whiff of holiness in the midst of the volatile years of high school.
This is the first post in a series about the ways nature speaks about God. I'll tell stories of the way nature has spoken to me at various times, and I'll look at scriptures that help explain how this works. In this first post in the series, I want to encourage you to think about times nature has spoken to you. What specific places in nature have spoken to you? What have those places said?
(Next week: mountains and clouds on Easter. Illustration: Mount Rainier from Puget Sound. Sadly I can't find a photo of that exact view we could see from the cabin north of Gig Harbor. If you'd like to receive an email when I post something on this blog, sign up under "subscribe" in the right hand column.)
One year ago on this blog – "Drawing near to God with the heart: Facing the inner darkness." In this season of Lent, facing inner darkness can play a role in preparing us to celebrate the death and resurrection of Jesus.