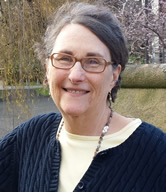 Lynne is a Presbyterian minister and author of numerous books and Bible study guides. She lives in Dunedin, New Zealand, where she is a lecturer in pastoral theology. Read more »
Those of you who are preachers may enjoy a recent blog post Lynne wrote for the kiwi-made preaching blog entitled Your "One Main Sermon."
Here are two talks Lynne gave on listening (recorded in audio form on YouTube): Listening for Mission and Ministry and Why Listening Matters for Mission and Ministry.
Lynne recently preached a sermon on lament prayer.
"Lynne's writing is beautiful. Her tone has such a note of hope and excitement about growth. It is gentle and affirming."
— a reader
"Dear Dr. Baab, You changed my life. It is only through God's gift of the sabbath that I feel in my heart and soul that God loves me apart from anything I do."
— a reader of Sabbath Keeping
Featured posts
Archive
Tags
Subscribe
To receive an email alert when a new post is published, simply enter your email address below.