Lynne is a Presbyterian minister and author of numerous books and Bible study guides. She lives in Seattle. Read more »
Lynne recently spoke on "Spiritual Practices for Preachers" (recorded as a video on YouTube.) The talk is relevant to anyone in ministry and focuses on how to draw near to God simply as a child of God as well as engaging in spiritual practices for the sake of ministry.
Here are two talks Lynne gave on listening (recorded in audio form on YouTube): Listening for Mission and Ministry and Why Listening Matters for Mission and Ministry.
Lynne preached recently on Reverent Submission, trying to reclaim the word "submission," which has a bad rap in our time.
Soon before she left her position in New Zealand as senior lecturer in pastoral theology, Lynne recorded a one-minute video for her departmental website describing what's most important to her in her writing and teaching.
"Lynne's writing is beautiful. Her tone has such a note of hope and excitement about growth. It is gentle and affirming."
— a reader
"Dear Dr. Baab, You changed my life. It is only through God's gift of the sabbath that I feel in my heart and soul that God loves me apart from anything I do."
— a reader of Sabbath Keeping
Subscribe
To receive an email alert when a new post is published, simply enter your email address below.
Featured posts
Tags
Archive
Thursday August 15 2019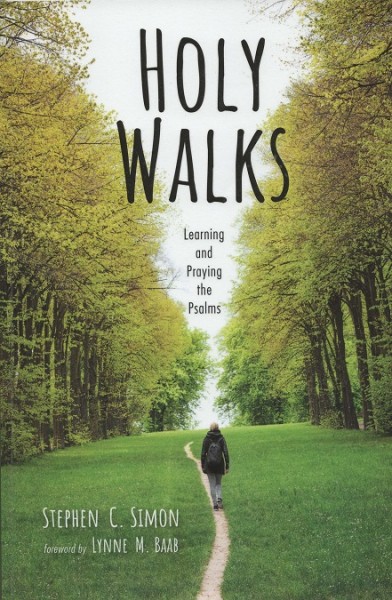 The Psalms have often been called the prayer book of the Bible. They help us pray even when we don't feel like it, and they teach us to pray in new ways. They bring us into God's presence in whatever mood we're feeling. They are honest, vivid and sometimes raw.
I wrote last week about my friend Steve Simon's wonderful book, Holy Walks. (I'm linking to the book on amazon. For my overseas readers, it's also available at the Book Depository with much cheaper postage.) In the book, Steve describes the way he memorizes psalms as he walks his dog and then prays the psalms he has memorized.
I want to suggest that music can be a wonderful accompaniment to praying the psalms. While walking, sometimes I sing a psalm or hymn based on a psalm – aloud or in my head. I also listen to musical versions of the psalms in my car, and I sing them in my head at night when trying to get to sleep.
I have three suggestions for music to accompany praying the psalms.
1. An Australian band, the Sons of Korah, who sing the psalms word for word. I have all their CDs and have listened to them in the car so much that I find myself singing the words to various psalms using their tunes.
The leader of the band, Matthew Jacoby, has a PhD in philosophy and theology, and has written a book, Deeper Places: Experiencing God in the Psalms.
My favorite Sons of Korah song is Psalm 93, "The Seas have Lifted Up." On YouTube, you can listen to their recording of the song here, or watch them playing a longer version in concert here.
Some of my other favorite Sons of Korah songs are Psalm 17, Psalm 51, Psalm 91, and Psalm 99. You can find many others on YouTube. Check out their website for more information.
2. Hymns that are paraphrases of psalms. The well-known hymn, "Praise My Soul the King of Heaven," is a paraphrase of Psalm 103. There's an additional verse of the hymn that is left out of almost every hymnbook, which summarizes verses 15 to 19 of the psalm and should be the fourth verse, before the verse about angels. I think it's crazy to skip this verse, because the flow of the psalm is interrupted. Besides, I love the imagery of the flower flourishing, then it is gone.
Frail as summer's flower we flourish,
Blows the wind and it is gone;
But while mortals rise and perish
God endures unchanging on,
Praise Him, praise Him,
Praise Him, praise Him,
Praise the High Eternal One!
Another wonderful hymn is the "The Spacious Firmament on High," which paraphrases Psalm 19:1-4. I love the concluding line: "The hand that made us is divine." I always want to shout those words!
Some hymnbooks are explicit about which hymns are connected to psalms.
3. Praise songs that paraphrase psalms or sing them word for word. I looked around on YouTube, searching for some of my favorite psalms, and I found a wide variety. Here's a version of Psalm 139 that illustrates a common pattern: some of the words are directly from the psalm, some are paraphrased, and some are added. For Psalm 23, here's a version that uses the words of the psalm without changing them or adding to them. If you do a search for some of your favorite psalms, you'll find an astonishing – and fun – array of musical styles.
Music helps us remember words, so that alone is enough reason to seek out musical versions of the psalms. Music also captures so many moods, and since the Psalms express so many different emotions, it's interesting and sometimes enlightening to see which mood musicians choose to express when they write tunes to the words of psalms. And for many Christians, music is a heart language for prayer. Why not sing the Psalms when we draw near to God?
Next week: creative prayer using color. Illustration is the cover to Holy Walks: Learning and Praying the Psalms (available from amazon and also the Book Depository, with cheaper overseas postage), which I highly recommend. If you'd like to receive an email when I post on this blog, sign up under "subscribe" below (for cellphones) or in the right hand column (for laptops).
Some previous posts on the Psalms:
Thursday August 8 2019
I am so pleased that my good friend Steve Simon has written a book about the prayer practice that took his faith from his head to his heart. Steve memorizes psalms as he walks his dog, and then he prays those psalms. Holy Walks: Learning and Praying the Psalms is practical, humorous, and so helpful. He asked me to write the foreword, and here's what I wrote.
Foreword for Holy Walks: Learning and Praying the Psalms. By Lynne Baab.
When I read a psalm—or listen to a sung version of a psalm—I am invited into something amazing and wonderful. The Psalms encourage me to approach God just as I am, with my messy emotions and disordered thoughts. The psalm writers model an extreme honesty before God that lightens my heart. I see that I, too, can be honest, that God welcomes my anger, frustration, sadness, and pain. Whatever has caused these emotions, however much I blame myself for feeling these things, God says, "Come."
When I stay in a psalm, something else happens, equally wonderful and freeing. In almost every psalm, God turns negative emotions into praise, thankfulness, joy and singing. "Weeping may linger for the night, but joy comes with the morning" (Psalm 30:5, NRSV). For me, the period of weeping is often much shorter than a night because the psalm writers' words lighten my heart as I pray along with them.
Steve Simon knows this. In Holy Walks, Steve describes the ways he has grown in becoming a person who loves God with his heart, not just his mind. Steve is one of the smartest people I know, and it has been a delight to the see the ways the Psalms have taken Steve's faith from his mind into his whole being.
Steve's fine mind is visible in Holy Walks, as he explains the variety of types of psalms, how psalms are structured, and how the language of the psalms works. But even more valuable is Steve's description of the specific habits that enabled him to engage with the psalms: memorizing specific psalms, pondering them, and praying them—while he walks his dog.
Memorizing passages in the Bible has been a key practice for me. The passages I know by heart have shaped me deeply. They have given me fodder for thought and prayer. They have helped me draw near to God. Countless other Christians throughout the ages have benefitted from memorizing portions of the Bible, and each person who wants to memorize scriptural passages has to come up with a system for doing it.
Steve provides helpful specifics for how he memorizes psalms. His method may well be beneficial for many readers.
The walking component of Steve's engagement with the Psalms is also significant. Christians have long underemphasized the significance of the body, and I am thrilled that in recent years Christians have begun to rediscover spiritual practices based in the body, including fasting, pilgrimage, walking a labyrinth, and the stations of the cross. Friends increasingly tell me they are finding joy in a variety of bodily positions while praying. The rhythm of my feet hitting the pavement has always enabled prayer to flow easily for me, and I love Steve's combination of walking while memorizing, pondering and praying the Psalms.
The strong presence of Emma, Steve's beloved dog, adds lightness and humor to Holy Walks. The dog, the varied weather, the early morning air—Steve has grounded his book beautifully in the physical world made by God, the Creation mentioned so frequently and so tenderly in the Psalms.
Steve calls the Psalms a "remedy for lifeless prayer." Amen to that! As I pray along with the psalm writers, I get to experience such a range of prayer forms and moods. In times of trouble, the Psalms help me experience God restoring my peace and joy. And as I pray outside in nature, I experience something wonderful about God's creativity in our beautiful world.
Because the Psalms, scripture memory, and praying while walking have been such important aspects of my faith journey, I can enthusiastically tell you that if you adopt some or all of Steve's method as he describes it in Holy Walks, you will grow in intimacy with God.
(For my readers in New Zealand, Holy Walks is available at the Book Depository, where the postage is cheaper than ordering it from amazon.)
Next week: the gift of music when praying the Psalms. If you'd like to receive an email when I post on this blog, sign up under "subscribe" below (for cellphones) or in the right hand column (for laptops).
Some other posts about praying and walking:
Saturday August 3 2019
Have you ever thought about stopping as an important spiritual concept? I was in my late forties before that word had any traction for me.
I've written in many places about Dave's and my experience of the Sabbath when we lived in Israel as young adults (see below for links). We brought our Sabbath practice home to Seattle and continued to embrace it enthusiastically for almost two decades before we started reflecting on what it meant and why it mattered.
When I began to write about the Sabbath, first as a chapter in my book on midlife, A Renewed Spirituality: Finding Fresh Paths at Midlife, and then in my book Sabbath Keeping, I had to think theologically and analytically about why the Sabbath matters. I had always thought that the word "Sabbath" meant rest, and indeed that is one meaning, but another meaning is stop.
As I wrote about the Sabbath, I pondered the significance of stopping. So many aspects of life today call us to keep moving – busyness, shopping, looking good to others – and these patterns easily morph into idolatry. We will seldom be able to address those idols without stopping and looking at our lives. In addition, God speaks to us in so many ways, but we cannot hear unless we stop long enough to activate our listening ears.
A few weeks ago, I wrote about the connections between mindfulness meditation and prayer, and an old friend wrote a Facebook comment about those connections. She wrote that an important overlap between mindfulness meditation and prayer "is giving yourself permission to stop completely. That is a wonderful gift to give to yourself and to honor who you are. In doing so, we can get in touch with our thoughts and feelings and explore them."
Her words got me started thinking about the many forms of prayer that help us stop what we're doing so we can remember God and ponder what's going on inside us. Some of the kinds of prayer that help us stop:
Thankfulness prayers – alone or with others – help us stop thinking about our needs and the needs of the world in order to focus on God's gifts. Thankfulness prayers also help us see our own lives differently.
Prayers of intercession for others help us stop thinking about our own needs. When we pray intercessory prayers with others, their prayers can help us stop some of our selfish thoughts.
Breath prayers help us stop our restless and unruly thoughts in order to focus on our body.
Praying while walking can also help stop the wandering of our restless minds so we can focus on our bodies and on God's created world. Praying while walking has also helped me so many times to see my life more clearly.
Meditating on a verse from the Bible, or praying a psalm, can help us stop thinking about our to-do list and all the stuff on our minds.
Using a printed prayeralso helps us stop engaging with what's on our minds.
Praying silently with otherscan help us focus our minds on God and stop the restless wandering of our minds because we know others are doing it. And praying silently with others can keep us in a quiet, reflective mode long enough to do some helpful reflection about the patterns of our lives.
As I write this list, I see that I am most concerned with stopping the wandering of my restless, unruly mind which so often goes in the direction of to-do lists and selfish needs. This is a good concern. In addition, I believe all kinds of prayer helps us stop our ego-driven certainty that we know best and that we are in control of the universe. Every time we come into God's presence, we are acknowledging on some level that Someone Else is in charge of the universe.
Gracious God, help us turn to you in a way that helps us stop the restless and unruly pattern of our thoughts. Help us turn to you in a way that stops our silly belief that we know the right way to do things and that we are in charge of our own lives. Help us to stop what we're doing long enough to reflect in your presence on the patterns of our lives. Help us honor you as God.
Next week: walking and praying the Psalms. Illustration by Dave Baab.
Some links to resources on the Sabbath: