Lynne is a Presbyterian minister and author of numerous books and Bible study guides. She lives in Seattle. Read more »
Lynne recently spoke on "Spiritual Practices for Preachers" (recorded as a video on YouTube.) The talk is relevant to anyone in ministry and focuses on how to draw near to God simply as a child of God as well as engaging in spiritual practices for the sake of ministry.
Here are two talks Lynne gave on listening (recorded in audio form on YouTube): Listening for Mission and Ministry and Why Listening Matters for Mission and Ministry.
Lynne preached recently on Reverent Submission, trying to reclaim the word "submission," which has a bad rap in our time.
Soon before she left her position in New Zealand as senior lecturer in pastoral theology, Lynne recorded a one-minute video for her departmental website describing what's most important to her in her writing and teaching.
"Lynne's writing is beautiful. Her tone has such a note of hope and excitement about growth. It is gentle and affirming."
— a reader
"Dear Dr. Baab, You changed my life. It is only through God's gift of the sabbath that I feel in my heart and soul that God loves me apart from anything I do."
— a reader of Sabbath Keeping
Subscribe
To receive an email alert when a new post is published, simply enter your email address below.
Featured posts
Tags
Archive
Wednesday February 20 2019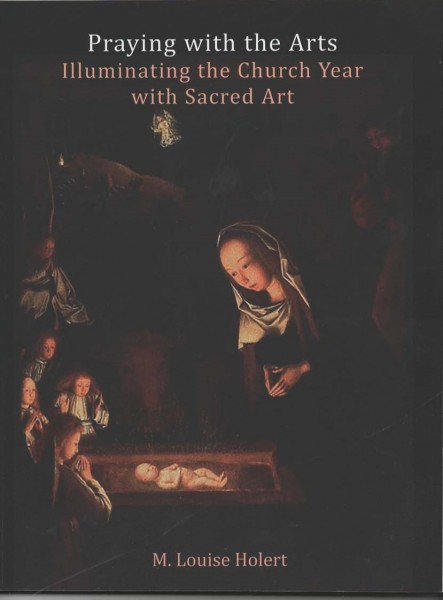 About a dozen years ago I attended a morning of prayer led by Louise Holert, a Presbyterian minister here in Seattle. Louise gave us postcards of sacred art to look at alongside scripture passages. The paintings illustrated the passages. She guided us into times of prayer where we pondered the passage. I found the juxtaposition of art and Bible stories to be very powerful. The paintings gave a richness and depth to my interaction with the biblical passages, and they helped me pray in new ways.
I was thrilled when I learned that Louise has put together a book using 31 paintings of the life of Christ, with instructions for how to prayerfully engage with each painting. I'll describe the book below. But first I want to introduce this new series I'm writing for my blog.
When I was a young adult, I was taught that there are four components to prayer. We were taught the acronym ACTS to help us remember the four kinds of prayer: Adoration, Confession, Thanks and Supplication. Those forms of prayer are still vitally important in my life, and in this series I'll be writing about creative ways to engage in those basic kinds of prayer. I'll also be writing about forms of prayer that fall outside those four categories.
Let me tell you about Louise's book, Praying with the Arts: Illuminating the Church Year with Sacred Art. She opens with five pages of introduction, where she briefly discusses why she structured the book around the church year, and then moves into a helpful discussion of the power of art and how sacred art can play a role in prayer.
The bulk of the book is 31 paintings, each followed by 2-3 pages of instruction. The painters mostly come from the Medieval and Renaissance periods, including Vermeer, Caravaggio, Rembrandt, and Fra Angelico. The reproductions are good quality. The instructions begin with a few paragraphs about the painting, including some pointers about the symbolism in the paintings. The introduction is followed by the scripture passage that is illustrated by the painting. Next are two sections that are the meat of each lesson: "For your prayerful reflection on the art" and "For your prayerful reflection on the Scripture." Each of these two headers is followed by four to ten bullet points with specific ideas to ponder. She concludes each lesson with brief suggestions for prayer and thankfulness/praise responses.
The introduction and the lessons include many wonderful quotations by a variety of authors. I appreciated the richness of the quotations Holert uses. I'm so grateful for this resource linking art, the Bible, and prayer, and I recommend it to you.
If you'd like to try doing something similar on your own, ask God to guide you. Then go into Google Images and search for a story you'd like to see illustrated, perhaps the prodigal son or the road to Emmaus. Or you can search for a specific painter like Fra Angelico or Rembrandt. Maybe one painting will catch your eye, or maybe you'll be attracted to two or three paintings.
Read the Bible story connected to the painting, and ponder the way the artist or artists chose to illustrate the passage. Notice as many details as you can in the painting(s). You might want to imagine yourself in the painting watching the action or talking to Jesus.
You might want to use the four common forms of prayer, ACTS, as you gaze at the painting. What can you praise or thank God for as you look deeply at the painting? Do you need to confess anything to God? What would you want to pray for, for yourself or others?
A praise song or hymn might come to mind, and if so, sing it. See where God takes you as you look at the painting, and keep the dialog with God open as you gaze.
(Next week: another way of praying with art. If you'd like to receive an email when I post on this blog, sign up under "subscribe" in the right hand column of the webpage.)
I want to highlight one of the reviews of my book on pastoral care, Nurturing Hope: Christian Pastoral Care in the Twenty-First Century. You can find the review here. You'll see that the reviewer says that my book would be great to use with groups. Please pass on information about my book to people in your congregation or other congregations who engage in pastoral care ministry or in local mission, especially those who lead pastoral care or mission teams.
Friday February 15 2019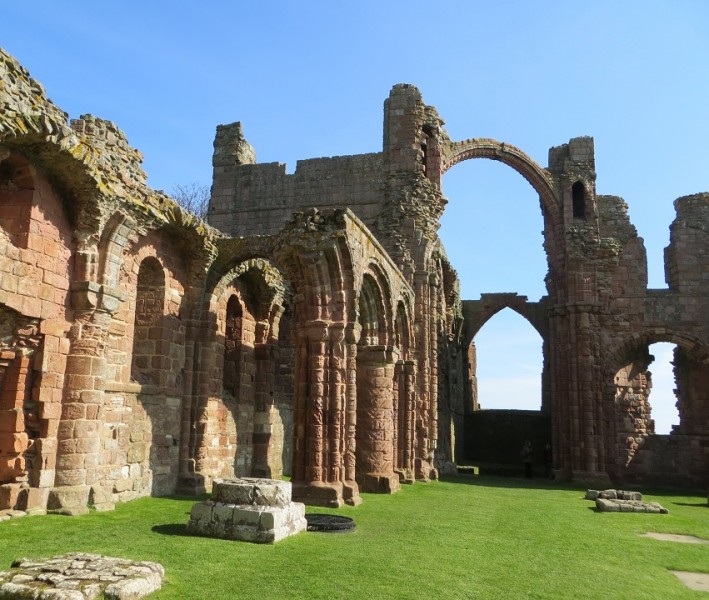 I visited Lindisfarne, also called Holy Island, a few years ago. Connected to the northeast coast of England by a narrow bit of land that goes under water at high tide, it has a rich Christian history. On the island today, you can visit the ruins of a medieval priory and the ruins of a castle built in 1550, plus a chapel and other buildings still in use.
The Christian community at Lindisfarne was founded in the seventh century by Bishop Aiden of Lidisfarne. Aiden, who was born in Ireland, was a monk on the island of Iona when he was asked by the king in 634 to come to Northern England in the role of bishop. The king was a Christian, and he gave Aiden the mandate of spreading the Gospel in Northern England.
Aiden set up a base on the island of Lindisfarne, connected to the Northeast coast of England at low tide. He spent his first ten years as bishop wandering the countryside of Northern England, talking to people about the gospel. He set up numerous Christian communities.
He received money from various sources, and he used all of it to help the poor and to buy people, especially children, out of slavery. At one point the king gave him a horse to aid him in his travels and evangelism, but Aiden immediately gave it away. He felt that the best way to talk to people about Jesus was to walk at their level, not to be above them on a horse.
Aiden also established a community on Lindisfarne to train ministers. The training emphasized study of the Bible, prayer, fasting, and walking the countryside with Aiden to tell people about the Gospel. That community lasted long after his death.
Aiden is often called the apostle of England because of his evangelistic work that had such a lasting influence. A few lessons I've been pondering from Aiden's life:
1. Aiden seemed to have a seamless commitment to:
evangelism
prayer
meditating on the Bible
spiritual practices like fasting
care for the poor
freeing slaves
I love his wholistic approach to physical well-being, spiritual practices, and social justice. I wonder which components of his approach are the most and least apparent in my life.
2. I ponder what it looks like today to walk at the level of people in need. Obviously horses are seldom involved in this decision in our time, but we still need to think about how to build bridges across barriers of culture and socioeconomic level. I wonder what acts and attitudes of humility today would parallel that moment when Aiden gave away the horse.
3. After ten years evangelizing the people of Northern England, Aiden retired to another island to pray and meditate for the rest of his life. Ten years is not a very long time to have made such an impact.
Thinking about Aiden's ten years of ministry has been helpful to me. I am a very late bloomer, partly because I battled depression from age 27 to 43. After coming out of my depression, I was ordained as a Presbyterian minister at 45. I got my first book contract that same year. At 55, I began a ten-year teaching career. The past 21 years since my ordination have been full and rich, but still, I often feel a great sense of loss about those 16 depressed years. Twenty years of productive ministry don't feel like enough.
I feel a sense of freedom when I ponder the fact that Aiden did what he was called to do for that significant decade, and then left it behind to engage in prayer and meditation on the Bible. I'm not comparing the significance of my ministry to Aiden's, but I do find myself thinking that if ten years was enough for Aiden, surely I can accept that twice that could be enough for me.
When I visited Lindisfarne (at low tide!), I was stunned by the number of visitors there on a weekday in September. There were several hundred cars in the parking lot, and people streamed across the island. What a joy to learn about the man who founded the monastery on Lindisfarne. May we soak up the model of faithful Christians who speak to us from across the ages.
(Next week: first post in a new series on creative ways to pray. Illustration: the ruins of Lindisfarne Priory. If you'd like to receive an email when I post on this blog, sign up under "subscribe" in the right hand column of hte web page. This post originally appeared on the Godspace blog.)
Two related articles you may enjoy:
Witnesses and Evangelists
Celtic Christianity: Paradoxes
Wednesday February 6 2019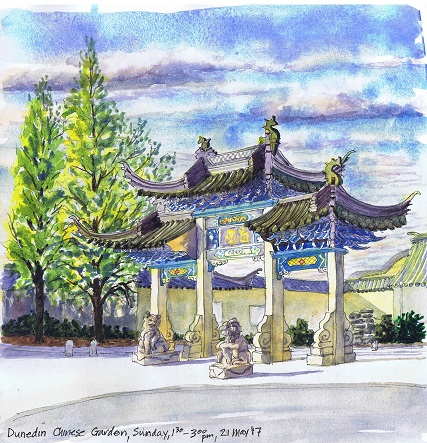 Perhaps you've met someone of Chinese descent or someone from China. If so, you'll know that Chinese New Year is a really big cultural celebration, sort of like Christmas, Thanksgiving and New Years rolled into one big, long holiday with lots of food and family time. The date changes each year based on the lunar calendar, and this year Chinese New Year is February 5.
A friend of mine who lived in China told me that the holiday lasts two weeks, with the first four to five days being an intense time of visiting with family and friends. Traditionally, the preparation for the holiday included cleaning the house and replacing the food for the kitchen gods at the family altar.
I learned about Chinese New Year in New Zealand – where I was migrant – from Malaysian students of Chinese descent – whose ancestors were migrants from China to Malaysia and who were themselves migrants from Malaysia to New Zealand.
Christian ministry in the 21st century has some new aspects, as a big rise in world-wide migration is changing the demographics of our communities and our congregations. In 2017, to love our neighbor must include paying attention to the culture of origin of the people we want to extend care to. When we make friends with people from China or of Chinese descent, that means learning about Chinese New Year and what it means to them.
I want to compare and contrast two ways of attempting to show love to people who come from different countries or ethnicities. One way is to work on being "color blind," where we focus on what we have in common and do our best to ignore differences in skin color or other differences that come from our ethnic backgrounds.
Paula Harris, a speaker and writer, was raised as a missionary kid, and her parents encouraged her to be color blind, which she views as a loving approach. In Being White: Finding our Place in a Multiethnic World, she describes how she became aware of the significance of ethnicity and what it means to people who live as minorities or migrants.
Harris came to understand that being color blind is good, but inadequate. She and her co-writer, Doug Schaupp, give six reasons why developing an appreciation for ethnicity reflects God's values. Harris and Schaupp write that colorblindness:
ignores the heart language of our ethnic minority friends;
misses kingdom riches God intended for our blessing;
misses who people really are at their core;
assumes everyone is "white like me";
makes us vulnerable to stumbling into an Acts 6 rift; and
numbs our hearts to the suffering of our friends. [1]
This year I invite you to have a conversation with any people from China or of Chinese descent that you know. Ask them about Chinese New Year. What do they like best? What did it mean to them as a child? What are their plans for this year? What did they do last year?
If your friends are Christian, ask some additional questions about where they see God's grace and joy in the festivities. Perhaps the fresh start implied in Chinese New Year makes them think of the fresh start we have in Christ. You could ask about this.
Around the world, the number of people who do not live in their country of birth has increased to a sum larger than the population of Brazil. In addition, many people are second or third generation immigrants, who have retained holidays and practices rooted in the country of their ancestry. In many countries, indigenous people have cultural traditions, as do many African American people in the United States.
We can try to ignore cultural differences, or we can work on learning about them, affirming them and appreciating what they mean to people we care about. I'm trying to do more of the latter as a spiritual practice that I hope reflects the love of God.
I develop these ideas further in my recent book, Nurturing Hope: Christian Pastoral Care in the Twenty-First Century. I discuss shifts in Christian caring in recent years in the light of world-wide migration.
(Next week: Bishop Aiden of Lidisfarne. Illustration: The Chinese Gardens in Dunedin, New Zealand by Dave Baab. If you'd like to receive an email when I post on this blog, sign up under subscribe in the right hand column of the web page. This post appeared on the Godspace blog for Chinese New Year last year.)
Here's article I wrote that discusses the kind of listening skills that help us understand across cultures: To be a neighbor must include listening. It won an Australian Press Award.