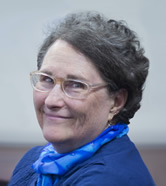 Lynne is a Presbyterian minister and author of numerous books and Bible study guides. She lives in Seattle. Read more »
Soon before she left her position in New Zealand as senior lecturer in pastoral theology, Lynne recorded a one-minute video for her departmental website describing what's most important to her in her writing and teaching.
Lynne spoke last year on "Spiritual Practices for Preachers" (recorded as a video on YouTube.) The talk is relevant to anyone in ministry and focuses on how to draw near to God simply as a child of God as well as engaging in spiritual practices for the sake of ministry.
Here are two talks Lynne gave on listening (recorded in audio form on YouTube): Listening for Mission and Ministry and Why Listening Matters for Mission and Ministry.
"Lynne's writing is beautiful. Her tone has such a note of hope and excitement about growth. It is gentle and affirming."
— a reader
"Dear Dr. Baab, You changed my life. It is only through God's gift of the sabbath that I feel in my heart and soul that God loves me apart from anything I do."
— a reader of Sabbath Keeping
Subscribe
To receive an email alert when a new post is published, simply enter your email address below.
Featured posts
Tags
Archive
Thursday September 22 2016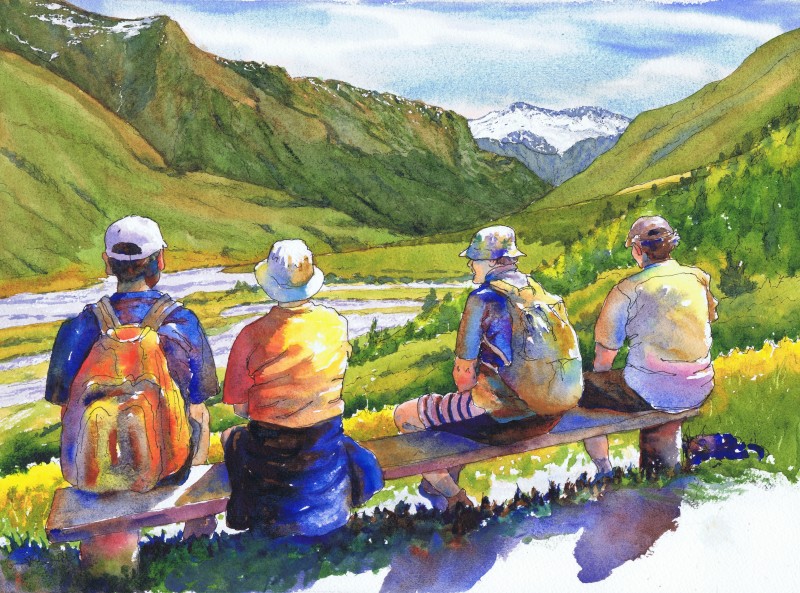 "I think the pastor's chief job is not to get something done but to pay attention to what's going on, and to be able to name it, and to encourage it – nobody else is going to do that."
– interview with Eugene Peterson [1]
When my kids were in elementary school, I read a book on parenting that made an interesting suggestion. The author wrote that compliments should focus on what the child had done, rather than just saying, "great job" or "beautiful painting." Compliments like this would help the child be motivated to do more of the same, the author suggested: "You put a lot of time into that tree you drew. Look at the leaves and the fruit!" "I watched you welcome that new girl into the group. You showed kindness to her." "I see careful and precise writing on this homework assignment."
That book changed the way I complimented my kids, husband, friends and family members. Later, when I was a minister in a congregation, the fact that I had been practicing those kinds of specific compliments helped me pay attention to what was going on. I tried to notice what people were doing well in their congregational ministries and in other activities, and I worked hard to find specific things to notice and mention.
This week one of my Māori students mentioned a Māori proverb: He tāngata kitea, he tāngata ora – A person seen is a person alive. Part of what I love about my husband, Dave, is that he sees me. He notices moments when I show love or kindness to people, and he mentions those moments to me later. When I speak or preach, if he's in the audience or congregation, he often tells me something I said that he appreciates. This noticing makes me feel so loved, and I feel encouraged to continue to do the same kinds of things.
In the interview where Eugene Peterson said the words above, he was contrasting the role of pastors in getting things done versus being the kind of person who notices what God is doing through the people and the community. I wonder if most of us focus too much on getting things done in our roles as parents, spouses and friends. I wonder if focusing most of the time on the task at hand mutes the ability to see the other person – child, spouse, friends, family members – and what God is doing in them and through them.
What are the spiritual practices that help us see? Last week I wrote about the challenges of focusing on the past with faith and the future with hope, as well as living in the present as much as possible. The practices I mentioned last week – including breath prayer, thankfulness, reflecting on helpful scriptures – can also help us see because they show us down, help us set aside fear and regret so we can be more present to each moment.
Here are some things to watch for in the actions of people we love:
1. Acts of kindness.
2. Creative activities in many areas of life.
3. Acts of perseverance, faithfulness and risk.
4. Innate personality attributes and how they manifest themselves (such as seeing the big picture, being good with details, thinking analytically, considering the impact of actions on people, being organized, being flexible).
Then, after you see these things, mention them to the person in your life. Let that person know that you see him or her. A person seen is a person alive. A person seen feels encouraged to show more love, act more faithfully and use their gifts more often and more fully.
(Next week: moving from that moment of thinking about praying to actually praying. Watercolor by Dave Baab, the wonderful husband I mentioned above. If you'd like to receive an email when I post on this blog, sign up under "subscribe" in the right hand column.)
[1] from a talk at Catalyst West, 2011 about being formed as a pastor. You can listen to it here.
Thursday June 26 2014
I'm sitting in front of a battered orange fire hydrant, incongruously placed in a bank of flowers and grasses. Riverplace Marina, on the Willamette River, lies beyond the flowers. High freeway bridges and the low, hundred year old Hawthorne Bridge span the river, while a traffic helicopter whines overhead.
We're on vacation in Portland, Oregon, and my husband is browsing an art gallery here at the Marina. Usually when we head out to sightsee I bring along a paperback, so I can read while he takes his time in galleries. But today I forgot the novel.
So I sit here on a curved bench, wondering if this is an invitation to worship God in the real world, to draw near to God in this slice of everyday life. Perhaps I could engage with one of the everyday spiritual disciplines I habitually practice. For example, I could sit here and list the many gifts and blessings God has given me recently: successfully winding up teaching and grading for the semester; the recent release of my latest book, Friending; on-time flights to Oregon; the family members and friends we'll be seeing on this trip. I could list them and thank God for them.
Here's a second option. I learned a new version of the Jesus prayer a few weeks ago, and I've been experimenting with using it as a breath prayer, coordinating the words with my breath. "Jesus . . . Savior . . . help me know your love . . . and make it known." As I repeat the words, sometimes I think about all the ways God has shown love to me, and I pray that this love would sink deep inside me, that I would "know" it in every sense of the world. Sometimes I pray about the ways I feel called to make God's love known. That breath prayer would work well in these quiet moments in the light breeze.
I could also simply focus on the data coming to my brain through my senses and try to be present to everything around me. I could study and relish the white flowers with the yellow centers right beside the fire hydrant, the pale green grasses gently swaying, the silk tree giving me shade and the feathery cedar between me and the Hawthorne Bridge. God made them all. I could listen to the traffic on the freeway bridge, trying to tease out specific trucks and busses that I can see as well as hear. God gave me very acute hearing, sometimes a gift and sometimes a challenge, and I could try to be present to the distinct sounds around me in this restful moment.
I'm sure there are other ways to worship God in this real-world, real-life moment as I sit on a curved bench with a fire hydrant, white flowers, grasses, a marina and a cluster of bridges in view. But I've thought of enough options. The challenge for me in this moment is two-fold:
(1) to refrain from pulling out my day planner to see if there's something "productive" I can do with this time, and
(2) to stop listing and analyzing the options.
Just do one of them, I tell myself.
(If you like this post, you can sign up for email notices every time I post something on this blog. The place to sign up is at the bottom of the right hand column on this webpage. This post originally appeared on the Godspace blog.)
Thursday June 26 2014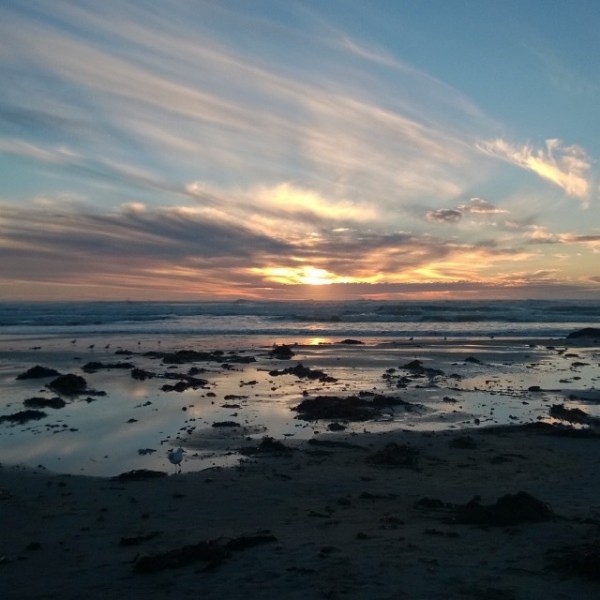 Because of its simplicity, breath prayer is a great way to start when introducing a group to contemplative prayer, and breath prayer is a great way for an individual to slow down and remember God's presence in the midst of everyday life. I know a family that engages in breath prayer at the beginning of their Sabbath day, and if the parents forget to make time for it, the kids remind them. I've used breath prayer in many different small group settings and occasionally in worship services as well, and most people take to it easily.
One way to engage in breath prayer is to imagine breathing out all our concerns and worries into God's presence, while breathing in God's love and care. At the Areopagus in Athens, the Apostle Paul said about God, "In him we live and move and have our being" (Acts 17: 28). If God's presence and love surround us, then it is not a stretch to imagine exhaling our troubles into God's presence and inhaling God's love and care with each breath.
When I engage in this kind of breath prayer, I focus on one concern or one person in need as I breathe out. As I feel the air leaving my lungs, I picture myself relinquishing that concern or person into God's care. Then I breathe in, imagining God's love filling the empty space where the concern or worry was located inside me.
Sometimes the concern is so great that I spend several breaths on the same issue or person, always relinquishing the concern into God's hands as I breathe out, and always imagining God's love coming into me as I breathe in. Sometimes I simply name all my family members as I engage in breath prayer, saying one name silently with each breath out, knowing that God is aware of that person's needs even more than I could be.
Another form of breath prayer uses the ancient prayer called the Jesus Prayer: "Lord Jesus Christ, Son of God, have mercy on me, a sinner." This prayer is based loosely on the story of the Pharisee and the tax collector in Luke 8:9-14 in which the tax collector says, "God, be merciful to me, a sinner" (verse 13). One phrase of the Jesus prayer is prayed on each breath, with the breaths providing a rhythm for the prayer.
In groups, I have used a white board to list the favorite names for Jesus that the group members suggest, such as Prince of Peace, Bread of Life, Light of the World and True Vine. I suggest to the group that they pick one of those names and adapt the Jesus prayer to that name, along these lines:
Lord Jesus Christ, Prince of Peace, have mercy on me. I need your peace.
Lord Jesus Christ, Bread of life, have mercy on me, feed me.
Lord Jesus Christ, Light of the World, have mercy on me, shine your light in me.
Lord Jesus Christ, True Vine, have mercy on me, help me abide in you.
Then we spend some time as a group praying the new prayer silently in harmony with our breathing.
Breath prayer works well as a first stage of prayer for many other kinds of contemplative or intercessory group prayer. It provides a good introduction to guided meditations. So simple and non-threatening, breath prayer helps people relax and feel competent about silent prayer when they might feel a bit unsure about engaging in quiet contemplative prayer in a group.
Breath prayer engages the physical body and helps us experience God's presence in our bodies and in the physical world, integrating the physical and spiritual parts of our lives. Focusing on our breath slows down our breathing, which has the effect of slowing down all bodily functions, a way to experience peace from the One who gives us breath and longs to give us peace.
Breath prayer also reminds us of the Holy Spirit, the breath of God in our lives. When leading breath prayer with a group, any of these connections can be highlighted for the group, helping them to deepen their experience.
(If you like this post, you can sign up for email notices every time I post something on this blog. The place to sign up is at the bottom of the right hand column on this webpage. This post originally appears on the Godspace blog. It is an excerpt from Joy Together: Spiritual Practices for Your Congregation by Lynne M. Baab)