Thursday February 1 2018
For me, praying the psalms over more than three decades has been a tremendous blessing. Psalms show me I can bring varied emotions to God. Psalms give me words to express things I feel about my life and about God. They expand my vocabulary as I praise God. They help me relax into the presence of the God who made the universe, redeemed humans from sin, and loves us through and through.
You might wonder why would I include a post about praying the psalms in a series about prayer as listening to God. In what ways does praying the psalms help us listen to God?
1. Emotions. Because the psalms model such a vast array of emotions that people bring to God, they speak to us about God's acceptance of us just the way we are, no matter what we're feeling. They tell us that no emotion is too ugly to bring into God's presence in prayer. Many of us feel so much shame about the way we're made and the way we act. The psalms reassure us of God's acceptance of us just the way we are. Nothing about who we are needs to be hidden from God.
2. Praise and thanks. Because the psalms model a variety of ways to praise and thank God, they teach us to offer praise and thanks to God. It's almost as if God, through the psalms, instructs us about how to offer praise and thanks to God.
Over the course of my marriage, I have sometimes given my husband pretty direct hints about how to love me. I might say, "It would mean so much to me if you could tell me some of the things you think I am doing well in this situation." Or, "I need some positive feedback about how I look because I dressed up carefully for the event we're going to, and I'm feeling insecure."
In the same way, the psalms give us instruction from God about how to love God. And as we praise and thank God, showing our love, we open our eyes to more of God's gifts to us.
3. Resting in God's presence. Because the psalms are so accepting of human emotion, they help us enter into God's presence and abide there. If we want to hear God speak, being in God's presence makes it more likely we will hear that still small voice.
Many of these benefits come from memorizing or reading psalms. I have experienced that praying them makes the benefits more intense because I offer all I am and all I have to God, I praise and thank God more intensely, and I sense that I am in God's presence more readily.
Praying the psalms slows us down, which enables us to listen better. In our fast paced world, anything that slows us down is a powerful gift.
If you'd like to read more praying the psalms, and try some new ways to pray the psalms, one year ago I wrote about how to pray the psalms. You can check it out here.
This is the 12th post in a series on growing in listening to God in prayer. The previous posts are:
Listening to God in prayer
My journey
Alone or with others
Breath prayer
Distractions in silent prayer
Noticing God's presence
Looking back at 2017
A new approach to the Bible
Key questions about listening to God
Lectio Divina: A pattern for letting God speak through scripture
Imagining yourself in a Bible story
(Next week: One man's story about learning to listen to God in prayer. Illustration by Dave Baab. If you'd like to receive an email when I post on this blog, sign up under "Subscribe" in the right hand column.)
Lent begins on Valentine's Day. If you'd like a devotional for Lent, check out the one I wrote a couple of years ago with reflection questions on a psalm for each day of Lent. I've had good feedback from people who have used it on their own and also from others who used it in a small group. My husband Dave's beautiful paintings provide illustrations for it. Available here.
Tuesday April 11 2017
A handful of psalms are quoted in the Gospels. Here are reflection questions about three psalms that have strong connections with Jesus' journey to the cross.
Psalm 69
Answer me, O Lord, for your steadfast love is good; according to your abundant mercy, turn to me.
Psalm 69 is one of the most often cited psalms in the Gospels, and two of those quotations occur in Holy Week: John 15:25 and John 19:28. The mood of the entire psalm, with the pleas for deliverance and deep sorrow, evokes the events of Holy Week that take Jesus to the cross. As you pray this psalm, imagine you are praying it with Jesus.
Questions for reflection
What do you need deliverance from right now? What about your community and the world beyond?
As you walk with Jesus to the cross and feel some of his sorrow, what do you want to thank him for?
Lord Jesus Christ, I take you for granted. I forget the pain you suffered for me, for all people, and for the entire creation. Help me to see your love more clearly.
• • • • •
Psalm 41
Even my bosom friend in whom I trusted, who ate of my bread, has lifted the heel against me.
On Thursday of Holy Week we remember Jesus' last supper with his disciples, when he gave them instructions and prayed for them (John 13-17). Judas, who ate bread with Jesus and the other disciples, then left to betray Jesus (John 18:1-11). It's so easy to view Judas's actions as something quite extraordinary, but all of us have the tendency to betray those we love.
Questions for reflection
In what ways have you behaved so unkindly to people you love that they may have felt betrayed?
When you have acted unkindly toward others, what helps you turn back to God to receive forgiveness?
O Lord, the capacity for betrayal is so powerful in me. Be gracious to me; heal me, for I have sinned against you.
• • • • •
Psalm 22
I am poured out like water, and all my bones are out of joint; my heart is like wax; it is melted within my breast; my mouth is dried up like a potsherd, and my tongue sticks to my jaws; you lay me in the dust of death.
Psalm 22, a plea for deliverance from suffering and humiliation, is another of the psalms quoted most frequently in the Gospels. Two of those quotations, in John 19:24 and 19:28, occur just before Jesus' death, in the account of the soldiers casting lots for Jesus' clothes and of Jesus' being thirsty right before he dies. "It is finished," Jesus then says (John 19:30), his obedience to the point of death bringing us salvation and peace with God.
Questions for reflection
What do you most need to learn from Jesus' death?
Spend some time in silence, pondering the gift of Jesus' death for you.
Lord Jesus Christ, Redeemer and Savior, thank you for your sacrifice for us. Thank you for your great love that took you to the cross.
Dunedin event - For those of my readers who are women in Dunedin, I am leading a women's retreat on Saturday 6 May from 10 to 3. The theme is "Falling in love with Jesus afresh: Jesus' encounters with women." Location is Leith Valley Presbyterian Church, 267 Malvern Street. If you'd like to come, please let Nancy Parker know: 021-457-360, parkernmr@gmail.com.
(Excerpted from my Lenten Devotional,
Draw Near
. Next week: Spiritual Practices for the Easter Season. Illustration by Dave Baab. If you'd like to receive an email when I post on this blog, sign up under "subscribe" in the right hand column.)
Wednesday March 15 2017
In the Psalms we read, "I sought the Lord, and he answered me" (Ps. 34:4). God meets us and cares for us and answers our prayers. At the same time, the Psalm writer acknowledges, "my tears have been my food day and night" (Ps. 42: 3). We ache to see God's pure beauty and majesty in the face of this broken world we experience every day. We long to be free from all the seductive desires that sidetrack us so often. We long to see the people we love freed from illness, addictions, pain, and suffering.
We are people with such a mix of thoughts and emotions inside of us, and the Psalms help us so much as we strive to live in the tension of pain and joy. In Living with Contradiction, Esther de Waal writes,
The psalms allow me to face my inner conflicts. They allow me to shake my fist at God one moment, and then next to break out into spontaneous song. I am angry, but then I am grateful. I complain at the bitterness of my lot, and then I rejoice at the untold blessings which I receive. If I discover the fullness of my own humanity I also discover the many faces of God. If the story of the people of Israel and their struggle in holding on to the covenant is also my own story, the psalms leave me in no doubt, as to the difficulties involved in that relationship. That in itself is consoling. For here is a people who experience struggle and sacrifice, who know the light and the dark, hunger and thirst, who grumble and complain, and who rejoice and praise – and who have no inhibitions in doing this completely openly and vigorously.20
The variety of emotions in the psalms is stunning: praise and thankfulness can transition into sorrow, vindictiveness, discouragement and tears within only a few verses. As I wrote in two earlier posts (here and here), the psalms have encouraged people throughout the ages to bring all our passions and concerns, and even all our pettiness and irritation, into the presence of God. There is no human emotion that is foreign to God; nothing surprises him. "You have searched me and known me. . . . You discern my thoughts from far away" (Psalm 139:1, 2).
We live in joy because God loves us, and we can know that love in Jesus Christ. We live in longing and emptiness because sin and death still have so much power. Our hearts are full, and our hearts are broken. We are thirsty for the One who can meets us in our longing.
David Rensberger reassures us:
Our thirst for God will be satisfied. Once we have become aware of this yearning, once this passionate need and longing has opened up with us, we can hear a stream off in the distance gurgling toward us. We bend every effort to find that stream. However strong or persistent our efforts, though, they are insignificant compared with the mighty rush of water coming to meet us. Though we may try to slake our thirst elsewhere, the Living Water will find our parched mouths. It will not be our small dippers that finally bring the water to our tongues. Rather, it will be the desire of the Water itself to meet our need, the love of the One whom we have struggled to learn to love, that will overcome our last resistance and pour delicious satisfaction on our aching lips. [2]
Rensberger's words provide such a delightful contrast to the conflicts described by Esther de Waal and expressed so vividly in the Psalms. Truly Jesus calls us to bring to him our hearts, our souls, our very beings – no matter how conflicted or painful – because he is giving back to us his heart of love in a mighty rush of Living Water. All will be well.
This is the seventh post in a series about Drawing Near to God with the Heart. Previous posts:
Introduction: Drawing near to God with the heart
God woos us
A journey with the Psalms
Praying the Psalms
God's presence through the Holy Spirit
Facing the inner darkness
Tears
(The series continues next week with "Longing for Heaven." Illustration by Dave Baab. If you'd like to receive an email when I post on this blog, sign up under "subscribe" in the right hand column. This post is excerpted from my book, A Renewed Spirituality: Finding Fresh Paths at Midlife, available in paperback here and on kindle here.)
[1] Esther de Waal, Living with Contradiction: An Introduction to Benedictine Spirituality (Harrisburg, Pa.: Morehouse, 1989, 1997), 130.
[2] David Rensberger, "Thirsty for God," Weavings, July/August 2000, 25.
Friday February 17 2017
Lent starts this year on 1 March. You may be interested in the Lenten devotional I wrote two years ago, using a psalm for each day of Lent. The devotional is illustrated with beautiful paintings by Dave Baab. You can download the devotional in pdf form here: Draw Near.
Throughout the ages, the psalms have been the prayer book of the Bible, used by Jews and Christians for individual prayer and for prayer in congregations. As we learn to face with increased honestly the wide variety of emotions inside us, praying the psalms can be both comforting and challenging. During my years of psalm reading, described in last week's post, I often found that my reading turned into prayer, and I came to love the psalms as prayers. They voice for me so many parts of myself, and they bring those aspects of my personality and emotions into God's presence in prayer.
When I pray the psalms, I receive several gifts from God. I feel connected to people throughout the ages who have prayed these same words. Because so many of my unsettling emotions are expressed in the psalms, I feel that God must accept my volatile and passionate feelings because the psalm writers and so many people down through the years have brought those very same emotions to God in prayer. When I pray the psalms, I receive peace and acceptance from God.
If you want to begin a pattern of praying the psalms, here are some suggestions. If you want to pray a psalm that is completely new to you, or only somewhat familiar, it helps to read the psalm through first to get an idea of what it is about. Then pray it. You may feel most comfortable reading the words very slowly as you pray. I find that when I pray a psalm, I read the words more slowly than usual, but only slightly more slowly. The pace is up to you. Experiment with what seems most comfortable.
You may wonder where to start if you want to begin to pray the psalms. One suggestion is to start with psalms you have read or heard before. Find those familiar psalms in your Bible and, instead of reading them, pray them. Often I start with a well-loved psalm and then continue praying the ones that come next. You can also start at the beginning, with the first psalm, and pray one or more each day. A wide variety of emotions and styles of prayer can be found in almost any set of consecutive psalms.
Often when praying a psalm, I find that the emotions being expressed are not anywhere close to what I am feeling at the time. In those instances, I often find myself remembering other times when I've felt those emotions. I also remember that others all around the world must be feeling those emotions right at the moment I am praying. I try to pray the words on behalf of the people who God loves who are feeling those emotions right now. In that way, praying the psalms is a prayer form that connects me with people all over the world.
Praying psalms in a group setting is also very rewarding. Invite the group to begin by reading the psalm aloud as a group, either in unison or having one half read the odd numbered verses and the other half read the even numbered verses. Then give the group enough time to pray the psalm individually in silence. After a nice leisurely amount of time, read the psalm aloud again, using the same method as you used the first time. You may want to end with a time of sharing, allowing participants to describe what the experience was like for them. Or you may want to encourage participants to write in a journal after the prayer time.
These days, my most common form of praying the Psalms is to hum along with the Sons of Korah, an Australian band that sings the psalms. They've got many CDs, and many of their songs have been posted on YouTube, which you can find here.
This is the fourth post in a series about Drawing Near to God with the Heart. Previous posts:
Introduction: Drawing near to God with the heart
God woos us
A journey with the Psalms
(The series continues next week with "God's presence through the Holy Spirit." Illustration by Dave Baab. If you'd like to receive an email when I post on this blog, sign up under "subscribe" in the right hand column. This post is excerpted from my book, A Renewed Spirituality: Finding Fresh Paths at Midlife, available in paperback here and on kindle here.)
Thursday February 9 2017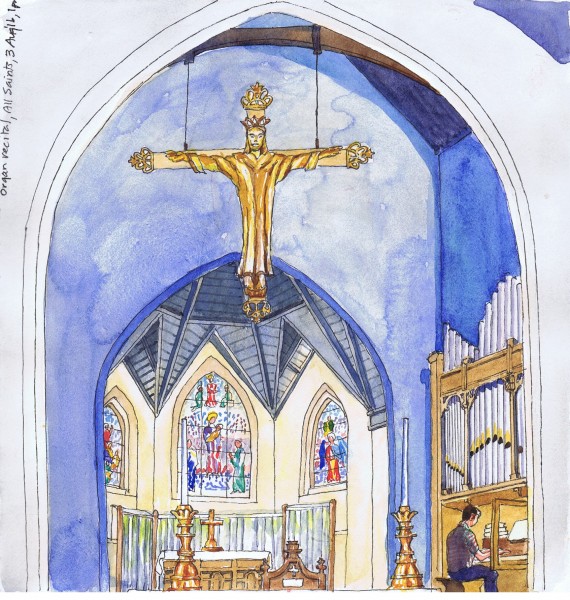 Soon after my fortieth birthday, I found I couldn't read the Bible. All the ethical and theological truths of the Bible, which I had been studying consistently for the twenty years I had been a Christian, seemed dry and lifeless. It was as if my soul couldn't bear to take in one more piece of truth. It seemed as though my soul was longing for something to touch my whole being, not just my mind.
As I look back, I can see that it wasn't really a time of spiritual dryness; it was more a time to integrate what I already knew and to bring my whole self to God. At the time, though, it was disconcerting and occasionally scary.
I don't really know how it happened, but one day I read a psalm and found that I could connect with the emotions expressed in it. Maybe I heard a psalm in Sunday worship, and I realized the Psalms could help me find the integration I was longing for. Maybe I picked up a Bible and by a random choice (and God's grace), I read a psalm. However it happened, I read one psalm and felt a connection with the Bible for the first time in months. A few days later, I read another psalm. For the next two or three years, the Psalms were my constant companions, even though I still couldn't connect with anything else in the Bible.
The psalm writers came to feel like friends. I was amazed at the variety of emotions portrayed in the Psalms. The integration of my whole being before God, for which I had been longing, came true for me through the Psalms. The Psalms modeled for me the radical truth that every part of me – the loving, peaceful and devoted self, along with the discouraged, irritable, and vindictive self – can be brought to God in prayer. The Psalms nudged me into a new kind of prayer involving my whole self and all my emotions.
The sheer overwhelming praises in so many psalms helps us capture that joy and exuberance in God's presence with us. "O come, let us sing to the Lord; let us make a joyful noise to the rock of our salvation" (Ps 95:1). "Praise him with trumpet sound, praise him with the lute and harp!" (Ps 150:3). Psalm 107 reminds us of a variety of ways that God acts in human history. "Let them thank the Lord for his steadfast love, and for his wonderful works to humankind" (Ps 107:31).
Emotions that we consider negative are portrayed just as vividly. Discouragement and depression were very real to the psalm writers. "Save me, O God, for the waters have come up to my neck. I sink in deep mire. . . . I am weary with my crying: my throat is parched" (Ps 69:1-3). The psalmist feels distant from God: "My eyes grow dim with waiting for my God" (Ps 69:3).
Self-pity, anger, irritation, and desire for vengeance all appear in the Psalms. Here is just one example: "One who secretly slanders a neighbor I will destroy" (Ps 101:5). This profound honesty about the vicissitudes of human emotion can be very helpful in these challenging times, when life often seems more confusing than ever before. These kind of words help us grow in facing the inner darkness inside us so we can bring it honestly before God.
Longing and thirsting for God are woven throughout the Psalms, and the psalm writers move rapidly from longing to praise and thanks and confession and back to longing. The Psalms validate our spiritual experience in a way that no other literature can do, and they give us hope that our painful longings and uncomfortable yearnings may give way to praise any moment.
In my years with the Psalms, I read them, prayed them, memorized them, sang them, wrote bits of them in my calendar, and allowed them to shape my own prayers. I was aware in my mid-forties that I was not the same person I was in my thirties, and part of that change was brought about by my immersion for several years in the Psalms. The Psalms have allowed me to face my own inner turmoil more honestly and they have helped me bring more parts of myself to God in prayer. They have called me to praise and thanks in a powerfully transforming way. They have given me the kind of hope that resides deep in the heart and illuminates daily life.
(Next week: Praying the Psalms. If you'd like to receive an email when I post on this blog, sign up under "subscribe" in the right hand column. Illustration by Dave Baab: Organist in All Saints, Dunedin, responding to the common call in the Psalms to praise God using music. This post is excerpted from my book, A Renewed Spirituality: Finding Fresh Paths at Midlife, available in paperback here and on kindle here.)
You may be interested in the Lenten devotional I wrote two years ago, using a psalm for each day of Lent. The devotional is illustrated with beautiful paintings by Dave Baab. You can download the devotional in pdf form by clicking here: Draw Near.