Friday October 20 2017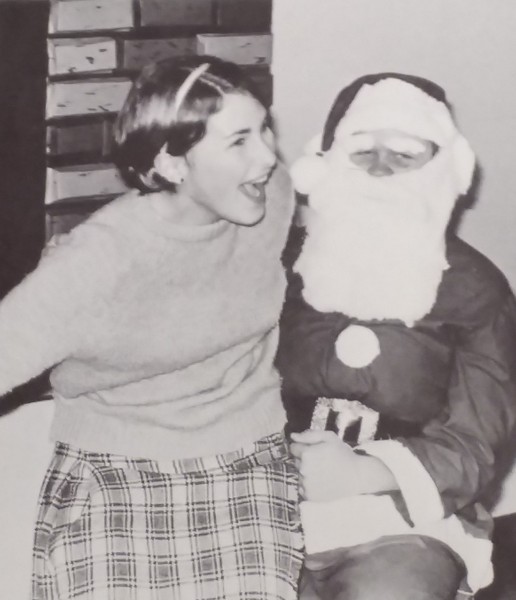 Like most kids, I grew a lot in awareness of social patterns in junior high school. I entered junior high, seventh grade, at age 12, still really a child. We were living in Hampton, Virginia, and junior high school there lasted three years. I left ninth grade one month before I turned 15.
In eighth and ninth grades, I became increasingly aware of the popular kids, the football and basketball players who moved like gods through the school hallways, and the cheerleaders who accompanied them or who walked in clusters together looking popular and so cute. Even though I had some pretty good friends and wasn't lonely, I longed to be popular.
Right after I finished ninth grade, we moved across the country to Washington State. I saw that move as an opportunity to remake myself.
When I started high school in Tacoma, I decided to pretend I had been popular in Virginia. I spoke with a slight Virginia accent after three years there, which people commented on with favor. I decided to cultivate an enigmatic and secretive air. A couple of months after I started high school, a cute boy called me "mysterious," and I knew I had succeeded in my experiment.
In my first year of high school, I had my first boyfriend and my first kiss. Then a second boyfriend, who I liked very much and had a lot of fun with. I made friends with a couple of girls. All of these relationships, however, were based on my attempts to act as if I'd always been a popular person. I didn't let any of these boys or girls see my true self.
In my second year of high school, I became involved with my third boyfriend, the first person I fell in love with. When he broke up with me after a few months, I was devastated. Because all my friendships were been based on my presentation of a false self, I had no good friends I could turn to in my pain.
In my third and last year of high school, I was the loneliest I've ever been before or after. I was extremely active in lots of activities at school, and I did a lot of babysitting to earn money, so I didn't sit at home moping. I just didn't have anyone close by to talk to, and the pain of feeling lonely and isolated was huge.
My best friend from childhood lived in Anchorage, and I got to visit her at Christmas of that last year of high school, and then again in the summer after I graduated from high school. I don't know how I would have made it through that last year of high school without that Christmas visit and her deep love for me.
That lonely year taught me so much. Since then, I have always tried to be authentic in friendships. I have always shared honestly about whatever I'm going through with the people around me. In some instances I am quite sure the quantity of honest sharing has been too much, but vulnerability has nurtured deep relationships, which are a great joy.
I am so grateful for that painful year that taught me how important friends are and that honesty works better than pretense in nurturing friendships that mean something to me.
Because of that high school experience, I have done a lot of thinking about friendships and how they work. A few years ago I wrote a book on friendship, Friending: Real Relationships in a Virtual World. I excerpted a chapter from that book here on this blog, about initiative in friendships, and that series begins here.
May you enter into relationships with honesty and vulnerability. May you rest in the truth that God knows you and loves you, and may this truth give you the freedom to reveal a part of your inner self to others.
O Lord, you have searched me and known me.
You know when I sit down and when I rise up;
you discern my thoughts from far away.
You search out my path and my lying down,
and are acquainted with all my ways.
Even before a word is on my tongue,
O Lord, you know it completely.
You hem me in, behind and before,
and lay your hand upon me.
Such knowledge is too wonderful for me;
it is so high that I cannot attain it.
—Psalm 139:1-6
(Next week: how I learned I was an introvert and why it matters so much. Photo: me in tenth grade, at the height of my popularity pretense. I was pretty cute, but of course I didn't feel cute at the time. If you'd like to receive an email when I post on this blog, sign up under "subscribe" in the right hand column.)
Friday October 13 2017
My husband, Dave, had two sisters, Connie and Jinny, three and a half and one year older than Dave. Jinny got married at 16. Connie and Dave became good friends in the many teenage years they spent together in their home in Ohio.
Connie became a nurse and in her early 20s, she married a man from Philadelphia and moved there. He came from a large, close knit family. Over the years, Connie's family allegiance naturally shifted to the relatives nearby.
When I married Dave, Connie and her husband had been married eight years and had just adopted a baby girl. Later they had a son. Over the next couple of decades, Connie came to several family gatherings in Ohio with her family when we were there, but our contacts with her were brief. Dave felt increasingly disconnected from the sister he had once been close to.
In 2008, Dave heard from his sister Jinny that Connie had been diagnosed with stage 4 ovarian cancer. Dave called Connie. As they talked, he noticed that she felt very alone. She had been separated from her husband for many years. Her daughter and grandchildren lived a thousand miles away. Her son lived nearby, but he was very busy with his work.
Dave decided to call her weekly. In those first weeks of calls, he listened to her talk about looking for help from crystals and positive thinking. He listened as she recounted her struggles with chemotherapy.
A few months after they started talking, Connie told Dave that she had awakened in the night because she heard a voice calling her name. Somehow she knew the voice was Jesus.
In the months and years that followed, Dave continued to call Connie weekly. They usually talked for an hour. He supported her through three rounds of chemo. He listened to her talk about her fledgling Christian faith, precipitated by that moment in the night.
At first she wanted to look to Jesus AND crystals. Dave told her Jesus wants our sole allegiance, and after some time, she got there. Looking online, I found a church in her neighborhood and contacted the minister. Connie became a part of a women's group at that church.
In September, 2010, Dave flew from New Zealand, where we were living, to Philadelphia to see Connie. He felt strongly led to do that, and the ten days they had together were a precious time of rediscovering the intimacy that they had as teenagers. They shared many childhood memories. Plus, now they shared a faith in Christ.
Connie died in April 2011.
Dave continues to be grateful that God nudged him to make a commitment to call Connie weekly for three years and to go visit seven months before she died. He's even more grateful for that voice calling Connie's name in the night.
I can suggest so many take-aways from this story. Here are a few:
God works in ways beyond our expectation and our comprehension. Our job is to rejoice, respond in obedience, and pray for more of his acts.
We must speak up like Dave did when we see people trying to follow Jesus and something else.
We should never completely lose hope about important relationships, even when it seems people have become very distant. God can change things.
We should always make that phone call when we are nudged to contact someone.
(Next week: the high cost of pretending to be someone we're not. Photo: Connie and Dave at age 17 and 16. If you'd like to receive an email when I post on this blog, sign up under "subscribe" in the right hand column.)
Last week I preached at Bethany Presbyterian Church in Seattle on staying motivated in caring for creation. A link to an audio recording is here if you have any interest.
Saturday October 7 2017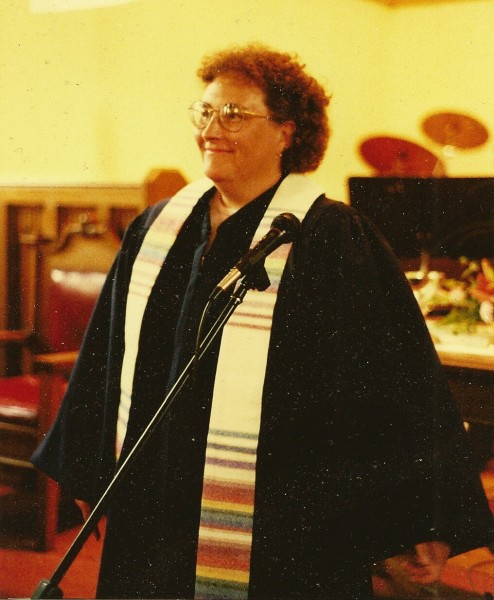 In my childhood, in the various places we lived, we went to church every Sunday, and the ministers were always men. The doctors and dentists we went to were all men. My dad worked, my mom stayed home to raise kids and keep the house, and all my friends' parents had the same pattern.
Oddly enough, out of the five aunts I had, two of them worked full time. One was a secretary, like my mother had been before she got married, and the other one was a teacher. So as a child I dimly understood that some women – a very small number, mind you – worked outside the home in roles like secretaries or teachers. I literally had no picture in my mind, no ability to imagine, a woman working in any role other than a support role or a teaching position.
I became a committed Christian at 19, and soon after that a new InterVarsity Christian Fellowship staff-worker came to my campus, Becky Manley (now Becky Pippert.) Becky took me under her wing, gave me all sorts of encouragement, and helped me grow in faith in so many ways.
Becky did a lot of speaking at our college fellowship group and at conferences. She was part of a staff team headed by a man named Fred Wagner. It was always clear to me that Fred was a strong and competent leader of the staff team, and I enjoyed getting to know him at conferences.
As I got closer to graduation, Becky and Fred invited me to join them on staff with InterVarsity Christian Fellowship. I ended up serving as a staff worker for four years. In those years I often spoke to groups. I led retreats. I exercised a variety of teaching and leading roles, always under the umbrella of Fred's leadership.
I got married in my years with IVCF. Dave and I left Seattle and served in Iran and Israel as self-supporting missionaries. I did a variety of leadership and support roles in our churches in the Middle East while pregnant and while our first son was young. Then we returned to Seattle, got back involved in our big Presbyterian Church. I taught adult Christian education classes there.
In this overview of my life, I have now arrived at September, 1982, a life-changing moment. Our older son was almost 3 and our younger son was six months old. At this point in my life, I had never met a woman doctor, dentist, lawyer or ordained minister. I had led many small groups and spoken at many conferences, always under the oversight of a man.
I was aware that 1 Timothy 2:11 says that women should not teach or have authority over men, and I took comfort in the fact that all of my teaching and leadership has been directed by or encouraged by a man. So, with respect that that verse, I felt "safe." But I definitely had questions.
Those questions motivated me to attend a conference at the Seattle Center sponsored by Christians for Biblical Equality. I arranged babysitting for my older son, and I took my baby with me each day. We sat in seminar after seminar. Sometime I nursed him while I listened intently. I collected handouts and articles.
The speakers talked about various possible interpretations of 1 Timothy 2, along with 1 Corinthians 11 and 14. They discussed the possible meanings of headship in Ephesians 5. They talked about the centrality of Galatians 3:28: "In Christ there is no longer . . . male or female."
They talked about the fact that people of Jesus' time accepted slavery, but the book of Philemon lay the groundwork for the abolition of slavery. In the same way, they argued, the people of Jesus' time accepted leadership by men, but Galatians 3:28 and Romans 16 lay the groundwork for the equality of men and women.
Fifteen years after that conference, I was ordained as a Presbyterian minister, breaking every pattern I learned as a child. I could not have moved toward ordination, or thrived as an ordained minister serving a congregation, without the knowledge I gained at the Christians for Biblical Equality conference.
Resources can change our lives: conferences, books, seminars, classes, sermons, even conversations. Pray for yourself and for those you love, that God would bring life-changing resources into your life and their lives. Pray that God would use you in ways that change other people's lives.
(Next week: my husband and his sister. Photo of me on my ordination day, 20 years and 2 months ago. If you'd like to receive an email when I post on this blog, sign up under "subscribe" in the right hand column.)
You may be interested in an article of mine that recently received an award from the Australian Christian Press Association: To be a Neighbour Must Include Listening.