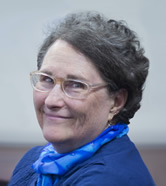 Lynne is a Presbyterian minister and author of numerous books and Bible study guides. She lives in Dunedin, New Zealand, where she is a lecturer in pastoral theology. Read more »
Lynne's recently recorded a one-minute video for her departmental website describing what's most important to her in her writing and teaching.
Lynne spoke last year on "Spiritual Practices for Preachers" (recorded as a video on YouTube.) The talk is relevant to anyone in ministry and focuses on how to draw near to God simply as a child of God as well as engaging in spiritual practices for the sake of ministry.
Here are two talks Lynne gave on listening (recorded in audio form on YouTube): Listening for Mission and Ministry and Why Listening Matters for Mission and Ministry.
"Lynne's writing is beautiful. Her tone has such a note of hope and excitement about growth. It is gentle and affirming."
— a reader
"Dear Dr. Baab, You changed my life. It is only through God's gift of the sabbath that I feel in my heart and soul that God loves me apart from anything I do."
— a reader of Sabbath Keeping
Subscribe
To receive an email alert when a new post is published, simply enter your email address below.
Featured posts
Tags
Archive
Friday August 18 2017
About fifteen years ago we lived in a house in Seattle with a rockery in the front yard. Two big heather plants spread across the rockery with their lovely purple flowers. I decided to get some lavender tulips to go with the heather, and I planted a couple dozen of them one year in the fall.
Spring came, and the tulips broke through the soil and inched their way taller and taller. I couldn't wait to see how the flowers would look with the heather.
I watched every day, and one by one the tulips bloomed, so lovely. Two beautiful lavender tulips, then four, then six.
The next tulip that bloomed was red and yellow! Instead of smooth petals, the petals were jagged on the edges, like one of those extravagant and amazing tulips in an old Dutch painting. The red and yellow tulip, in the midst of all the green and purple, looked jarring and just plain wrong. I was mad at the person who had mixed up the tulip bulbs at the store, and I was mad that my plan for the garden hadn't worked out the way I expected.
Maybe I should cut it and bring it inside, I thought, in order to restore harmony to the rockery. The tulip was unexpected and jarring, but so beautiful in itself, that I couldn't bring myself to cut it.
For about four days, as I came and went from the house, I pondered that extravagant red and yellow tulip in the midst of all the harmonious purple and green. I wondered if God was trying to tell me something about unexpected gifts.
The next day, when I came home from work, the red and yellow tulip was gone. A couple of inches of stem remained, with a straight cut. Evidently someone had cut it off. Why? Because it was beautiful? Because it stuck out in our garden?
I was mad all over again. I had gotten used to the tulip as a sign of God's unexpectedness and my utter and complete inability to control life. I had gotten used to enjoying that extravagant tulip, so beautiful in itself, but not at all harmonious with its environment.
I had reluctantly come to love that tulip, and it was gone before I could enjoy it for very long. That naked stem was one more reminder of my complete inability to control life. It spoke to me as much as the tulip had spoken: Enjoy each minute! Beauty is fleeting so savor it while you can! Pay attention to God's gifts because they come and go!
I have a strong need to control and organize things. Over and over, as I have pondered this tulip story for so many years, I am forced to remember that God doesn't act in predictable ways.
Jesus constantly surprised the people of his time. He chose a tax collector and uneducated fishermen to be his disciples. He allowed a prostitute to follow him. He touched a leper. He repudiated earthly power by rebuking Peter when Peter drew a sword. When I read the Gospels with fresh eyes, I see that he continues to surprise us today.
Truly we belong to an upside-down Kingdom, and the memory of that red and yellow extravagant tulip helps me remember.
(In this new series, I'm writing down stories that I have pondered over and over. Next week: The noisy washing machine. If you'd like to receive an email when I post on this blog, sign up in the right hand column under "subscribe." For those of you reading this post on your cellphone, the left hand colum of the website contains images of all my books. You can access those images by clicking on "books" in the navigation bar. You can also access a couple of dozen articles I've written by clicking on "articles" in the navigation bar.)
Friday August 11 2017
Imagine a baseball player who stops swinging at pitches because he doesn't always connect with the ball. Imagine a basketball player who stops attempting to shoot baskets because she sometimes misses. That would be crazy, because no one hits a baseball or swishes a basketball every time. In the same way, every act of relational initiative will not result in a new friendship or make an existing friendship stronger. But some of them will.
We could carry the sports analogy further. It takes time and practice to learn which pitches to swing at and which ones to ignore. It takes time and practice to make good judgments about when to shoot a basket. In the same way, it takes time and practice to learn how to initiate in friendships. Even the most experienced athletes miss a lot of hits and baskets. But as they keep swinging a bat and shooting a ball, they grow in skill.
So many people have talked to me about the fears and obstacles they experience in initiating with friends. They seem frozen, like a baseball player who watches the ball coming and never swings or a basketball player who keeps dribbling and passing, but never shoots. Initiating requires practice, perseverance and willingness to risk. It requires the willingness to fail. Initiating in relationships mirrors the God who initiates with us, and whenever we reflect God, we are clothing ourselves in Christ and clothing ourselves in the love that comes from him.
In my book on friendship, Friending: Real Relationships in a Virtual World, I explore a variety of habits that foster friendships, but at the base of every friendship, and infused throughout, is this core characteristic of initiative. Long before we experience the joys of friendship, we take actions to be a friend. In fact, without taking the initiative of friending, there can be no friendship.
Questions for Reflection, Journaling, Discussion or Action
What models did you have in childhood for taking initiative in friendships? What are some acts of initiative that friends have taken with you that were particularly meaningful? How do those memories affect you now?
Do you have fears around initiating in friendships? What are some of those fears? How do you typically respond?
What forms of initiative in friendships come most easily to you? Which forms of initiative are hard? In what ways might God be inviting you to grow in this area?
Which love language or languages are most comfortable for you to give and to receive?Analyze your patterns of initiating in friendships through the lens of the love languages. When you take initiative in friendship, do you overuse the languages of love that are more comfortable for you?
This week, take initiative with a friend or potential friend in a way that is new for you. Watch how it feels for you.
Spend time praying about the role of initiative in the way you practice friendship. Ask God for insight to understand why you do what you do, and ask God for help to grow in your ability to initiate wisely and with love.
(Next week I begin a new series: Stories I keep pondering. Illustration by Dave Baab. If you'd like to receive an email when I post on this blog, sign up under "subscribe" in the right hand column. This post is excerpted from my book Friending: Real Relationships in a Virtual World.)
Previous posts in this series:
Initiative in friendships
What Mary might have missed
Obstacles in taking initiative
Overcoming fear
Different ways of initiating
Some options, including vulnerability
A gift given to me by initiative
You may enjoy this article I wrote twenty years ago about my friend Maggie, who had died two years earlier. The article describes how much I missed her then. I still miss her now, and one of the delights of recent years is that I have reconnected with her daughters, now in their twenties.
Saturday August 5 2017
I am still awed by the gift I received when I took initiative a decade ago to visit a friend named Shelagh (a Scottish name pronounced "Sheila"). I met her when I was twenty-seven and she was twenty-one. My husband, Dave, and I were living in Tel Aviv, Israel, for eighteen months while he was filling in for someone at the university who was on sabbatical. Soon after our arrival, we met Shelagh at church. She was from South Africa and had been posted to her country's embassy in Tel Aviv as a secretary.
We discovered that Shelagh liked to play tennis just as much as Dave did, so we often met for tennis games. I watched while they played. What a pleasure! Shelagh was the most elegant tennis player I have ever seen. Her mother had played at Wimbledon, so Shelagh had had a tennis racket in her hand since childhood. After Shelagh beat Dave soundly, the three of us would have dinner together and talk.
Shelagh was one of those joyful, radiant Christians whose faith was encouraging and stimulating to me. She had a purity of heart that I admired very much.
When we moved back to Seattle after our time in Israel, Shelagh was posted to the South African Embassy in New York City for three years. We visited her one time there, and she spent a Christmas with us in Seattle. Then she was posted to Italy, where she met an Italian man, got married and had a son. She and I exchanged Christmas cards every year, and when email became common in the 1990s, we began to exchange prayer requests by email from time to time.
In 2006, Dave and I decided to travel to Scandinavia. Dave also wanted to spend a few days with his cousin in Berlin. I didn't want to go to Berlin, so I thought I might use the time to visit some good friends who live in London. However, the more I thought about those three days, the more I felt nudged to visit Shelagh in Italy. I wrote to her, she was eager for me to come, so we set up the trip.
I hadn't seen her for twenty-four years, but it was like we had never been apart. Her purity of faith and joy in Christ had remained. I met her husband and son, and she showed me around Milan and cooked fabulous Italian food for me. On one memorable afternoon, we sat in a pew in the lofty and ornate Milan cathedral and prayed at length for our families.
One of the topics of conversation during my visit was Shelagh's future. Her son was nearing the end of high school. She had devoted herself to being a wife and mother, but she could see that her son would soon fly the nest. What was she going to do with her time after her son left home? We tossed around a few ideas, but nothing seemed to stick in her mind.
Now, looking back on those precious days in 2006, I can see why nothing appealed to Shelagh. God was preparing her for heaven. In 2007, she was diagnosed with stage-three ovarian cancer, and after surgery and two rounds of chemotherapy, she died eighteen months after her diagnosis.
I had felt nudged to go to Italy to see Shelagh, and I went. I am so glad. In the planning stages, though, I wasn't sure I was making the right decision. I wondered if it was crazy to go visit someone I hadn't seen for twenty-four years. I wondered if three days was too long. I wondered if it was a wise use of money. I wondered if it would be an imposition to her husband and son for me to be there. And, in fact, it was. Her son gave up his bedroom for me and had to sleep on a sofa in the TV room.
I felt nudged, and I went. And I will always be grateful. Shelagh was a bright spirit, a memorable person. Having those days together, less than a year before her cancer diagnosis, feels like a miracle.
When God nudges us to reach out to a friend or potential friend in any way—with a visit, a phone call, a conversation on Skype, a card, an email, a message on social networking website, a gift, a word of affirmation or love, an invitation to come over for a meal or to meet for coffee—we need to pay attention. Yes, we may feel a little or a lot of anxiety that our overture will not be welcome. Some of that anxiety might prove to be justified. The unfortunate reality is that we may receive a less-than-enthusiastic response.
In my experience, however, initiative is never wasted, even if it feels that way. Over time, acts of initiative shape our heart by training us to act in love.
(Illustration: my dear friend Shelagh in 2006, beautiful inside and out. Next week: practicing initiative and reflection questions about initiative. If you'd like to receive an email when I post on this blog, sign up under "subscribe" in the right hand column. This post is excerpted from my book Friending: Real Relationships in a Virtual World.)
Previous posts in this series:
Initiative in friendships
What Mary might have missed
Obstacles in taking initiative
Overcoming fear
Different ways of initiating
Some options, including vulnerability
You may enjoy this interview with me after I wrote my book on friendship. It's a written Q and A focused on what I learned as I wrote the book.